Announcing the #GYBG 2016 TA Contest
January 5, 2016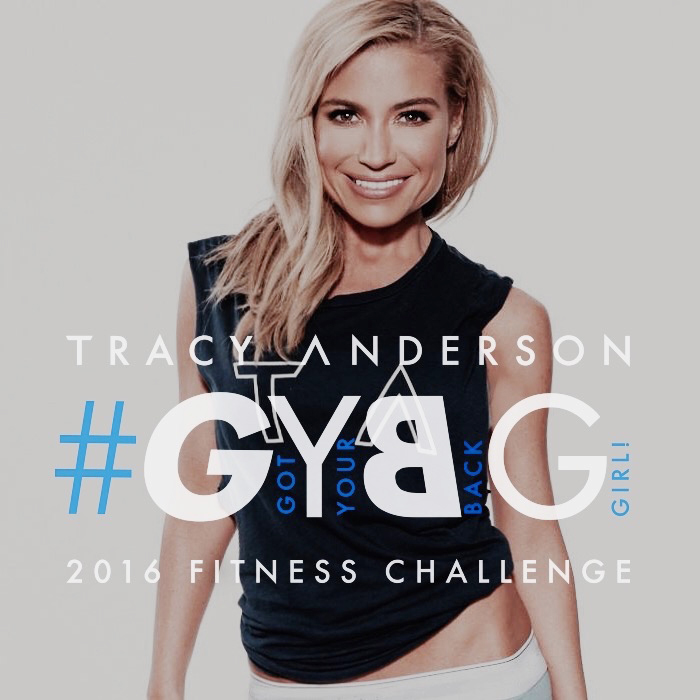 If I had a new friend wish list for 2016, Maria Popova would be at the top. I can't tell you what she looks like, but I can tell you I am a long-time fan of her work. Her site, Brain Pickings (brainpickings.org), is a vital institution of wellness, but not from an obvious vantage point. I find it way more endearing than any shopping or beauty blogs, which can program us by exploiting our instinctive emotion of wanting to feel pretty and popular. I certainly couldn't have built my method without researching and studying areas that one would think have nothing to do with fitness yet, as it turns out, have everything to do with it. When I fell upon Brain Pickings years ago, I was so impressed by how it's curated; the site is so well thought-out that I literally get lost for hours in its feed. To me, it gives us the kind of self-improvement the world needs much more of. You fall into yourself, just like you fall into a connection to and command of your own ship through the content I ask you to move to. You have to find your way by doing, not by being told what is "in" or "out." As you can tell, I am a full-on Maria Popova superfan!
A quote by Simone Weil was recently highlighted on Brain Pickings: "Attention is the rarest and purest form of generosity." Time is our hottest commodity, and how we show up and show those we love that giving them a focused bit of our time truly matters to us is so important to our relationships, and thus our health and happiness. As with our friends, showing up for ourselves, for our bodies each day, is to show love, appreciation, and value for the time we have been given. I don't think the television cares if we show up for it, or if the players in Black Ops feel gratitude if we fend off a bad guy. How you use your time matters. Research is proving that strong friendships and relationships improve our time, add to our experience, and extend our lives. People in loving, happy marriages live longer and people who invest time in real, sound friendships are healthier.
When it comes to the fitness content department, I have got your backs—all of you. But in having your backs with the content, I need to make sure all of you can show up for it. So, our relationship is far greater than any one move or smoothie. I'm channeling my inner Einstein here: Just as space and time only really exist as a space-time continuum, your emotions with food are on an emotional-food continuum. One never really exists without the other. Whenever we are involved with food, emotion is omnipresent, as time is to space. You can't live in one dimension with health and fitness. To further my quote: you are how you eat, you are how you move, and you are how you emote.
I feel it is this emotional diversity that really needs to connect us, to heal our deepest fears and wounds so that we can feel healthy. I don't believe that our collective lack of energy comes purely from some physical ailment or imbalance; it comes from lacking the right attention. Or a lack of understanding how we can take the coping mechanisms that have developed in our minds, perhaps at a time earlier than we can recall, and meet them head-on, developing a more current mindset that better understands the mechanisms we use and why we use them. I do believe that always having the deep talk can be as harmful as always escaping into the lightness can be. But to be a light that makes more light and spends its time pouring light into others is energizing. In the spirit of the inseparable realities of our physical, emotional, and intellectual selves, I am looking forward to fun ways we can align them all as much as possible. The conversations between them are constant, a bit like maintaining close friendships.
I was born on March 3rd, 3/3, so I am fond of 3's. Three plus three is six and it's 2016, so together, we are going to create 33 days of friendship energy that helps us and our friends: the Got Your Back Girl 33-Day Challenge, or #GYBG. Being a girl who's got your back, I am also fully aware that this time of year calls for the best nutritional support to start the new year right. The challenge specifics and entry rules are explained below, but first, I asked my super cool pal Stefanie Sacks—who is so smart she will set the record super straight with you all all day, every day—to do a culinary dance with me, as she so eloquently put it, by answering my top three food questions for the New Year. While you don't have to complete this component in order to participate in the challenge, it's an extra bonus for those of you in need of some nutritious nourishment after the emotional nourishment of the Holidays.
Stefanie (@stefaniesacks) is a Culinary Nutritionist, author, consultant, speaker, and food expert who has been studying food and healing for 30 years. When it comes to nutrition, Stefanie knows what she's talking about. She has her Masters of Science in nutrition from Columbia University, is a Certified Nutrition Specialist, Certified Dietitian Nutritionist, and a graduate of the National Gourmet Institute for Health and Culinary Arts. Her book, What the Fork Are You Eating? (Tarcher/Penguin Random House) provides an aisle-by-aisle rundown on how to shop and cook healthier. I could go on and on, but I think you get why I wanted to ask her some questions! Below our Q&A, Stefanie's edited my menu and inserted her genius into it, to help you balance your food and nutrition with your workouts with me—and be as prepared as possible to show up for yourself and your friend in the #GYBG challenge.
Loving all of you,
How can everyone get a hold of the best whole foods if they don't have a local market that supports organic goods?
Quite honestly, organic is not always the answer—something I spend quite a bit of time discussing throughout my book, What The Fork Are You Eating? I ask that people focus first on opening their minds to eating a diet of 70-80% fresh whole foods whether produce (use Environmental Working Group's "Dirty Dozen" to help you navigate organics), dry goods like grains and beans, and truly healthy animal foods (something I also cover in great detail in the book) versus packaged processed foods. If an ingredient reads like a short novel, it's a dead giveaway for phony food. Thus if you live near any grocery store, you can access most of the above.
If you are a stickler about animal foods as I am—meaning that you truly believe that you are what they ate and how they were treated, focus on food from high-humane welfare animals; Animal Welfare Approved and Certified Humane are highly credible labels that let the consumer know that their animals were fed and treated right. If you can't find animal foods bearing those labels in your local store, each website can lead you to product. For fish, it's a complicated story as roughly 91% of our seafood is caught in the United States but shipped overseas for processing. So please use Seafood Watch to help guide you when choosing fish (and aim to buy wild or from recirculating farms). And one more thing, never be afraid to ask questions when it comes to any fleshy food—you have a right to know everything about the food you choose!
Why should people not want to reach for the "juice cleanse" or the "detox" to start 2016 off "right"?
Many of my clients and students over the years are in a constant cycle of detox then retox then detox and so on. It is my job to help them break this cycle and educate them on what a truly sustainable food lifestyle means for their health and that of the environment. In the end, it's the non-faddist edible education that will keep people eating clean, restoring health for the long-term and preventing illness.
Juice cleansing is one of the most common and improperly used detox methods. Unless it is medically necessary and supported by a credible health care practitioner, I am 100% thumbs-down. Your typical juice cleanse can mean anywhere from 3-7 days of pure fresh juice; in other words tons of sugar with little to no fiber. Talk about spiking blood sugar continuously! It is my professional opinion that "cleansing juices" are only truly valuable if they are a part of a healthy, balanced, food-based diet. And I am all for a food-based detox and I often guide people through these types of programs, but they always include a variety and combination of whole, fresh carbohydrates (all plant-based foods), protein and fat.
In a nutshell, please opt out of the juice cleanse if you want to detox. They are quick fixes that set you up for failure rather than success. Invest in your health by learning how to make better food choices (my book can guide you here) and setting realistic goals. Never forget that the slower you go, the faster you get there.
I read an interview that Susan Rockefeller did with you and I love your phrases "honest yet gentle education" and "what we choose to eat everyday holds that much power."  I personally feel that there are so many attention-grabbing headlines to make people feel that a particular article or blog can hold THE SECRET to ageless beauty and the best life. As women, we are bombarded with images of beautiful women—with or without kids and with or without genetically-blessed metabolisms. Whether by plastic surgery or Photoshop, the media portrays women as untouchably beautiful, thus putting an incredible amount of pressure on ladies to live up to an image versus a reality. As an expert in the field of nutrition—on a personal and global leader level—can you give me your 2016 for women and their relationship with food to stop the struggle?
 As a child, my mother often told me, "You seek without you, the treasures you hold within," a quote from E.E. Cummings, an American poet and author. In other words, don't bother yourself with what's going on outside as the real focus needs to be on your inner self. Beauty truly comes from the inside out, thus the images we see in no way should carry the weight that they do. Though, sadly, too many women are fixated on what the other person is doing and what the media dishes out.
I often get called to do interviews where the reporters want my answers to fit into a "food beauty box." I respectfully decline, telling these eager writers that I refuse to partake in perpetuating the false images about food that the media so loves to portray. There is NO super food and there is NO quick fix for weight loss. Getting healthy and staying healthy is a long-term investment in yourself and one that hopefully you are willing to make—cause I promise you, if you don't "pay" on the front end (food education and navigating choice) you will surely pay on the back end (healthcare).
Thus, when clients and students come to me, one of the first things I tell them is to tune out the noise, whether from friends, colleagues, or the media. Everyone is unique—emotionally and physically—and it is this uniqueness that must be honored (like it or not) for truly sustainable change to happen. Once they tune this noise out, they are open to the guidance I have to offer that is personal to them; and this is where the shifting begins! It's actually astonishingly beautiful and I feel honored to be invited on so many people's journeys.
So my advice to you—please wipe your slate clean. Forget what you think you know and start to get an honest yet gentle edible education and make those small changes that can make a big difference. If you bite off more than you can chew, I promise you that you will choke!
Stefanie and I put this teaser together for you hoping to motivate you to take charge of your health in a different way this 2016. Please get your edible education with What The Fork Are You Eating and use our REFRESH menu collaboration to kick off your new year with fresh whole foods NOT juice!!! For more on Stefanie, check out her website, sign up for her blog and follow here on instagram (@stefaniesacks).
BREAKFAST
Choose one of the following "meal" smoothies below to kick off your morning:
POWER GREEN SMOOTHIE
INGREDIENTS (makes 32 oz.):
11/2 cups plain rice milk or other milk (dairy or nondairy)
1/2 cup ice
1 cup kale leaves, loosely packed (or a large handful)
1/2 cup flat-leaf parsley, loosely packed (or a small handful)
2‑inch piece cucumber (if waxed
, then peel)
1/2 cored apple, skin on
1/2 avocado
1/2 ripe banana, frozen
11/4-inch slice fresh ginger root, peeled
Juice of 1 lime METHOD:
Combine all ingredients, liquid first, in a blender and pureé until smooth. STEFANIE'S NOTES:
When freezing bananas, peel them, break them in half, and store them in a bag or container; you can use other herbs such as mint, cilantro, and basil to complement or replace the parsley.
BERRY SMOOTH
INGREDIENTS (makes 32 oz.):
11/2 cups plain rice milk or other milk (dairy or nondairy)
1 cup pure coconut water
2 cups frozen berries (no added sugar)
1/2 avocado
1/4 cup raw almonds
1 teaspoon honey or pure maple syrup
METHOD:
Combine all ingredients, liquid first, in a blender and pureé until smooth.
STEFANIE'S NOTES:
You can also use other nuts like pecans or eliminate the nuts altogether and replace with 2 tablespoons of flax meal; for an easy snack, freeze in ice cube trays or as ice pops for later.
–  TRACY'S SHAKE RECIPES  –
FRUIT BLEND SHAKE
INGREDIENTS (makes 32 oz.):
Woodstock Organic Fiber fruit blend plums, apricots, figs one handful
Woodstock organic frozen bananas one handful
1 scoop TA vanilla wellness formula
1 handful watercress
8 ounces water
BLUEBERRY + BANANA SMOOTHIE
INGREDIENTS (makes 32 oz.):
Woodstock organic frozen blueberries one handful
Woodstock farms frozen bananas one handful
1 scoop TA vanilla protein powder
1 handful baby kale
8 ounces water
MANGO + BLACKBERRY SMOOTHIE
INGREDIENTS (makes 32 oz.):
Woodstock farms frozen mango one handful
Woodstock farms frozen blackberries
1 scoop TA vanilla protein powder
1 handful spinach
8 ounces water
---
MID-MORNING OR MID-AFTERNOON SNACK
Choose one of the following for an in between meal nosh:
1.    Leftover smoothie
2.    Whole or cut fresh fruit
3.    Fresh vegetables
4.    ½ avocado with drizzle of extra virgin olive oil and pinch of salt with vegetables or rice crackers
5.    ¼ cup raw nuts
---
LUNCH + DINNER
A balanced plate should be the focus of every meal so use this as the foundation of your daily lunch and dinner. Ideally combine two of the three suggestions and don't fear tapping into your inner cook.
THE SOUP:
LAZY LENTIL If you are up for jumping in the kitchen, try Stefanie's Lazy Lentil Soup (it takes about 15 minutes to make and you can make a batch and store for the week). If you don't feel like getting your cooking on, then go with Stefanie's and my go-to packaged soups, by Pacific Foods and mix one of their amazing bone broths (the 8-ounce chicken with ginger is perfect) with an 8-ounce of the creamy tomato soup.
Of all the beans, lentils are the easiest and quickest to cook. The reds are the laziest—meaning you really don't have to do much to them for a great-tasting dish. And they are packed with protein and other cherished nourishment. If you are feeling a little slothful, give this soup a shot.
INGREDIENTS (serves 4-6):
1 tablespoon extra virgin olive oil
2 shallots, thinly sliced
2 celery stalks, thinly sliced
1 cup grape tomatoes, halved
1 sprig fresh rosemary, stem removed, minced
1 cup red lentils
6 cups water
1/2 teaspoon salt, or more to taste
Freshly ground black pepper, to taste
METHOD:
1. In a medium pot, heat the olive oil over medium heat. Add the shallots, celery, tomatoes, and rosemary and sauté for 3 to 5 minutes or until the vegetables are slightly tender.
2. Add the lentils, water, and 1/2 teaspoon salt. Bring to a boil, uncovered, over medium heat, then reduce to a simmer and cook for another 30 minutes. Add salt and pepper to taste.
THE SALAD:
CUCUMBER MINTStefanie suggests that the color green be a constant at every meal (or almost every meal), so toss together a quick salad with some dark leafy like spinach or kale added in, even some finely chopped broccoli and coat in lemon with extra virgin olive oil and a pinch of salt. Or try Cucumber Mint Salad, once again, compliments of Stefanie and totally refreshing!
INGREDIENTS (serves 4-6):
2 large unpeeled seedless cucumbers, cut into 1/4-inch rounds
2 tablespoons red onion, small dice
1/4 cup mint leaves, loosely packed, roughly chopped
2 tablespoons extra virgin olive oil
1/4 cup fresh lemon juice
1/2 teaspoon salt
Freshly ground black pepper, to taste METHOD:
Combine all ingredients in a medium bowl and toss.
THE PROTEIN PACKED MAIN DISHIf you're not the cooking sort, buy a whole roasted chicken or even some grilled chicken breasts. Poached or baked salmon (or you can bake your own and source from Vital Choice) or other fish is an option too. Add that to any of the above and your meal is nutritious and delicious. But as Stefanie says, aim to tap into your inner cook and here are two recipes from my pal that are simple to prepare, packed with nutrition and utterly mouth watering.
RED QUINOA TABOULI
INGREDIENTS FOR TABOULI :
1 cup red quinoa
11/2 cups water
1/2 pint grape tomatoes, quartered
1/2 seedless cucumber, small dice
2 large scallions, thinly sliced
2 cups flat-leaf parsley, stems removed, loosely packed, roughly chopped
2 garlic cloves, minced
FOR DRESSING:
1/4 cup extra virgin olive oil
1/4 cup fresh lemon juice
1/2 teaspoon salt
METHOD :
1. Combine the quinoa and water in a medium pot. Cover and bring to a boil over medium heat; reduce to a simmer and cook until the water is absorbed and the grain is fluffy, 8 to 10 minutes.
2. Combine the tomatoes, cucumber, scallions, parsley, and garlic in a large bowl. When the quinoa is finished, add it to the vegetable mixture and toss. Finish by adding the dressing ingredients directly to the same bowl and mixing well.
VEGETABLE-SMOTHERED HALIBUT
INGREDIENTS FOR FISH:
11/2 pounds halibut fillets (or any fish), 11/2 to 2 inches thick
Juice of 1 lemon, for cleaning fish
1 teaspoon salt, for cleaning fish
FOR VEGETABLES:
3 tablespoons extra virgin olive oil
3 garlic cloves, minced
1 large leek, top and bottom trimmed, cut in half lengthwise and thoroughly cleaned, thinly sliced
1 small carrot, julienned
1 small yellow squash, small dice
1/2 teaspoon ground cumin
1/2 teaspoon salt
2 cups shredded kale
1/2 cup flat-leaf parsley, loosely packed, roughly chopped
2 tablespoons fresh lemon juice
METHOD:
1. Preheat the oven to 350˚.
2. To clean the fish, wash it with the lemon juice and salt, rinse it under cold water, and pat it dry with a paper towel. Place the whole fish fillet in a baking dish.
---
BEVERAGES
Water, water and more water! Add a touch of lemon to cleanse. Green tea offers powerful antioxidants and if you can tolerate caffeine, enjoy a cup or two (hot or iced) per day. Ginger tea is great for digestion as is mint. And chamomile is calming and a good way to end your day.
---
–  TRACY'S QUICK TIPS  –
#1 One 8-ounce Pacific organic chicken with Ginger bone broth mixed with one 8-ounce Pacific creamy tomato soup.
#2 Bake an organic salmon the night before and refrigerate.
#3 Shred and mix with mustard, capers, and parsley and enjoy on sliced cucumber with the peeling on.
#4 Get an organic rotisserie chicken and shred the chicken breast, mix with lemon and 1 teaspoon vegenaise serge alongside Real Pickles raw organic sauerkraut.
#5 Cook 1/2 cup red quinoa in Pacific turkey bone broth, with shaved ginger and fresh garlic topped with fresh scallions.
QUICK TIPS FOR DINNER:
Choose one fish, grilled plain, and one vegetable, sautéed lightly in garlic.FISH: Wild Alaska salmon, Fluke, Red snapper, Shrimp, Sardines
VEGETABLES: Broccoli, Leek, Spinach, Baby kale, Onions, Carrots, Grilled tomato
---
Recipes above (with the exception of Tracy's Shakes and Quick Tips) were reprinted with permission from What The Fork Are You Eating? Copyright © 2014 by Stefanie Sacks, Tarcher Books, a division of Penguin Random House. Photos are from Stefanie Sack's Instagram, follow her at @stefaniesacks.
---
Now onto the 33-day challenge, which is all about the friend you are and the friends you have.  Last year, I chose to let everyone into my master classes in real time. I have connected to and made friends with people who I would be so sad to never have known,  had I not unblocked those roadblocks between us. I asked four of my BFF's to lead the opening of the journey with me:
JENNI KONNER (@campsucks), who in the last year has not only brought us yet another season of my favorite show ever, GIRLS, but also launched the incredible Lenny Letter with Lena Dunham, which dives deep into the heartbeat of nourishing our womanhood. With a balanced dose of real talk and laughter, the newsletter brings together inspiring, strong, creative women and those who support us and fight for us.
MELANIE DUNEA (@mylastsupper) who I got to shoot with this year simply because I asked and she is just that cool, and who also shot the video for my Lenny Letter. Melanie is working on a project that has me in worry knots as a friend, but also in complete awe of her courage to expose how the things in life we enjoy being nourished with are not necessarily so easy to get. On her journey to hone in on the rare luxury of saffron, she unveils a more worldly view, eye-to-eye with women all over the world. In places we fear, she finds truth and beauty. I am so excited for the birth of this journey.
SALLY PRESSMAN (@sallypr81), who for a living plays out all forms of life through her acting and her teaching. I could burst at the role we all get to see her in coming up this winter! What impresses me even more than her Yale trained, cute, acting butt—that I take responsibility for—is watching her show up for #40 days of gratitude and make the most kick-ass bento lunch boxes for her firstborn son.
And last but not least, CRYSTAL MEERS (@crystalmeers), who helps everyone in the world shine as bright as they can. She is a writer, working on my new book, Lenny Letter, and basically too many cool things to list. And she is a gorgeous, glowing bride-to-be!
These women have shown up for me all year, 365 days, any time, any time zone, any place, we got each other's backs, because we truly celebrate and believe in what each of us is.  Their friendships energize me and make me feel loved in the healthiest way!  When they helped me launch the first contest, I never could have imagined an actual #TAMily of friendships would be born. 2015 was truly a year to live up to my mantra of making new friends, but keeping the old, as I was surrounded by these four amazing women and other longtime friends, but also introduced to a whole new world through the #TAMily. Friendships are so important to our health and our happiness, and I strive to honor these old friendships while continuing to make new ones. Giving others life through friendships filled with encouragement, appreciation, honesty, support, and of course love, is the greatest, easiest way to improve our own lives and the world we live in. I am so glad to have all of you women in my life, and so excited to grow and celebrate our friendships with 33 days of best buddy love to start the new year off healthier than ever—together.
---
Find a friend to go through the 33-day challenge with. This is your chance to get one of your friends who might never want to work out streaming with you, because that friend will be able to purchase 33 days of streaming with no obligation and join in the #GYBG fun.* FYI: You can also pick a friend who is already streaming or complete the challenge with more than one friend.
In order to be entered to win the "Got Your Back Girl" Challenge, you and your friend must participate each day for 33 days, starting on Wednesday, January 6, 2016. So make sure you partner up with one close pal who can commit to showing up for you for 33 days. It can be someone you know well or someone you want to get to know better.
Each day, I will post a creative "friendship challenge" on Instagram for you to follow. After showing up for your workout through #TAREALTIME, you and your partner need to also show up for each other by posting in response to the friendship challenge (don't worry, it doesn't take a lot of time).
Make sure that both you and your partner are following @tracyandersonmethod, that you tag my handle and your partner's handle in each post, and that you include our #GYBG hashtag.
If you choose to follow the food menu component of the newsletter, that's great! But all that is mandatory for the contest is that you and your friend both show up for beginner or advanced streaming and post the friendship challenge every day for 33 days.
I will post the friendship challenge each day at 10 a.m. EST. Once you have completed your #TARealtime, post the friendship challenge for each of your friends you are doing #GYBG with. In addition to sharing 33 days of friendship, gratitude, and health to start 2016 off right, those friends who complete the 33 days to perfection will all win a gift from me (not as good as friendship, but prizes are FUN!!!). Good luck!
---
*After the 33 days of the #GYBG challenge, if you would like to change or cancel your TA Real Time Streaming subscription anytime, please feel free to contact our customer service team at streaming@tracyandersonmethod.com.
---
TA VIDEO STREAMING SUBSCRIPTION
TRACYANDERSON.COM, $90 – $475
Workout with Tracy in her studio weekly, online. Regardless of where you live, worldwide, you can begin your transformation with weekly real-time workout videos directly from Tracy, working out alongside her classroom clients.
Every Workout Wednesday, will include: An intro video from Tracy, the real in-class experience from that day, and a tutorial from the trainer that queued Tracy while she created the routine just for you!
Categorized under Blog