I went to Gwyneth Paltrow's In Goop Health London wellness summit – here's what went down
July 2, 2019
Sound baths, lavender lattes and the c-bomb.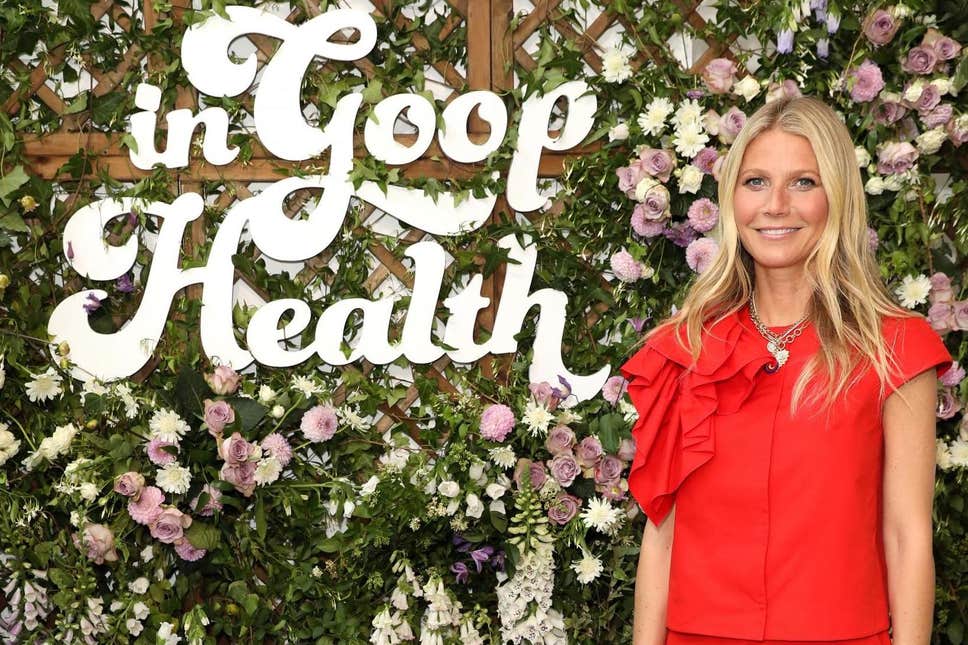 With tickets billed at an eye-watering £1,000, Gwyneth Paltrow's inaugural London wellness summit, In Goop Health, was always going to have a lot to live up to.
Prior to the event I had all sorts of questions on my mind: What's going to be the next big thing in wellness? What does alkaline water actually taste like? Flow, one of the main sponsors of the event, says its cartons of premium H2O deliver a precise 8.1 on the pH scale.
I got answers to some of these questions when I went down to check it out. Incidentally, the latter tastes just like regular water, though thankfully there was bucket loads of the stuff on-hand to keep all of us well-hydrated on what was the hottest day of the year so far.
Here's what we learned being a 'Goopy' for the day…
In the days leading up to the summit's London debut and Goop's sixth globally, Elise Loehnen, chief content officer of Goop, told me that meticulous planning goes into these affairs, which she describes as "as beautiful and transformative as a wedding".
The summit was held at Re:Centre, a meditation sanctuary overlooking the river in Hammersmith. At the entrance there was an 'In Goop Health' flower installation for photos and a slide set up to the right of it to get you that perfect Boomerang.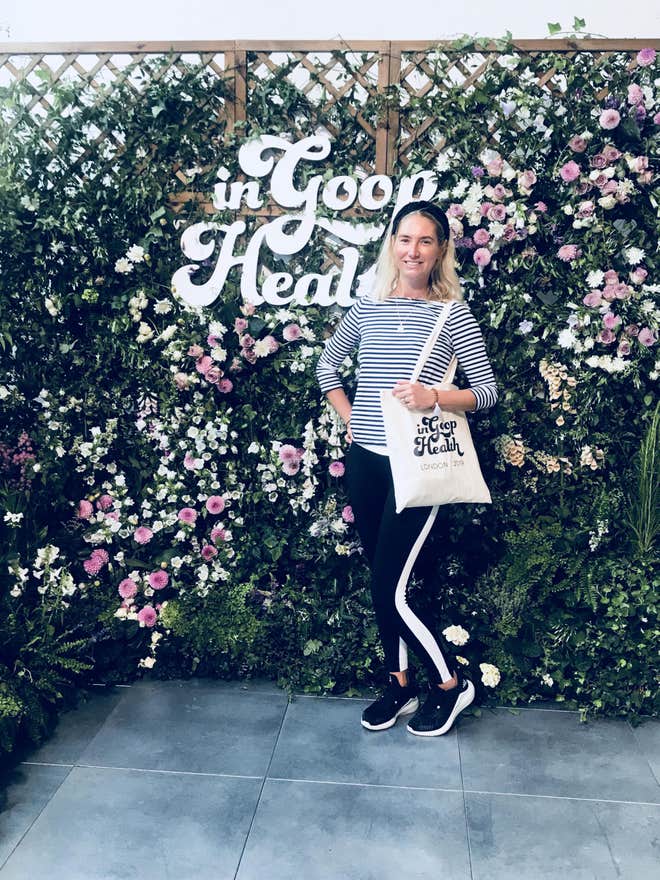 Upon signing in, I was gifted a cloth bag containing some Goopy essentials like a Goop-branded fan, a sachet of Eucalyptus essential oil soaked towelettes presumably to keep me smelling fresh throughout the day, some pawpaw lip balm and a Teleties hair tie. Next, I was invited to the Body Room to pick my G. Shock Goop-branded athleisure kit, a grey 'Goop' vest and navy leggings with a rose design climbing the leg. I was all set.
I'm told there were 250 day guests and 35 "wellness weekenders," who opted in for the whole shebang, a £4,500 package which includes extras like a two-night stay in a five-star hotel, and there seemed to be almost as many staff as guests. The crowd was wearing a mix of designer athleisure and floaty summer dresses but everyone looked exceedingly well-heeled.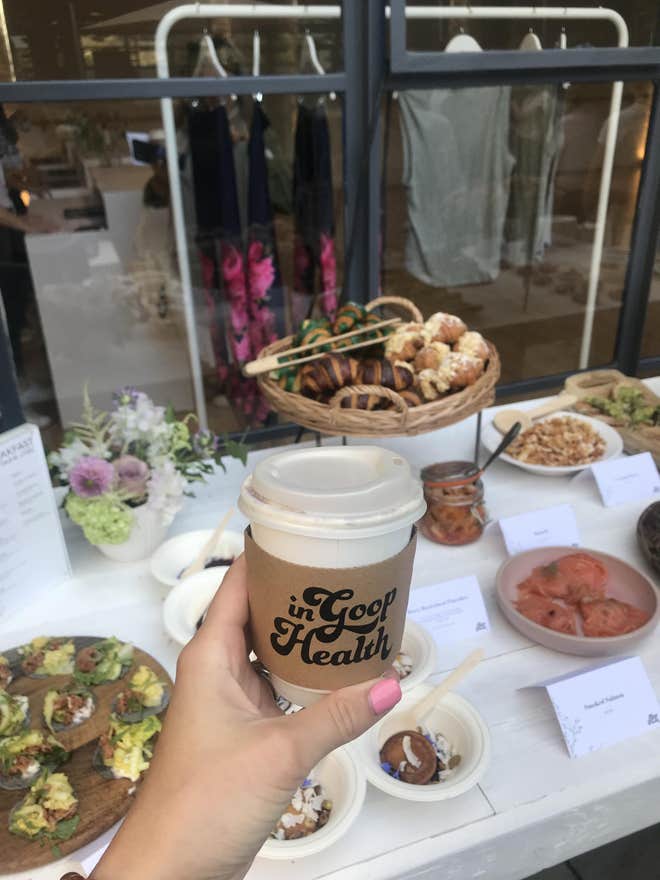 A stand sponsored by Farm Girl offered liquid gold and lavender coffees and every type of cow's milk alternative you can think of: coconut, brown rice and hazelnut, but no sugar! Just date syrup, obvs. Meanwhile, there were bowls of cards dotted around the space asking 'How Goopy are you?' with questions like 'what does spirulina smell like?' to encourage guests to interact with each other.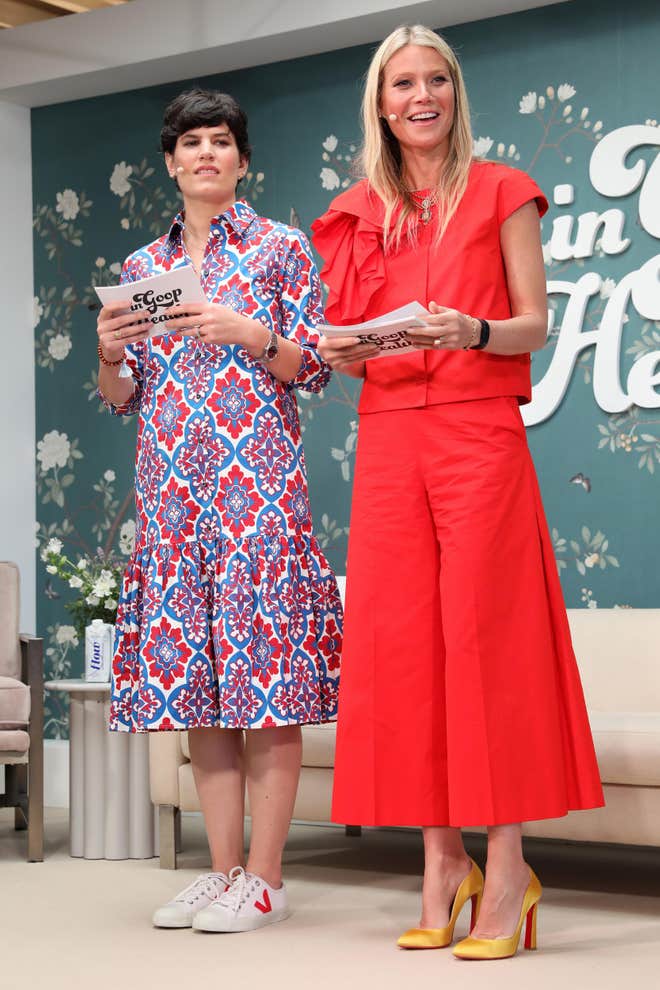 With her signature blonde tresses and tanned limbs, GP really did look the best possible advert for her lifestyle brand when she opened the festival alongside Elise. She wore a bright red culotte co-ord set with a pair of mustard yellow heels (she later changed into white Birkenstocks for mingling), a thick gold bracelet dangled from her wrist next to her black Fitbit. Wellness personified.
How to beat negativity, according to a GP-approved psychotherapist
Following some uplifting breathwork from an extremely bright-eyed Stuart Sandeman in the opening ceremony, we got a glimpse of what a therapy session might look like with Gwyneth herself when she hosted her morning "fireside" (read, session) with psychotherapist and author Barry Michels, a long-time friend of the actress.
Barry has created a 'visualisation toolkit' which he says can be used to 'hoover' up negative thoughts. One of these is called the 'Mother tool' which he says, with practice, you should be able to deploy within 10 seconds.
"It's for when you've had an adult equivalent of an 'oops' moment," he explained. "You've fallen down, hit your head and feel like you can't get back up again."
Once he'd described the concept, it was our turn. He instructed us to visualise our archetypal mother, "a form of pure love above you, take all the negative thoughts and turn them into a substance, a dark sludge that separates you from the mother and let go of it, imagine the mother lifts the substance up, look into her eyes and see her radiate confidence in you," he said.
It was a little deep for first thing, but Gwyneth seems convinced.
Tracy Anderson is Gwyneth Paltrow's secret fitness weapon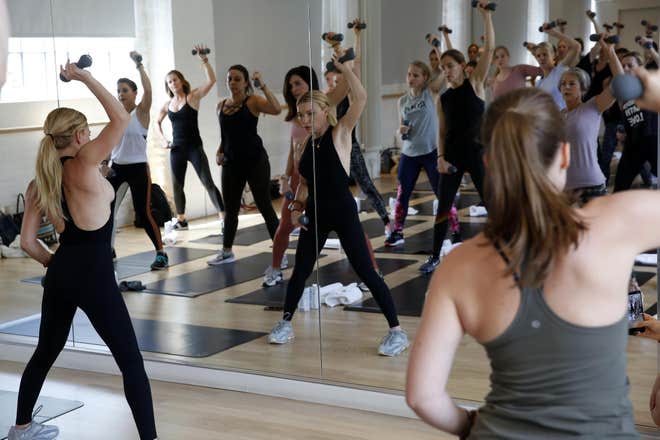 Next up, on a slightly lighter note, we had a dance cardio sweat session with celebrity trainer Tracy Anderson, aka GP's secret fitness weapon.
Tracy's secret weapon? Ridiculously high reps, oh and she doesn't speak during the class, you just have to try to follow her from the front (she's just under five feet tall).
Her feel good A-list method is all about working small muscle groups through repetitive movements and involves mostly bodyweight exercises. It started off pretty gentle with some straight forward dancey arm movements, though none of us looked anywhere near as good doing them as she does, but when we got on to the floor to work the lower body the reps started to feel never ending.
"Most of us somewhere along the line have distanced ourselves from our primal instinct process for our bodies, " she told me after class. "It's about how you hold your energy. If you watch a cat with its little iddy biddy paws, it's so dainty and light but we're like dead weight, you want to learn to redistribute your body's energy and be light like a cat."
Tracy currently has a personal training team in London but says she will be bringing a studio here at some stage, so stay tuned.
Sound baths are seriously uplifting
Gwyneth is apparently partial to a sound bath, so naturally one of the sessions on the schedule was a reiki and sound healing class with Jasmin Harsono of Emerald and Tiger in the Energy Studio.
Using a set of crystal bowls, the frequencies of each, Jasmin explained, are attune to one of the seven chakras in the body, "so when we play it, it resonates with that particular area and can clear any blockages," she said.
It may all sound a little hocus pocus, at one point in the class we're encouraged to chant affirmations like "I am powerful," but once she got going the sounds did seem to fill your whole body, and I started to feel all other thoughts slowly drop out of my head.
"It really resonates because the body's around 70 per cent water, so sound really travels, breathing deeper helps it to penetrate deeper," Jasmin told me after the session.
Vibes seriously lifted, it was onto the next sessions of the day.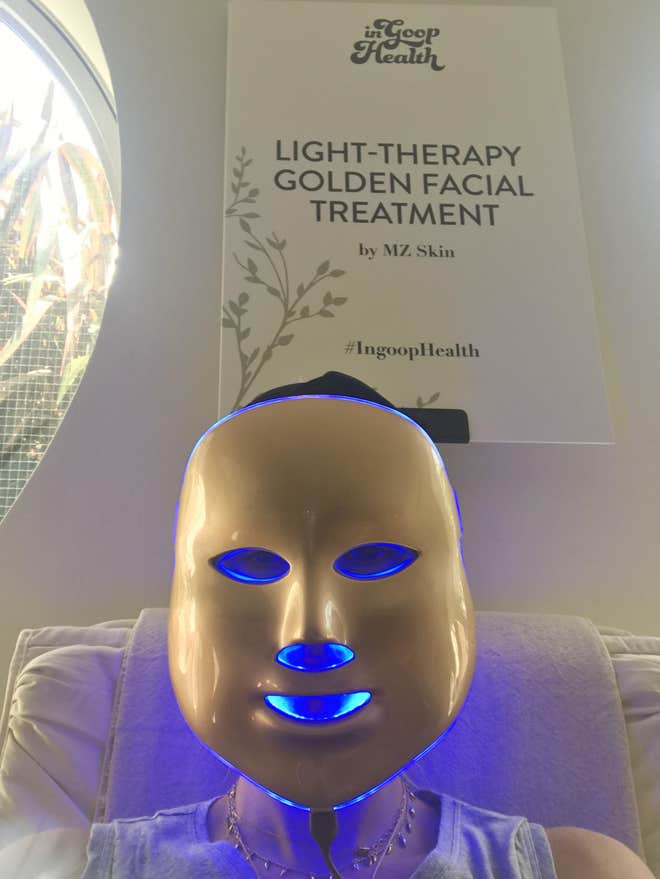 Anastasia Achilleos and Dr Barbara Sturm both gave separate live interactive skincare demos on the day, FaceGym was on hand to sculpt jawlines and cheekbones, as was MZ Skin offering free 10-minute light-therapy golden facials​. Once you were done with all of the pampering, a team of makeup artists from RMS were on-hand to touch you up with No Makeup Makeup.
There was a plant-based lunch of tomato salads and roasted cauliflower and broccoli, which were washed down with free-flowing organic cold pressed ginger shots from AG and bottles and bottles of kombucha.
In GP's final firesides with guests Twiggy and Penelope Cruz, we saw glimpses of her playful personality, which added to the sense of intimacy of the event.
In a chat with Twiggy, the host even dropped the c-bomb after the former supermodel recalled a bad review she once received: "What a c***!" GP responded.
Meanwhile, Penelope Cruz spoke incredibly frankly about her own personal experiences with perimenopause (early symptoms of menopause). Thanking her for her honesty and showering her with compliments, Gwyneth then quipped: "I'm just sorry you're not very good looking."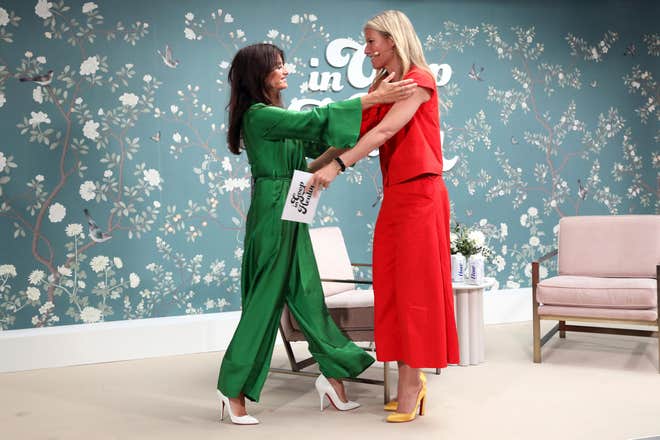 For balance the day ended with cold glasses of rose in the courtyard (not everyone stayed for one, however) and we all received an impressive goody bag bulging with organic self-care products.
I reflect on my first Goop summit experience. Would I have spent £1,000 of my own cash on this? No. Did it feel elitist? Yes, kind of. Did I leave feeling spiritually enlightened? Not really. But I did leave feeling like I'd done my body and soul some good. This is a new concept for the London wellness scene and I'm willing to admit I enjoyed it.
Categorized under Press