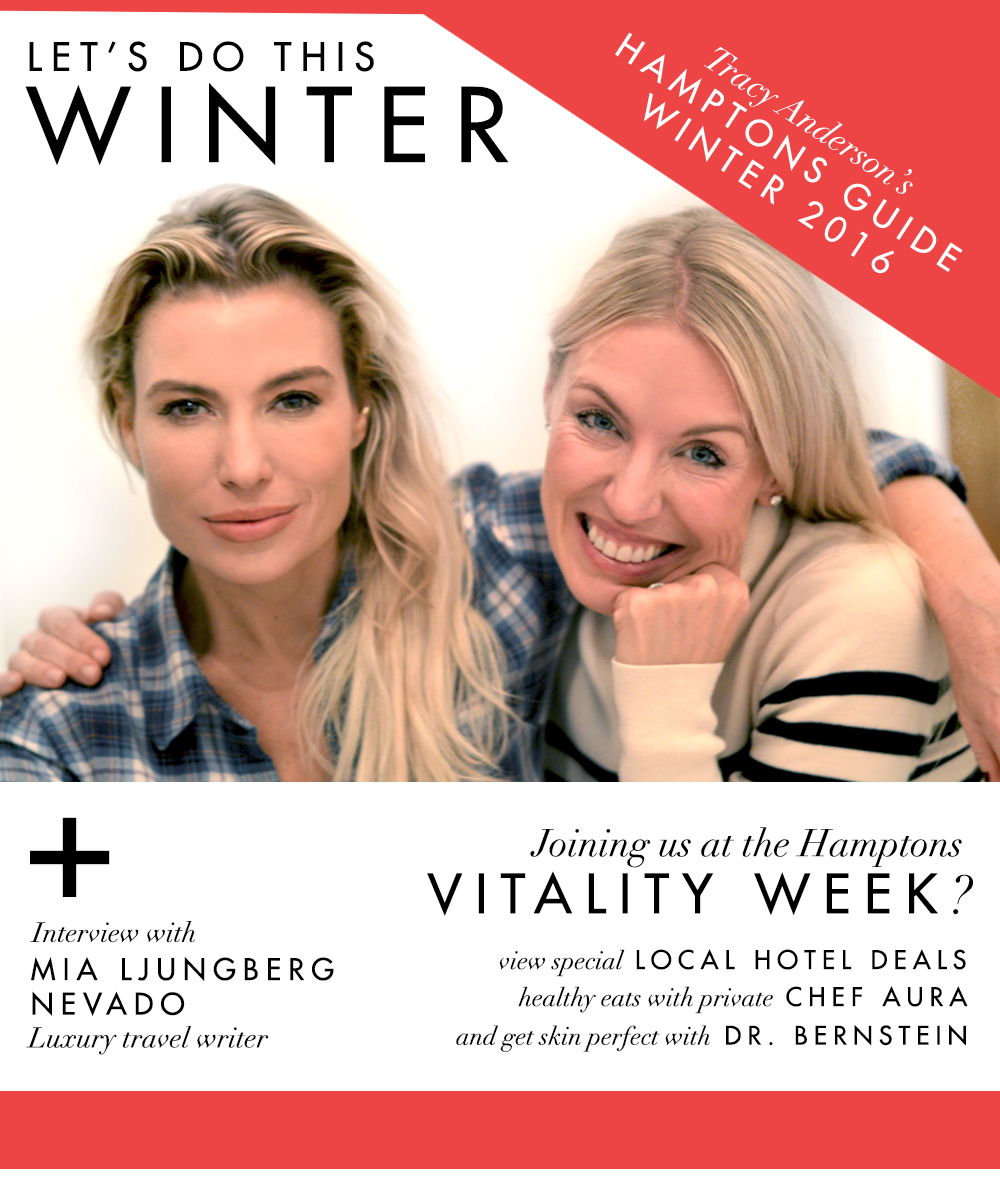 I am so excited to announce my dead of winter in winter Hamptons Vitality week.  I decided to share one of my most magical friends with you to help better understand why this just might be the trip you don't want to miss.  To entice you even more I am also going to be including my incredible chef
Aura Winarick
as an add on if you would like the best healthy food of your life to optimize your experience.  And the
brilliant Dr. Eric Bernstein
with options of laser work for your skin that will reverse any summer or stress damage you may have ever done.  This is a "not obvious" get away with the best of them.
It is very easy to follow the crowd to the "seasonal" hot spots much like we find it easy to follow trends, or easy to do what someone very convincing tells us. I have found that as I have worked to find my voice out of respect for wanting to live up to the unique individual I am capable of being – following the crowd has become less and less appealing to me. I don't want the "easy" way out. I don't want the "model" life, and I don't want to wear the "obvious" choice. I want to imagine a perspective that is painted by my rejection of banal utilitarianism and denatured commonality.  A place where we are encouraged to challenge ourselves to experience the road less traveled in hopes that branching out will be the missing piece to the unity and understanding humanity so desperately needs.
My dear friend Mia Ljungberg Nevado represents the elements the world is yearning for. A very delicate sensing, nurturing, brave woman that cares about her relation to the entire world at large. I have never met a woman as mindful as Mia. Mia has a persistent inquiry to reposition the idea of networking to a loving interwoven orchestra that brings everyone's best light in a world forward.  A network void of opportunism and instead where we can give for the win win. Her recommendations and intimate peek into her families lifestyle is to make everyone that is loving love closer and harder! To dodge the familiar warm beaches year round and jump into the chilled wind across your rosy cheeks as the waves crash In a winter wonderland fury.  It is these meaningful and charged small adventures that expand your experience and allows for the appreciation of the warmth to come again.   I am a firm believer in the need to awaken our senses.  To awaken your senses and to live we can not always be comfortable.
I believe we all need to embrace a life-world approach to everything we do.  Mia has lived in and parented in many different countries. She gets involved and seeks and finds the quality experiences everywhere.  She is uniquely positioned to help us expose our children to life on earth without a small lens.  Mia has style, heart, and what I would call a high standard for living a beautiful life while your feet remain on the ground. The other night when we were having a drink I complemented her incredibly chic striped turtleneck, tailored shorts, tights and boots fully expecting them to be some house of "crazy expensive". She flashed her gentle, dashing smile and replied, "it's all Zara darling." This is one of the things I love most about her. You don't have to have an endless bank account to travel the world in style. It's all about great tips from people that actually value being down to earth and value relating to one another.  People always had a hard time understanding why I didn't live in the city.  For me I need the connection to nature that isn't disrupted by the vibrations of the city.  I do find it charming when I meet friends that have lived a faster paced life that chose to slow down refreshing to me.  In following my gut and choosing to live more remote I have made some of my most meaningful friendships.  While the summer hamptons season is charger I was in love with the off season so much I yearned for it.  Whether or not you grew up in the seasonal Midwest like I did, I believe in searching out and experiencing the off season anywhere. It represents a journey that hasn't been exhausted and a dynamic embodiment of sensory self love. To journey in the dead of winter to a proper representation of the dead of winter to get to know yourself better and connect with your body and health more couldn't sound more ideal to me.
I hope you find Mia's interview and advice as cool as putting on Sinatra and a nightgown or white t-shirt and lighting a fire from the most important place to spark it… inside you and your inner journey to come.
All of my love,
---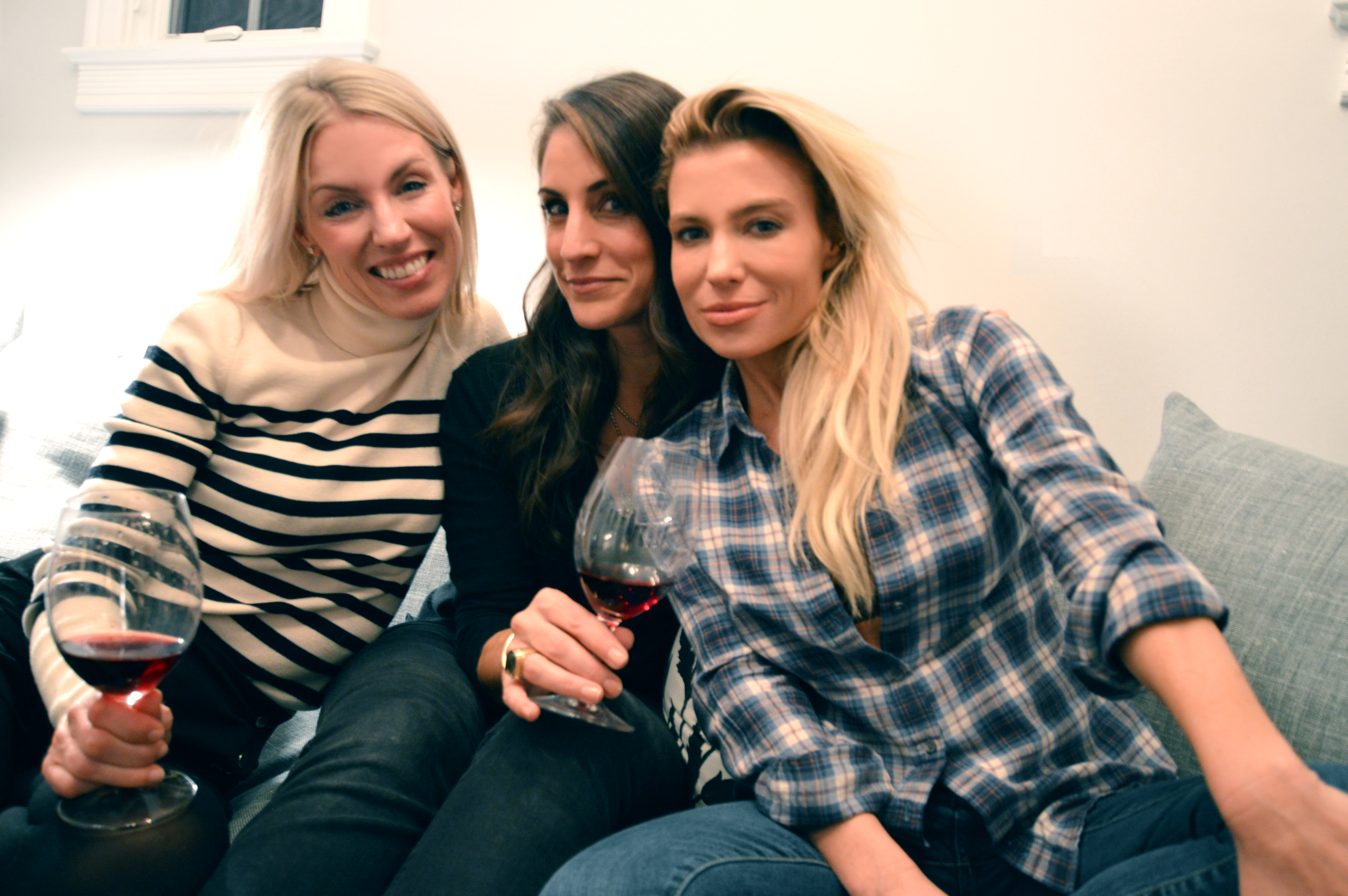 ---

I have been reviewing hotels for more than 20 years. I started out as a honeymoon reporter and travelled the world reviewing the very best honeymoon suites. I have written for Conde Nast Traveller UK, Mr & Mrs Smith and several international inflight and luxury lifestyle magazines about the latest trends in traveling.
I have been hiking in the Amazon, horseback riding in the Andes of Ecuador, exploring Galapagos with Charles Darwin´s family, snorkeling in the Maldives, gone fishing in the Seychelles, Balloon safari in Kenya, Danced under the stars in Ethiopia, gone flower picking in China, antique shopping in Burma and much more and I am always looking for the best insider tips to share with my readers.
Since I became a mother I wanted to help other parents who love to travel in style to find the best places to take their children. I have been visiting and researching kids clubs and kids programs all over the world and there are some pretty amazing places to go. One of my favorite places is Soneva Fushi in the Maldives. A barefoot no news no shoes sustainable eco luxury resort where they educate children about the environment. The kids club, "The Den", which is its own resort within the resort  is one of the most outstanding and sophisticated kids clubs I have ever seen. Not only do they please the younger children but also older children whom can learn from their resident astronomer about the stars or spend a day on the sea with their resident marine biologist and learn about the ocean. It is a place where both parents and kids will unwind and recharge.
I was born in Denmark, lived in Copenhagen, Denmark, Stockholm, Sweden and in Quito, Ecuador for many years before settling in the Hamptons where I live with my lovely husband and two sons.
---
YOU HAVE LIVED ALL OVER THE WORLD AND HAVE TRAVELED THE WORLD AT LARGE WITH YOUR BEAUTIFUL FAMILY IN HEART FULL STYLE.  WHAT WAS IT THAT DREW YOU TO THE HAMPTONS YEAR ROUND?
I cannot image a more beautiful place to live. We had been visiting the Hamptons for years and fell in love with the nature and people who live out here and after some years in South America we decided to settle here because it is close enough to our favorite city New York but calm enough to live year-round as a family. We have some of the most beautiful beaches here, the air is clean, it is safe and it is quiet. We have amazing hotels, restaurants, shops and farmer markets that can stay open all year round because of all the lovely New Yorkers that come out here for weekends and holidays year round to help keep them busy. What other small towns in the world can offer such rich life with culture and class despite how few people live here year round. To have access to two Tracy Anderson Studios out here one in East Hampton and one in Water Mill is such a luxury for us who live here year round. Thank you! Since I moved here I have traveled less because every day here feels like a vacation to me.
MIA AND HER FAMILY
  PLANNING A LAST MINUTE TRIP TO THE HAMPTONS DURING PEAK TIMES CAN PROVE TO BE VERY EXPENSIVE AND RIGHTFULLY SO AS IT IS A VERY PLACE TO SPEND YOUR SUMMER HOLIDAY. WHAT ARE YOUR FAVORITE PLACES TO STAY THAT ARE SURE TO MAKE ANY DAY OR ANY TIME OF YEAR FEEL LIKE A HOLIDAY IN THE HAMPTONS?
You are so right, often friends are surprised when they discover how expensive it is out here even off season. I always tell them too see it as a total experience – The nature, the beaches, the silence – a rare luxury these days and that is worth every penny. To come out here and walk on the beach on a sunny day in the autumn, in snow during winter or an early spring day can be such a magical experience. Some of my all year round favorite places to stay are Gurney´s Resort in Montauk. It is one of the very few hotels out here that is actually located on the beach and they have a lovely sun-deck where you can sip a cold drink in the summer or a hot chocolate in the winter while listening to the waves.
I also love the Ram´s Head Inn on Shelter Island, it is a small family-owned hotel that brings you back in time. It is cozy and the restaurant is lovely and there is a wonderful garden where children can play safely and you have stunning views of the ocean.
I love The American Hotel in Sag Harbor, such cozy atmosphere and a place that brings the locals together whether it is on a warm summer eve or cold winter night. You can go there in the afternoon, play chess and enjoy a hot chocolate by the fireplace.

WHAT ARE THE KEYS TO ENJOYING THE FALL, WINTER AND SPRING MONTHS IN THE HAMPTONS? I KNOW I LOVE THE WINTER BEACH IN MY SNOW SUIT!  IT TRULY IS QUITE A SPECIAL FEELING.

I agree with you, a snow covered beach on a winter day in the right clothing is very special. I love beach picnics all year round and a hot chocolate on the beach on a snow day is very nice. The key is really to enjoy the amazing nature and culture that the Hamptons has to offer year round. There are great plays at the theaters, interesting art exhibitions, beautiful nature trails and all the Holiday seasons are magical out here- especially Halloween and Christmas are worth a trip to the Hamptons for.
I love Christmas shopping in the Hamptons, its relaxing and all the towns are decorated beautifully and we are so lucky to have great shops here such as Stephanie von Watzdorf´s store Figue in East Hampton,  where she sells her stylish bohemian chic clothing line and Aerin Lauder´s store in South Hampton Aerin is a great place to find something special. She has such sense for style and her store is full of her stylish housewares and accessories that makes the perfect Christmas gifts.
There are so many lovely local farm stands out here that has been in the same families for generations and it feels so wonderful to help and support them so they can stay open because that is what makes it pretty unique to live out here year round. You can go and pick the apples yourself, stop by a dairy farm and get some local cheese and then stop by the local vineyard and buy a bottle of wine for dinner. To me that is a luxury not to be taken for granted. Some of my favorite farm stands are: Mecox Bay Dairy in Bridgehampton, a dairy farm that has been in the same family since 1875 and famous for their aged cheddar cheese. Amber Waves Farm in Amagansett which is founded by two cool girls, Catherine and Amanda whom have set a new trend for women to become farmers. Another favorite is Halsey´s Farm Stand Green Thumb next door to the Tracy Anderson Water Mill studio, a farm that has been in the same family since 1644 who produce great organic veggies.
To watch the seals play in the ocean by Montauk Lighthouse in the winter and spring season is pretty amazing and to walk the walking dunes in Amagansett is unique too. To sit on Long Beach in Sag Harbor or any of the ocean beaches during an autumn and winter sunset and watch the sky turn pink and purple is one of the most breathtaking and reviving experiences one can have here.  No wonder so many artists choose to live here year round. Come spring and all the gardens start to bloom and all the places come alive, that is wonderful too.
SANTA AT THE PALM
WHERE SHOULD WE STAY DURING WHAT SEASONS IN THE HAMPTONS? 
For summer Sunset Beach on Shelter Island, this is the place to go if you dont have time to go to Europe but you want to feel like being in St Tropez. Rooms are not that spacious but the view covers up for it and the restaurant is great!
For autumn winter and spring I love the Gurneys Resort in Montauk, there is a great indoor pool with view of the ocean, they have an ice skating rink during winter season and the restaurant offers great views of the ocean in all seasons. I love the The Inn at The Windmill in Amagansett with its spacious stylish suites and cottages and the exclusive Baker House in East Hampton for its great spa, heated outdoor pool and the best brunch. The Maidstone Hotel in East Hampton for its Scandinavian touch and Swedish meatballs. The Topping Rose House in Bridgehampton for its comfortable rooms and great restaurant and The White Fences Inn in Water Mill for its privacy and one of the very best breakfasts out here and last but not least the iconic American Hotel in Sag Harbor with its cozy rooms and fireplaces in the restaurant to keep you warm on a cold day.
LUNCH AT JEAN GEORGES
WHERE SHOULD WE DINE IN THE HAMPTONS?
For the scene and people watching – Nik & Toni´s or The Palm in East Hampton.
For elegance and farm to table – Jean Georges at Topping Rose House in BridgeHampton.
For best Italian –Dopo La Spiaggia in Sag Harbor. I love to sit in the bar and watch the sunset settle over the harbor.
For romantic dinner and dance –Pierre´s in Bridgehampton (Sundays & Tuesdays)
For good old times-The restaurant at The American Hotel in Sag Harbor.

What I really love to do is a sunset picnic on Main Beach or Georgica Beach in East Hampton with take-away from Round Swamp Farm –a family owned farm stand that for generations has made the very best take-away in the Hamptons.

FAVORITE PLACES TO EXPERIENCE?
One of my absolute favorite places to experience in the summer is the LongHouse Reserve in East Hampton. It is a place of tranquility and peace and it is one of the most visited gardens in the world. A sixteen acre sculpture and art installation garden featuring pieces from Yoko Ono to De kooning. There are really no words to fully describe this place, it is a must visit. During summer season they arrange a few sunset tours of the garden where you also get to visit the stunning private home of the founder Jack Larsen. They stay open most of the autumn (weekends only).
I also love Madoo Garden in Bridgehampton. It is the former private home of Robert Dash, a noted painter and writer. Madoo is a magical garden with many secrets paths and during summer season the local library reads for children in the garden every Monday which is so lovely.
I love Wölffer Estate Vineyard in Sagaponack and this is a place to visit all year round. It is a beautiful vineyard located in the heart of Sagaponack and they do so many lovely events throughout the years such as The Harvest Festival in October and the Lightning of the Vines in December where they have 15000 lights illuminate the winter vineyard. Its so beautiful and romantic. During summer they have jazz concerts while the sun sets over the vineyard that brings the locals and the summer residents together.
I also love to explore CMEE – The Children´s Museum of the East End with my sons. It is a big indoor and outdoor dream playground for children where they can use all their senses and skills and have fun.
HAMPTONS BEACHES 
FAVORITE PLACE TO UNWIND?
Georgica Beach in East Hampton.  There is a beautiful hidden path off the West End Road from where you can walk down to Georgica Pond where the water is calm and on the other side of the road there is a hidden path to a bench high up above the sea from where you can quietly watch the waves. Whether I go there on an early summer morning or in the winter, the silence and view takes my breath away.
SAG HARBOR SUNSET 
YOU ARE THE GO TO TRAVEL GURU ESPECIALLY TRAVELING WITH KIDS.  WHAT ARE SOME OF THE BENEFITS YOU FIND FROM BRINGING YOUR KIDS ALONG ON A JOURNEY?  WHERE CAN WE FIND MORE OF YOUR TIPS ABOUT TRAVEL?
To bring your children along when traveling opens their eyes and souls to new cultures and tastes that they will otherwise not experience. I feel it is our responsibility as parents to help our children to stay curious to new places and cultures. They become world citizens and have a greater openness the more they travel. My sons are 3 & 5 years old and they speak four languages fluent which is one of the many benefits from traveling and this allows them to connect with other cultures much easier. They have been to remote simple places and they have stayed at some of the best hotels and resorts in the wold and they feel comfortable both places because they are so used to change of scenery. Another benefit is that I get to dress up my sons which I love. They know that they cant wear a batman outfit when checking in to a hotel or boarding a flight or going to a fine dining restaurants. They have come to appreciate dressing up because they know it means new adventures and often many compliments on the way. I am doing a series of interviews with some of the oldest doormen in the New York from the old classic hotels and its amazing to see the eyes of my sons when they hear what the doorman have to share with them. Did you know that Liza Minnelli grew up at The Plaza Hotel and that Eloise –based on Kay Thompson's Children's books is inspired by Liza´s childhood at the Plaza? Another benefit from all the traveling is to discover all the fun services that are out there for families to enjoy, such as sky nannies to help on board a flight, custom made designer strollers for luxury hotels for their guests to use, cooking classes with famous chefs and much more. It is so interesting to watch and experience children visiting a new place for the first time and it doesn't always have to mean you need to fly across the world, a hotel night in your own city or somewhere close can be just as fun for them as a place on the other side of the planet. As the famous Danish Children´s book author Hans Christian Anderson so correctly said " To Travel is to Live".
IF COMFORT & COZYNESS MATTERS
The Baker House 1650, East Hampton  
The Baker House is a luxury hotel with seven spacious rooms and a great spa and famous for their brunch. The hotel is located a short stroll from beaches and village of East Hampton.
www.bakerhouse1650.com
10 % discount on rooms
. To book your room email: info@bakerhouse1650.com
IF ART MATTERS
The Maidstone Hotel, East Hampton
The Maidstone Hotel offers 22 rooms, all in different forms and shapes filled with the best of Scandinaivan furniture and culture. The owners private art collection can be enjoyed throughout the hotel. The hotel is located a short walk from beaches and village of East Hampton.
www.themaidstone.com
20% discount on rooms 
. To book your room email: info@themaidstone.com
IF FOOD MATTERS
The Topping Rose House, BridgeHampton
Topping Rose House is a 22 room luxury hotel with famous chef Jean Georges in the kitchen. The hotel is located in the heart of BridgeHampton. www.toppingrosehouse.com
20% discount on rooms
. To book your room email: Info@toppingrosehouse.com
IF PRIVACY & COMFORT MATTERS
The White Fences Inn, Water Mill
The White Fences Inn is a luxurius family owned B&B that offers 5 spacious rooms with Frette bedlinnen and offers privacy. Famous for their homemade breakfast. www.whitefenceswatermill.com
20 % discount on rooms
. To book your room email stay@whitefenceswatermill.com
IF COZYNESS MATTERS
The American Hotel, Sag Harbor
The American Hotel offers 8 cozy rooms. The cozy restaunrant and bar is a favorite among locals. This is one of the most cozy hotels in the Hamptons located in the heart of Sag Harbor. www.theamericanhotel.com
20% discount on rooms 
. To book your room email Julian@theamerianhotel.com