Let's get real before 2017
December 23, 2016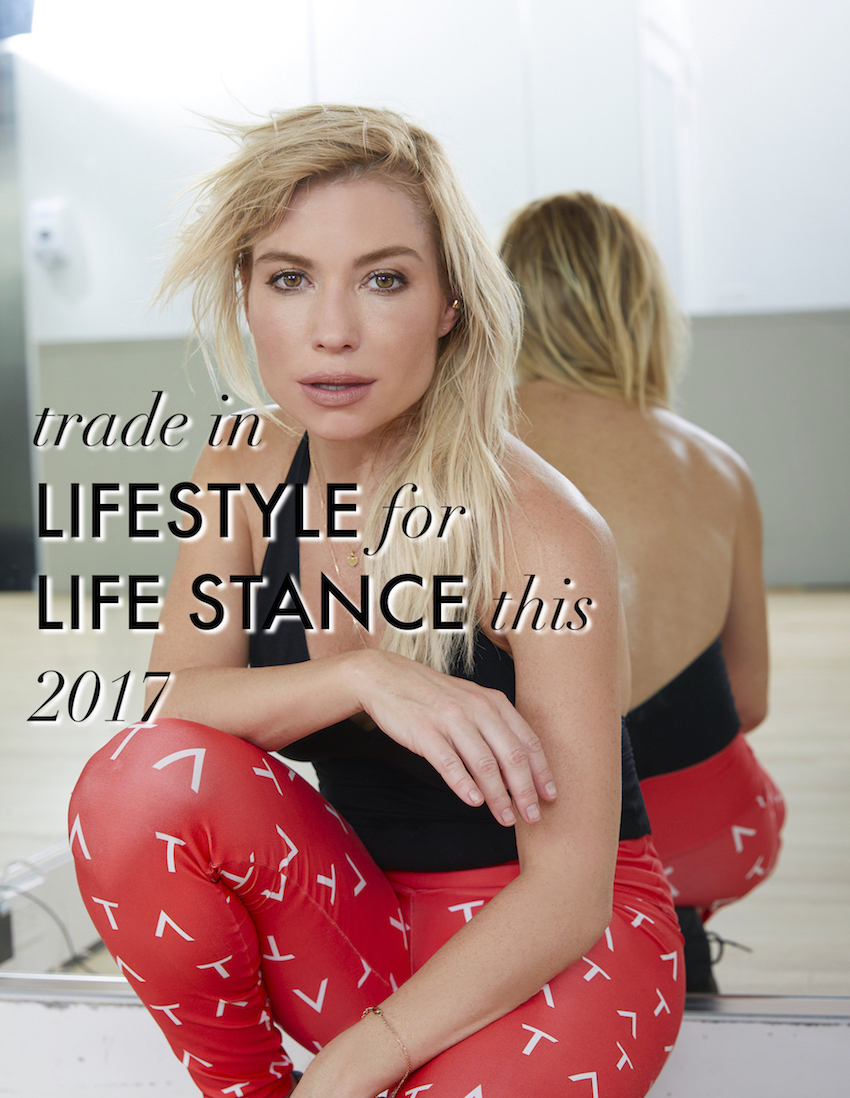 If January 1st is New Year's Day, have you ever noticed that January 2nd is Personal Crisis Day?
It seems that the second the Holidays are over, we're all immediately back to trying to solve our best bodies through lifestyle trends that will once again prove to fail year after year.
But you need to change the tape.
This weekend and through the New Year, focus on the people that you are the most grateful for in your life. Try to let go of negative feelings about things that may have occurred in the past. The brain reacts to stressful events by releasing messenger molecules to your body. We can only cry wolf about our stress so many times before our body's ability to deal with it in a healthy way starts to weaken. This is why taking the loving high road is better than your often damaging ego may realize. So embrace, enjoy and celebrate whatever the Holidays mean to you with those that mean the most to you. Hug a little tighter. Look each other in the eye a little deeper. Listen with more interest. Be very, very present. This matters for your health, your balance and your ability to start 2017 off right.
When January 1st comes around, I want you to consider the concrete realities of where you are. Knowing YOU is the only way to know how to improve you.
Now is just a moment in time. I want you to dig through the congestion from this past year. What did you not say that you still need to say? What did you not do for your health that you need to do, starting today?
I want you to get a journal—even if it's an imaginary one—and spend some time actually answering questions for yourself like: What do you weigh? How do you eat? Where do you buy your food? What do you eat that is organic? How do you enjoy life? How do you move? Do you have a strategy for your body? Are you focused? Where are you out of balance? What do you do for yourself? What do you do for others? How do you treat others? How do others treat you? Do you value yourself? Do others properly value you? How do you love? Who do you love? What is your routine? Do you have a routine? Are you consistent? Are you erratic?
This year I challenge each of you to consider getting more focused on your own intrinsic rhythms. We live in a fast paced world with an overloaded amount of options and opportunities. Just think how hard it is to figure out what television show to binge tonight. (An aside: I recommend "Search Party" on TBS.) Many of the brain's most important functions operate on less stimulation, but we have to find balance.
This year, don't believe the hype. Create your own hype. Get educated and trust the people that are experts in their lanes so you can focus on being the best you can be.
As for other concrete actions you can take …
I have been doing press for over a decade. A lot of it. I can't tell you the number of interviews over the years during which I have taken time with the lovely reporters to educate them on the truth of what readers really need to hear.
Unfortunately, even when I educate them on giving you the truth they still are ordered to ask me and somehow tell you how to get J. Lo's butt in three moves or Gwyneth Paltrow's legs in two; Hilary Rhoda's arms in five minutes, or Alessandra Ambrosio's abs in two smoothies.
It isn't true, and I honestly can't believe we have led any publication to believe that we are this dumb and this unwilling to want to celebrate our own beauty. But this is unfortunately what sells, and the only people that can start demanding better information are the readers by putting their dollars towards publications that are actually growing in the right directions.
When Health magazine first approached me as a cover girl I had to ask several times if it was a mistake. ME? Me, who has turned down several sold television shows about myself? Me, who is five-feet tall, 41 years-old, and has had two kids?
Not only that, they want to let me give the readers new moves every single MONTH and they want me to tell their readers the TRUTH!  WOW!  I am a huge fan of this magazine. Publications that come to you every month that are well-vetted and easy to read are a great add on for you to stay healthy. If you are going to subscribe to any publication, subscribe to HEALTH.
Get a personal MARSHAL speaker, an infrared heater, a home humidifier. Some days it's absolutely impossible to get out and take the time to go to the gym. That's why you need a place at home devoted specifically to your exercise routine. Consider that staying in for your workouts is, strategically, the best thing you can do for real change to occur in your body.
I would much rather someone be on my live streaming all year in their home than at the occasional, random gym class. Your body can only change with strategy. You can only lose weight and own that weight loss with consistency.
2017 is the year we need to stop joking around. We need to speak truthfully and supportively. We need to help save each other and the world by trading in a life style for a life stance, so that when January 2, 2018 rolls around, we won't have another personal crisis and it'll just be another day on the calendar.
xo,
---
Save
Save
Save
Save
Save
Save
---
Of course I believe in eating raw foods. I was a vegan raw foods for a year however that didn't prove to make my system more balanced.  I don't believe in eating chemicals and I would rather eat something out of a wrapper that is organic than something alive and drenched in toxins.  There is a real necessity for meal replacements that help us manage living at a healthy weight.  I have worked and continue to work very hard at consistently improving healthy organic on the go options for you to be healthy.  Below I asked my dear pal and chef Emery Chapman to come into my home and make some fun alternative ways to add the good protein from my CLEAR bars into your life.  I am also sharing with you some of my favorite shake recipes that I made up to help me drink less calories but  get the protein I need to replace a meal.  I like to have one meal a day attached to my emotions and be more intelligent about the others.  Hope you enjoy them as much as I do.
---
Save
Save
I THINK ERIN BROCKOVICH IS ONE OF THE MOST IMPORTANT MOVIES FOR OUR HEALTH WE CAN WATCH. I MEAN WOULD YOU EVEN WANT A DROP OF POISON IN YOUR BODY LET ALONE A "LEGAL" LIMIT FOR ONE. WE NATURALLY HAVE A GUT THAT HAS BEEN SHUT UP BY INDUSTRY SO MUCH THAT I BELIEVE SOME PEOPLE THINK THAT EVEN PESTICIDES MUST BE OK OR THEY WOULDN'T BE ALLOWED. SADLY THAT ISN'T THE CASE. WHAT FILM DO YOU THINK IS THE MOST IMPORTANT FILM PEOPLE CAN WATCH TO START 2017 OFF MORE HEALTHY?
I think the documentary "Before the Flood" is a really important and powerful film that needs to be seen. Climate change is a very real threat. In fact, it has been said that if ignored, it will be the greatest global disaster to humanity and the planet. This is a humanitarian issue that transcends all race, creed, gender, and we absolutely need to pay attention. We are currently at a tipping point. If we begin to make changes, the earth actually has the ability to heal and correct the damage. The recognition that how we consume and that our purchasing power can impact the effects of climate change is so important. Simple ways that you can get started right away are to recycle, purchase locally, bring your own reusable grocery bags, use your own reusable water bottle, support local organic farming, choose products that do not contain palm oil, source your food more mindfully, and in general just consume less. There has never been a more important time to be proactive. We absolutely can be a part of making a difference as the future of this beautiful planet depends on it. This transition and awareness needs to happen for our generation, our children's generations and the generations to come.
I COMPLETELY UNDERSTAND THAT IT IS EXPENSIVE TO BUY ALL ORGANIC. I THINK IT IS CRUCIAL THAT IN 2017 ONE OF THE MOST VITAL STEPS WE TAKE FOR OUR HEALTH IS TO BUY ORGANIC AND ONLY SOURCE MEAT FROM PLACES THAT WE KNOW HAVE OUR HEALTH AND THE ENVIRONMENTS HEALTH BUILT INTO THEIR LAWS OF DOING BUSINESS. WHAT ARE YOUR FAVORITE WAYS TO SHOP FOR FOOD IN THE MOST HEALTHY WAY. I PERSONALLY KNOW THAT I CAN TRUST THE STAFF AT PROVISIONS TO VET WHAT MAKES IT ONTO THEIR SHELVES AND IT IS THE ONLY PLACE I SHOP.
I talk a lot about our buying power. We vote with our dollars and the more we purchase organic and demand it as a standard, the more it will become available as a cost effective option for everyone. When consumers demand a standard through their purchasing power, companies listen because at the end of the day it's about what's selling. Personally, I have the most amazing local co op called the Rising Tide and it is where I primarily shop for all of my food. When you become a member of many co ops, you are supporting small business and companies that are purchasing products that are sourcing local, organic, seasonal ingredients and products generally with sustainability in mind. Co ops give members discounts on food, have weekly and monthly sales and member appreciation days. You can go to www.coopdirectory.org to research finding a co op in your region. I believe supporting small business is so important and when we support businesses that have a higher vision in mind, we impact change. My hope is that one day organic real food will be affordable and available to everyone.
ONE OF THE REASONS I WANTED TO MAKE SURE I HAD A HEALTHY PROTEIN BAR ON THE MARKET WAS NOT ONLY TO HELP PEOPLE WITH AN AFFORDABLE HEALTHY MEAL REPLACEMENT TO LOSE WEIGHT BUT FOR THOSE OF US MAINTAINING A HEALTHY WEIGHT ON THE GO. WHEN YOU FIND YOURSELF TRULY ON THE GO WITH TRAVEL OR THE KIDS WHAT ARE YOUR FAVORITE THINGS TO MAKE SURE YOU HAVE WITH ME. MINE ARE EDEN TAMARIN ALMOND SNACK PACKS, MY PROTEIN BARS, AND ALTER ECO DARK CHOCOLATE VELVET BARS. I DON'T LEAVE HOME WITHOUT THEM OR I MAY EAT M&M'S!
The reality is we all have days or schedules where we are rushed and realistically sitting down to a meal is just not going to happen. On those days, I still make a commitment to pack food on the go that is nutritionally sound, satisfying and that will fuel my day. My go to choices are generally an organic apple and a TA protein bar . They are delicious and it feels good to know the protein is coming from a clean reliable source the will hold me until I can sit down to a proper meal later in the day. I also make my own trail mix which has raw unsalted sunflower seeds, pumpkin seeds and local bee pollen. I take a small container of that with a piece of fruit that is in season. Lately, I've been really loving seasonal clementines. There is nothing worse then trying to get work done or manage kids when you are too hungry. With a little preparation and organization, we absolutely can keep ourselves on track and make choices that empower us and help us meet our goals.
Save
I FIND THAT ONE OF THE MOST DIFFICULT THINGS FOR PEOPLE IS CONSISTENCY. HOW LONG HAVE YOU BEEN DOING THE METHOD NOW? HOW DO YOU JUGGLE BEING A PROFESSIONAL CHEF, BUSINESS OWNER AND MOTHER OF TWO AND STILL SHOW UP FOR YOUR WORKOUTS?
I have been practicing the method now for 9 years. My husband read me a newspaper article about a form of exercise known as the Tracy Anderson method. I was hooked from the first dvd and have never looked back. Metamorphosis led to Continuity which then led to live Streaming which I truly believe is Tracy's best content yet.
As a professional chef, momma of two beautiful babes and a business owner, there are honestly days where trying to juggle it all is a real challenge. Exercise however is an essential part of my life and the glue that holds me together literally and figuratively! The question is never "if" I am going to workout but rather where in my schedule am I going to fit my workout in. I look at my schedule and I find the pocket of time and then I just make it happen. If I am having a day where I am feeling sluggish and struggling to hit play, I get on Instagram and see all of the "Tamily" doing leg lifts and that's all I need! The community helps so much and the reality is when I exercise, I am a better mom, a better business woman and just a better person in general.
The true root of where my consistency is continually born from though transcends the incredible physical results one sees. We should all take a moment to acknowledge the profound changes that anyone who fully commits to the method will see in their body but there is something even more exciting. The greatest benefits of the method go far deeper. Neuroscientists are proving that key elements such as emotional connection, repetition and triggering the body to tackle new "puzzles" through movement are key contributing factors in fighting aging of the brain and body. This is exactly what the method does as it truly binds the emotional, physical and neurological elements into one. The method is one of the greatest ways we can enhance brain neuroplasticity , brain synapsis and overall brain function. As someone who has recovered from a serious head injury, this is crucial. My body has truly healed itself and continues to feel better and better every time I do it. Once you experience this, it honestly is hard to take a day off.
  WHAT ARE YOUR TOP TIPS FOR APPROACHING COOKING FOR THOSE OF US THAT FEEL LIKE MAKING OUR OWN MEALS IS TOO MUCH TO TACKLE?
Julia Child said it best:
"You don't have to cook fancy or complicated masterpieces, just good food from fresh ingredients"
Cooking does not have to be complicated or daunting task to taste good. All we need is a is a little organization, meal prep, and the understanding that real food does not need a lot to taste delicious. You do not need to be a professional chef to learn how to cook simple, gratifying healthy meals. In the time it takes to heat up some processed packaged meal, we can make a completely nourishing meal from scratch. Pick a day to grocery shop, write down a rough schedule of ideas for meals and then just make a commitment to it. There are so many easy, quick short cuts such as purchasing organic pre washed salad greens to quickly make salads. Organic hormone free rotisserie chickens for quesadillas, chicken salad, rice bowls, soups, and I love my rice cooker and crockpot for busy days.
We just need to get back into the kitchen and start cooking because this is where deep connections, traditions, and connection with real food are born. We need this for ourselves and for our children. Proper nutrition is the master key to human health. We empower our own health and the health of the planet when we remember the importance of this.
  WHAT IS YOUR NEW YEARS RESOLUTION?
I think my New Years Resolution is the recognition that we truly can impact change one by one by one. All of us can be a part of bringing more positivity and goodness into the world. We just have to be dialed in to recognize it. I think when we move our bodies, eat well, get out in nature, and truly connect with people in a real authentic way, we wake up our mind, body and spirit. We have to be physically and emotionally connected within to know ourselves well enough to not only make a difference in our own lives but others. Self care is the greatest "oxygen mask" we can give ourselves. When this is in place, we can offer so much. We can then lead, empower, and make choices that can truly impact change in larger ways. I think this will be crucial in where I see us needing to go collectively as human beings. If I can be one speck in helping nudge this inspiration along, I will feel grateful because serving others is the greatest gift.
---
Chef Emery |  www.chefemery.com  | @emery5
"Every day is a gift and every day we are beginning"
Professional organic chef, educator of sustainable cooking, and advocate for women's health and wellness. My life's work is to use my pivotal role as an organic chef to spread greater awareness on the impact that sustainable food has on our own health and the planet.
Save
Save
Save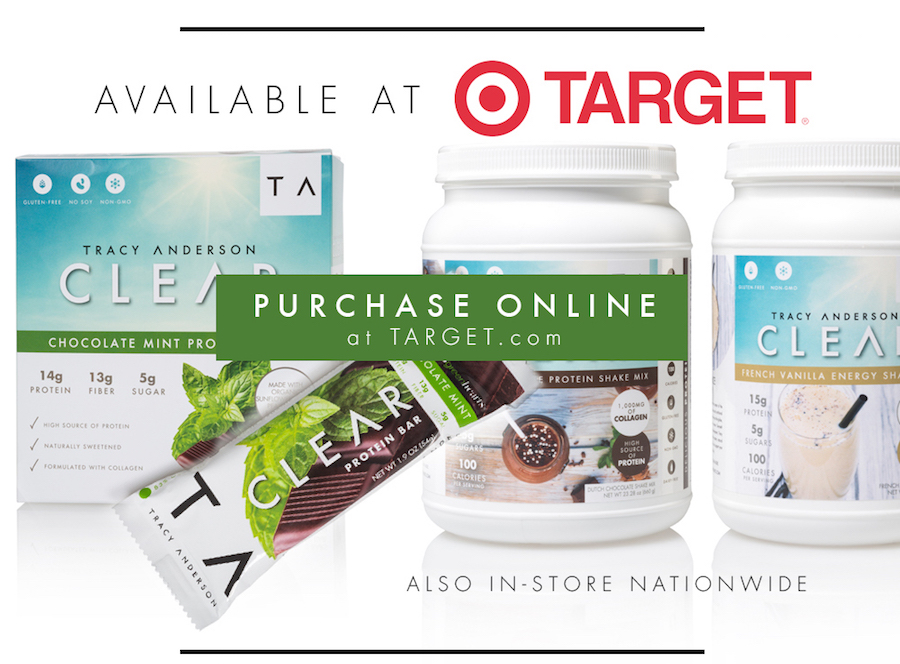 Save


Tracy Anderson Protein Bar Chocolate
Bark
Be the star of your next
holiday
party with this incredible chocolate
bark
that is full of quality protein!
5 to 6 bars of your favorite chocolate ( I used organic green & black dark chocolate 85% )
1 tsp sea salt ( optional )
1 TA vanilla toffee crunch protein bar cut into cubes
1 TA chocolate protein bar
Use a double boiler or two pots.  Place water in the bottom of one pot and place the other pot directly on top.  If using a double boiler, place water in the bottom and assemble as instructed.  Unwrap chocolate and place in pot.  Place heat on medium and using a spoon stir the chocolate occasionally till fully melted.  While chocolate is melting, take a sharp knife and cut the two TA protein bars into cubes.  Set aside.  Take a medium casserole dish and line it with parchment paper.  Once the chocolate is melted pour evenly into the parchment lined casserole dish.  Next, sprinkle the chocolate with sea salt ( optional ) and the cubed TA protein bars.  I like to let my chocolate
bark
set overnight at room temperature until firm.  You can place it in the fridge to speed up the firming process but I believe it changes the fat solids in the cocoa butter.  Once firm, remove from casserole dish keeping the parchment on the chocolate.  Lay the chocolate on a hard surface and using a sharp knife cut into
bark
pieces.  Store the
bark
in an air tight container at room temperature.
Have fun with this!  You could add dried cranberries or a touch of lemon or orange zest.  The options are endless and of course enjoy!

Organic
banana
"nice"
cream
with sliced
bananas
finished with Tracy Anderson Clear chocolate protein bars.
1/2 organic

banana

sliced
1 Tracy Anderson chocolate protein bar cubed
1 scoop Tracy Anderson chocolate protein powder
1/2 cup water
1/2 organic sliced frozen

banana
With a sharp knife cut one TA chocolate protein bar into cubes and set aside.  Slice 1/2 fresh organic
banana
into slices then set aside.  In a high speed blender, pour water, 1/2 frozen
banana
, 1 scoop TA chocolate protein powder and blend on high till it is the smooth consistency of
ice
cream
.  Immediately pour "nice"
cream
into a cup.  Then add sliced
banana
and cubed chocolate TA protein bar.
Bananas
are full of magnesium, rich in potassium, moderate blood sugar levels and are beneficial to overall digestive health.  Add TA protein and you will not only feel like you just had the most delicious "treat", you can know you made a good choice that is fueling your body in the right way.
Save

Organic
Raspberries
rolled with fresh
mint
and Tracy Anderson chocolate
mint
protein bars
1/4 cup fresh organic

raspberries

washed
5 to 6 sprigs of fresh organic

mint

washed
1 Tracy Anderson chocolate

mint

protein bar cut into cubes
Take a sharp knife and cut one TA bar into cubes
Wash
raspberries
and place in cup alternating fresh
raspberries
, TA bar and fresh
mint
Raspberries
are full of powerful antioxidants, fiber and full of vitamin C.  
Mint
promotes digestion and has powerful anti inflammatory properties.  Add a TA bar which is packed with protein and low in sugar and you have an energy boosting recipe to power your next workout!
Enjoy!
Save
Save
Save
Categorized under Blog