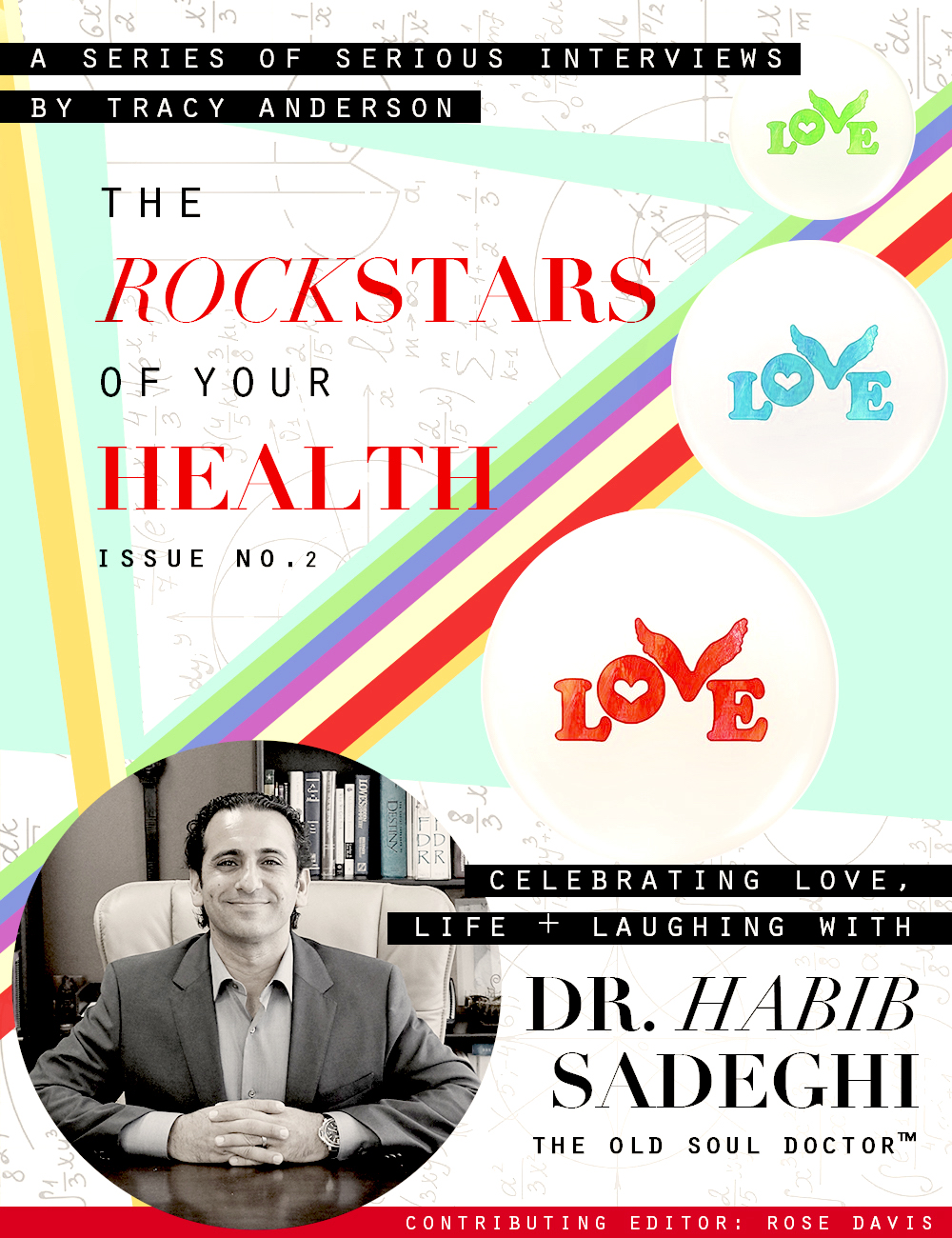 Save
Save

I believe that our search for medical diagnosis comes from a very disconnected place.  We don't take the steps to know ourselves and deal with the all the little different pains that plague us beneath our surface and compound to affect our whole self. As a result, we are missing the opportunity for the most optimized, long-lasting and effective treatments. If you desire living your happiest and most full life, it is crucial to get to the root of who you are, why you are, how you are, and how to navigate as you are.  Throughout my career, I have seen countless people that cannot hear what it will take for them to be physically connected or balanced.  They do not want to believe that everything you do to your body is interconnected. They tune out the insight that you are how you eat and how you move because they'd prefer a trendy "miracle" to remove their pains and imbalances that will take them little to no effort. We have to face our histories, choices, and circumstances.  We have to learn how to sift through the glittery quick-fixes in life and get to the root of our health and happiness. Self Love is where it starts because in true love there is no room for jealousy. Love is the absence of fear. Love is not needing but wanting. Love allows forgiveness. Love requires attention. Love understands and accepts differences. Love has empathy. Love has gratitude. Love is a commitment. Love trusts and accepts the truths. Love heals. Love is an action. As a patient and friend of the brilliant Dr. Sadeghi, I have come to learn that Love is the most powerful root of healing in his practice. This has inspired his powerful Love Button movement, which you will learn more about and hopefully become inspired by, in the Q&A below. It takes a lot for us to learn to face ourselves. Our health. Our potential. Our purpose. When we learn to look at ourselves and each other as a whole, we can be strong enough and sound enough to let our love heal us and all of those we come in contact with.

In honor and support of Dr. Sadeghi and his important body of work, I want to spread love, through what I know best:  DANCING!  My trainers and I are joining together to create a #TADANCEFORLOVE in our own fun loving style for you all to learn. Follow these simple steps to join us in expressing your love through your own movement.
STEP 1. Visit lovebutton.org and get your own love button (or many! We love wearing them around my house and giving them to our friends too!) and follow this inspiring movement's account at: instagram.com/lovebuttonorg
STEP 2. Each day learn 1 fun 8-count portion of my love dance which you will find by following my Instagram account: instagram.com/tracyandersonmethod
STEP 3. Put the full week of moves together and film the complete dance with your love button on. Share your love dance on instagram by July 25th, 2016 with the hashtags
#TADANCEFORLOVE & #PAUSEANDLOVE and tag @lovebuttonorg & @tracyandersonmethod for a chance to win a viTAlity week and a love t-shirt!

Let's start spreading more love,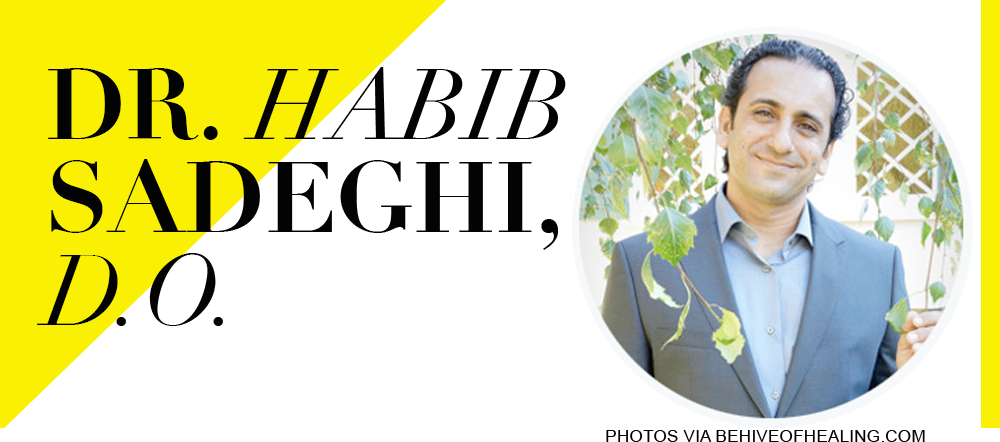 Dr. Habib Sadeghi, D.O., co-founder of both Be Hive of Healing Integrative Medical and Dental Center and the International College of Spiritual Nutrition, is a highly respected physician and researcher. His practice focuses on delivering integrated health principles that promote healing and total body wellness. Additionally, he has authored several books, delivered a TED talk, presented at the Stand Up to Cancer event, contributes to the Huffington Post, and has just launched the Love Button Movement. He has served as an attending Physician and Clinical Facilitator at UCLA-Santa Monica Medical Center, as a Clinical Instructor of Family Medicine at Western University of Health Sciences and is a member of the Physician's Association for Anthroposophic Medicine and International Post-Graduate Medical Training for Anthroposophic Medicine.
---

Save
Save
Save
WHAT INSPIRED THIS CONCEPT OF THE LOVE BUTTON?
It was February 3, 1997, when I was diagnosed with testicular cancer at Loma Linda University Medical Center.  As a young medical school student, I saw my entire future vanish right before my eyes.  I was in such a state of shock; I didn't know where to turn.  I knew I couldn't share the news right away with my family because I knew they wouldn't take it well, and I was already having a difficult time keeping my own panic in check.  I needed a grounding force, so I called my anatomy partner in med school, Gary, and we met for late lunch that day.  After pouring my heart out to him, he said something to me that I've never forgotten.  He said, "Habib, I don't know about the God that you believe in, but the God I believe in is a loving God."  He also said, "He who hasn't loved yet hasn't known God, for God is love."
I don't know what it was, perhaps Gary's intense compassion along with how he spoke so eloquently about the profound power of love, but I walked away from that Mexican restaurant with a depth of peace that I can't even begin to describe.  Somehow I knew that no matter what happened, it would be for my highest good. Because of that, love was present even in my darkest moment.  God hadn't left or forsaken me, and love would see me through to whatever outcome was intended for my greatest growth.  One week later, on February 10th, before getting on a gurney to be wheeled into the operating room, I wrote the word Love on the palm of my hand as a reminder that the greatest healing power was always with me.
I went on to heal from cancer and graduate from medical school. One day not long after graduation, I was remembering my whole ordeal and became filled with gratitude for the opportunity to become a doctor and move forward with my life. I once again wrote the word Love, this time in the margin of a piece of paper.  I colored it in with red ink, tore it out, and later had it made into a small button I could pin on my white coat.  It was a symbol of the transformational power of love in my life and a reminder to give love wherever and whenever I could.  Eventually, patients started asking about the pin.  So, I began to make similar buttons to give to them to wear as a reminder that each time we choose love and share it with others, we transform ourselves and the world around us.
IN LIGHT OF RECENT EVENTS, IT CERTAINLY SEEMS LIKE LOVE IS NEEDED MORE THAN EVER. WHAT DO YOU BELIEVE IS THE CAUSE OF THE RECENT DIMINISH IN COMPASSION FOR EACH OTHER AND OURSELVES? WHY DO WE NEED THIS REMINDER?
It's hard to say.  I don't think it's any one reason, but rather the collective and increasing effect of things like ever-expanding militarism, runaway consumerism, the flood of pop culture narcissism, and other things that are grounded in a pathological focus on the self at the expense of everything and everyone else.  On such a massive scale, this kind of negative energy certainly affects how societies think and behave and the environments they create.

I believe that in its current state, our planet is going through a serious evolution, a birthing process that is certainly painful, and even bloody at times.  Like all births, there is risk involved.  In spite of these dark times, we have the potential to come through them having given birth to a better world than the one we have known, just as I came through my dark night of the soul into a life today that I could never have dreamed of nearly 20 years ago… but we have to choose love.  I don't believe in fate, and the outcome of our world could go either way, which is why there has never been a time in human history when we've need to be more loving than right now.  This is the reason why my wife Sherry and I felt the next crucial step was to turn Love Button into a nonprofit global movement that could mobilize the love of millions or billions to change our world and chart a new course for the future.
[PHOTO VIA @LOVEBUTTONORG]
  WHERE HAVE YOU SEEN THE MOST SUCCESS SO FAR? WHERE HAS THERE BEEN THE GREATEST RECEPTION OF THIS IDEA? 
Several years ago, I met Mr. Chris Martin, lead singer of Coldplay.  We became friends, and through our conversations, the mission of the Love Button Global Movement really resonated with him.  When out on tour, he began visiting local children's hospitals and giving them toys and Love Buttons.  He began wearing Love Buttons in his performances and even has one on in the video for his song, Sky Full of Stars.
This year, Chris gave us and the Love Button Global Movement the greatest gift we could have imagined.  He felt it was time for this worldwide movement to be introduced on a global scale, so he made the Love Button message the centerpiece of his halftime show for Super Bowl 50.  Not only did Chris provide all 75,000 people in attendance at Levi's Stadium in Santa Clara, CA, with their own personal Love Button, he had another surprise in mind.  At a key point in Coldplay's performance, everyone in the stands was instructed to hold up the colored placard beneath their seat.  In a multi-color, larger-than-life display that encircled the arena was the message, Believe in Love, with the Love Button logo filling in for the "o" in the word love.  It was quite an introduction to the thousands of attendees, as well as the 100 million people watching on TV.  The response was overwhelming, and we owe it all to Chris.  In fact, Chris Martin is on the cover of the 2016 MegaZEN, the yearly well-being journal of Be Hive of Healing, which contains a fuller account of that incredible experience.
  WHERE HAVE LOVE BUTTONS MADE THE MOST PROFOUND IMPACT SO FAR?
For me, the most profound effect of the Love Button Global Movement is the immediate connection that's felt the moment we reach out to someone else with our love.  It's in the one-on-one interactions, the look in a homeless man's eyes when he receives a blanket or the smile you get after trading seats so two friends can sit together on an airplane.  It's that unmistakable knowing that we are connected to our fellow man in a visceral and indescribable way because the act of giving love feels so good.  It's the reminder of what we've always known deep in our hearts, that we are part of something far greater than ourselves, and it is our privilege to magnify it in how we choose to live.
Recently, my son, Hafez, and I were in a coffee shop when I happened to hear the conversation between a man and his teenage son at a nearby table.  I was so touched by the compassion with which he was dealing with his son that I was almost moved to tears.  We finished at about the same time, and as his son went to the restroom prior to their leaving, I approached the father.  I told him that although it wasn't my intention to overhear the conversation, I was deeply touched by the way he was handing his son and the situation.  When I said that just witnessing the choices he made would help me be a better father, he got tears in his eyes.  I said I would keep him in my thoughts, and I gave him a Love Button.  Unknown to me, a woman waiting in line to order witnessed my interaction with the man and came to me as I was about to leave and said how our moment had touched her.  This is the trickle down effect that love has.  We can never know how reaching out with our love will affect someone else, not to mention all the other people with which that person then comes into contact, but that is not our concern.  Our job is to keep living in our loving, and like ripples on a lake, the effects expand outward from us and heal the world.
  WHO ARE YOU STILL HOPING TO REACH (THAT YOU MIGHT NOT HAVE YET)?
For us, it's not really a matter of who we haven't reached, but how many.  Our movement has touched every demographic group out there, but it's a matter of continuing to get in front of as many people as possible as often as possible to really incorporate the spirit of Love Button into their consciousness and move them into loving action.  The Super Bowl 50 was a great move toward that end, but we've got to keep our visibility high and broad if we intend to facilitate a more conscious change in our world through love.
  HOW DO YOU THINK SOMETHING SO SIMPLE AS A BUTTON CAN MAKE PROFOUND CHANGE?
Because nothing new is created until there is a conversation.  When you realize that change needs to happen in your life, you sit down and have a conversation with yourself as to what that change is and how it should happen.  When anything needs to be created, people come together and there is a conversation first.  Over the years, the Love Button on my lapel got a conversation going with thousands of patients about why I was wearing it, why love is important, and what they could do to create change in the world.
My intention for the Love Button is that it becomes a symbol that moves people much the same way that seeing a cross fills people with religious sentiment and inspires piety or a flag conveys patriotism and moves people to act on behalf of their country.  My hope is that people seeing the Love Button image will be instantly reminded of their interconnectedness with other human beings and act in more loving ways toward them.  If corporate logos can drive billions of people to buy overpriced items they don't need, then the Love Button image can inspire them into loving action, which doesn't cost anything.
WHO DO YOU THINK THIS MOVEMENT WILL BENEFIT THE MOST? WHO IS YOUR TARGET AUDIENCE?
This movement will benefit everyone, most immediately the giver of love and the receiver, but eventually the broader population.  Our target audience is anyone who understands that what the world is lacking most right now isn't a better economy, food, jobs, or money; it's suffering from an enormous lack of love, and they want to do their part to change that.  It's people who can see their crucial part in a much larger picture and aren't afraid of being vulnerable enough to reach out with their love regardless of whether it's welcomed or even returned.
WHAT DO YOU HOPE THAT THIS WILL ACHIEVE?
A more cohesive planet where people truly understand their interconnected nature.  It's the spirit of Namaste, which basically means that I recognize the place in you where we are both one.  When I see myself in you and know that on the level of consciousness we are connected, then why would I ever want to do anything that would harm you?  I would also be doing it to myself.  It's the essence of the Golden Rule, to do unto others as you would have them do unto you.  It's because what we do to others, we really do to ourselves on the level of spirit, and our whole world is clearly suffering for it.
  HOW DO YOU HOPE SUCH SMALL GESTURES OF KINDNESS WILL MAKE A DIFFERENCE ON THE LARGE SCALE?
Because consciousness always precedes form.  Before anything can change on a physical level, there must first be a change in consciousness.  Before you make a change in your personal life, you've got to first get fed up enough to actually do the work to make it happen. Change doesn't happen in any other way.  A small act of love toward someone creates a profound shift in their consciousness, as well as that of the giver.  When multiplied millions or billions of times, we will literally change our world into a more loving environment, where the problems we deal with today are no longer present.  This isn't a Pollyanna platitude.  This idea is backed by science.
There's a scientific principle called the Law of Sensitive Dependence on Initial Conditions.  It says that regardless of how complex a situation may be, the mechanism that can affect the greatest change requires the least amount of effort.  If carried on consistently over time, this tiny change will result in a wildly different outcome.  For example, if the navigation of a ship going from New York to France is off by even one degree, the compounding difference of that alteration over time will lead the ship to a completely different location, hundreds of miles away from its original destination.  The compounding effect of a slight change in consciousness by lots of people to a more loving state of being over time will certainly change the world in a profound way.  We're all overwhelmed by the world's problems, but to fix them we don't have to attack them all at once at the national or international level, nor should we.   Science tells us that the solution is to think globally but act locally.
Save
  HOW DOES HAVING A NEGATIVE ATTITUDE HARM YOUR HEALTH?
Emotions aren't just ethereal notions.  They're energy in motion or e-motions.  Emotions need to be felt fully and allowed to move through and ultimately exit the body.  It's when we suppress emotions from our personal hurts and traumas that this negative energy accumulates in our bodies and eventually manifests as disease, or dis-ease, as I call it.  Because the mind and body are intimately connected, a mind that is not at ease will eventually manifest disease in the body.  In this way, we convert our emotional wounds into physical ones.  The science of epigenetics has proven that it's our perception, our thoughts and beliefs about our environment, that drive the form and function of cellular expression and not the genes themselves.  In order to really heal physically, one must be willing to address the underlying emotional issues related to their condition.  I've seen this play out thousands of times with my patients and in my own experience with cancer.  I'm convinced that it was my emotional work to dissolve long buried pain from childhood sexual abuse and feelings of emasculation that allowed me to overcome cancer 20 years ago without chemotherapy or radiation.  All my tests from the renowned cancer research center, City of Hope, show absolutely no biomarkers for cancer anywhere in my body, and it's because I was willing to heal my heart and change my mind.  Where the mind leads, the body will follow.
Predominant attitudes in the world today revolve around negative emotions like fear, jealousy, greed, competition, and the lust for power, which is rooted in insecurity.  All these emotions generate disastrous epigenetic effects in the body.  Is it any wonder the human race, as a whole, is suffering from so many chronic illnesses for which there are no cures?  With regard to the earth, we can clearly see how these emotions taken collectively are causing us to suffer as a planet.  I tell all my patients that if God is love and nothing imperfect can exist in the presence of God, then healing is the application of love to the places inside us that are hurting.
  WHAT ARE STEPS PEOPLE CAN TAKE TO DO WHAT IS RIGHT WHEN IT MAY NOT SEEM LIKE THE EASIEST ROUTE?
Being more loving doesn't mean that all your problems disappear or that you have to become friends with people who irritate you.  It simply means recognizing places in your life where you can be more loving.  Maybe surprise a co-worker by buying their lunch for them.  Hold a door open for the mother pushing a stroller who's entering the grocery store behind you.  The power of this movement is really in the cumulative effect of lots of little acts of love, by getting the focus off the self and on how we can give love to someone else.   If we're more present in each moment, instead of rushing around worrying about our needs all the time, then we'll be able to see all the opportunities we have in each moment to share our love with someone else, even if it means just smiling at someone as we wait in line at the checkout.  If you believe in the Law of Attraction, then you know that what you give out in thought and deed always comes back to you.  So the love you give to others is really love you give to yourself because one way or another, it will come back to you.  It's okay to be emotionally out of sorts once in a while.  We all have off days.  The important thing is to not direct your upset outward at other people.  Do what you need to do to expend that negative energy and get yourself back on an even keel.  It's important to remember that the first person who deserves your love is you.  That's your primary relationship.  When we are compassionate and kind to ourselves, then we can be those things to others, but we can't give what we don't have within us.  When we fill ourselves up with love to overflowing by taking personal time to do things we love and tending to our needs, then we will have more than enough love to give others.  We will find that we are naturally more loving and it won't feel like effort to reach out with our love to others because we'll have plenty of it.
  YOU MUST BELIEVE IN ALL OF YOUR ACCOMPLISHED WORK THAT THE ABILITY TO ALWAYS COME FROM A LOVING PLACE DIRECTLY AFFECTS YOUR HEALTH AND HAPPINESS AS WELL AS THOSE AROUND YOU. THROUGH YOUR STUDIES WHAT ARE SOME OF THE NEGATIVE EFFECTS THAT A LACK OF LOVE CAN CAUSE?
Any emotion that isn't loving and is sustained over time creates chronic stress.  The level of stress isn't as important as its consistency over time.  Resentment is a good example of an unloving emotion that simmers in the background of the mind for years.  Every emotion generates a corresponding chemical reaction in our bodies that affects us on a physical level.  It was neuroscientist, Dr. Candace Pert, who pioneered much of the research in this area and coined the term molecules of emotion.  Every time we feel something, a molecule is created and it interacts with the body in either a positive or negative way.
The biggest danger of unloving emotions is that the stress they generate turns on our fight-or-flight response.  The body thinks it's in danger, even though it's really not.  In order to escape this perceived danger, the stress hormone cortisol begins to rise.  At the same time, blood and energy rush away from the organs of the body and into the arms and legs to help us runaway from this imagined threat.  All other body functions not essential to getting us out of a crisis either significantly decrease in function or shut down altogether.  The immune system is suppressed, as is digestion, just to give two examples.  The time to fight off disease or nourish the body isn't when you're getting ready to run away from danger.  People who harbor unloving emotions live in a state of chronic stress resulting in decreased immunity, which exposes them to all diseases at a much higher level, not to mention less efficient body function of all kinds.  The stress from unloving emotions also tears down the telomeres in our cells, DNA sequences that protect our chromosomes.  As they become frayed and wear away, our chromosomes and their DNA are left without protection and become exposed to damage, leading to disease.
Research from the Institute of HeartMath has shown that intense feelings of love cause DNA strands to open up and expand in significant ways, while feelings like anger, hatred, or frustration cause DNA strands to constrict, shrink, and even switch off certain genes.  They've also discovered that the electromagnetic field of the heart is 5,000 time stronger than that of the brain, and when two people touch in a loving way, the physiological change in the giver's electrocardiogram (ECG) registers and can be measured in the receiver's electroencephalogram (EEG).  In fact, two people don't even need to be touching for this transfer of positive energy to begin, just in close proximity.
  HOW DOES BEING MORE LOVING PROMOTE A MORE CONNECTED MIND AND BODY?

Because love is our natural state.  Sacred text tells us that we are made in the image and likeness of God.  Well, if God is love, then we are, too.  That means love isn't something we do, it's what we are.  At the level of spirit, we're made of loving energy.  When we resume our natural state of mind, balance returns to the body because the body already knows how to be well.  Health is programmed into our cells, but they can only follow the directions we give them based on the molecules of emotions we're creating.
  HOW CAN WE BECOME MORE EDUCATED ABOUT THE LOVE MOVEMENT AND HOW CAN WE ALL GET INVOLVED?
You can get involved simply by looking around wherever you happen to be right now and finding opportunities where you are able to give love.  Sometimes the person you're giving love to doesn't even have to be present.  Occasionally, when I'm shopping, I'll see some items on a shelf that are in disarray or maybe have fallen onto the floor.  If I'm not in a hurry, I'll do my best to put the items back in order on the shelf so that it's one less thing the night clerk has to do.  That person may never know the loving action I took on their behalf, but that's not as important as continuing to put love into the world in big and small ways.  Of course, volunteering through your favorite charitable organization is a great option, too.
Be sure to visit the Love Button Global Movement at www.lovebutton.org.  It's full of great information like the scientific studies on love that I mentioned earlier, as well as lots of stories about how love is changing lives all over the world that will inspire you to loving action.  You'll also be able to purchase Love Buttons to give to people when sharing your love.  A Love Button serves as a reminder of your kindness and inspiration to pay that love forward.  The Love Button Movement also has some exciting public events in the works, so be sure to visit the site regularly for details about when and where Love Button crews are getting together to help heal the world in their own backyards.
  WE LIVE IN A SOCIETY PLAGUED WITH ARTIFICIAL QUICK FIXES TO OUR MOST DIFFICULT FEARS AND INSECURITIES. YOU TAUGHT ME THE VALUABLE LESSON OF SLOWING MYSELF DOWN. HOW CAN TAKING A MOMENT TO SLOW YOURSELF DOWN BENEFIT EVERYONE?
The motto of Love Button is to Pause and Love (PAL).  We can't recognize opportunities or take the time to give love to ourselves or others when we're stressed out and running in high gear.  That doesn't do anyone any good and only leads to illness down the road.  In order to give love now, we have to be living in the present moment, not worrying about what we need to do three days or three hours from now.  When our minds are lost in the future or the past, we can't be present in the now.  Now is where love happens, and it's the only place we can give or receive love.  When we get off the treadmill of life and give ourselves regular opportunities to pause through things like meditation, relaxation, or just taking a walk in nature, we clear out all the mental noise.  Pausing like this allows us to decompress in a crucial way that has very important protective health benefits.  It also frees up all that space in our heads where our non-stop mental chatter used to be so we can see our lives clearly and make better decisions.  Another drawback of chronic stress is that it forces more blood out of the prefrontal cortex of the brain, the part we use for analysis and decision-making, and sends it to the hind brain.  We're literally less intelligent when we're living under constant stress and don't take the time to reset our brains and bodies.
I was so grateful to have the privilege to mentor you in my Master Mind Mentorship Program (M3P).  You're an incredible entrepreneur, and your accomplishments always inspire me.  I continue to be amazed at the success of each new endeavor you take on.  At the same time, I'm so proud that you were able to see that in order to go faster, we need to slow down occasionally.  It's the difference between power and force.  Power lies in stillness where we receive insight that we put into action later.  Force rushes in and makes mistakes; it's the karate warrior that hurries forward in a hasty attack, while power is the master who stands still and uses his opponent's own momentum against him to send him to the ground.  We accomplish more when we learn how to use slowing down and stillness to our advantage.
When we slow down in any respect, we're able to extract more of the benefit of whatever it is we happen to be doing or involved in.  Slowing down the way we eat and chewing our food more allows us to absorb more of the phyto-nutrients of what we're eating, and we nourish our bodies much more.  Likewise, when we slow our lives down and take the time to have dinner with our family free of electronic gadgets and other distractions, we can really enjoy each other's company on a whole different level, and we nourish our spirit as a result of the love we give and receive in those moments.  When we slow down in the evening, we give our subconscious the opportunity to digest all the happenings of the day.  That way, we sleep much better and there is no residual negative energy or stress that carries over into the next day and affects our performance.  It sounds counter-intuitive, but to accomplish more and get more out of our lives, we must learn how to go slower, and I'm so grateful that you're seeing the benefits of that in your life.
Categorized under Blog