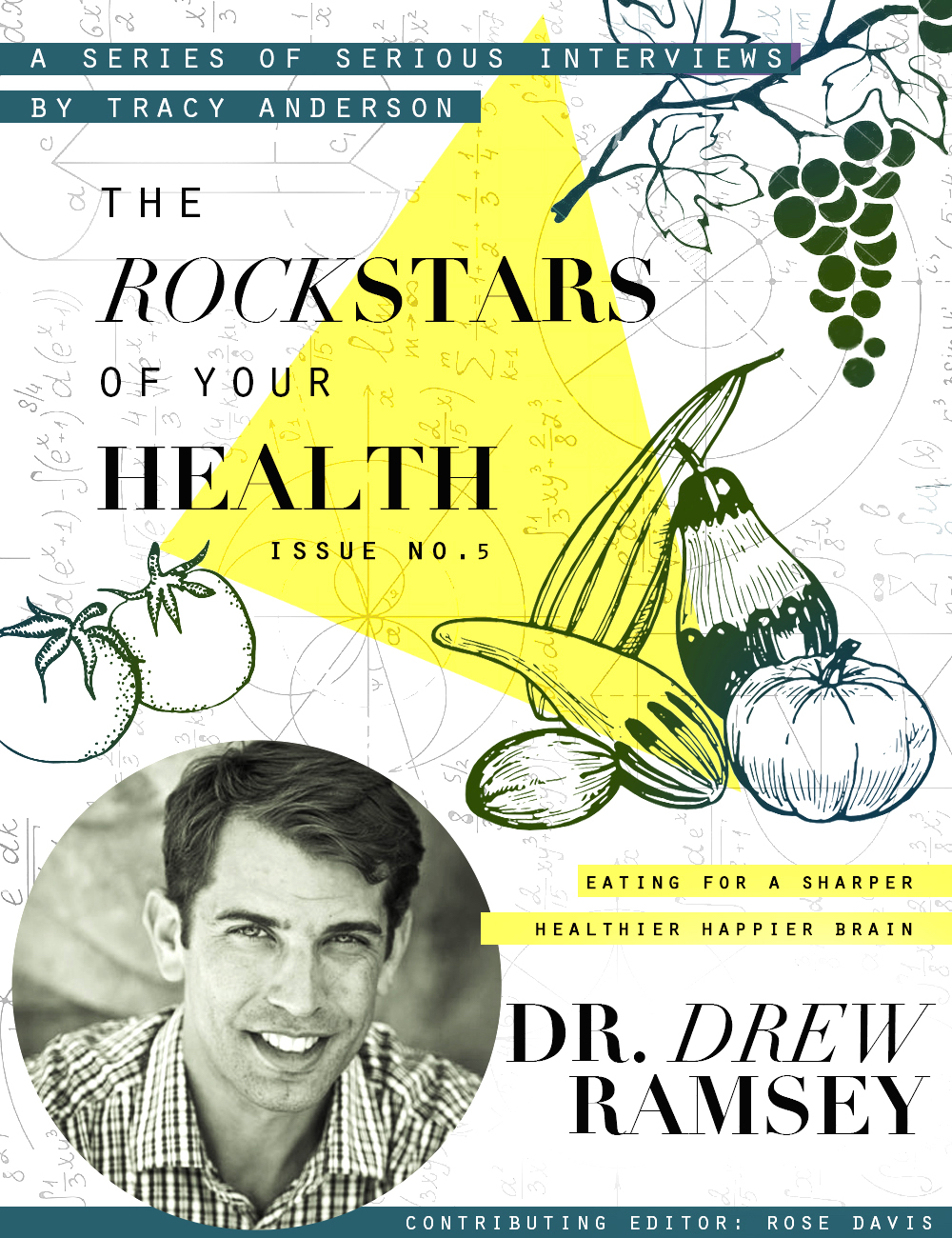 Save
Save
Dr. Ramsey is on a mission to reestablish the natural nutrients that make our entire beings happy and functioning at their absolute best.  A psychiatrist, assistant clinical professor at Columbia University College of Physicians and Surgeons, author and farmer, he advocates for real mental wellness with real foods, not diets, prescriptions or pills. Through his TEDx talks, writing for The New York Times and The Wall Street Journal, and his three books: The Happiness Diet: A Nutritional Prescription for a Sharp Brain, Balanced Mood and Lean, Energized Body, his recent bestseller 50 Shades of Kale and his newest release Eat Complete: The 21 Nutrients that Fuel Brain Power, Boost Weight Loss and Transform Your Health, he is making big waves in the world of holistic and nutritional psychiatry that are truly bringing us back to our roots.
Dr. Ramsey's work resonated with me, not only because he voices the same things I believe in (and feel that I alone have been screaming for years without being truly heard!) but also because we are fellow Hoosiers who both grew up with parents that were of the organic mindset. My Mom never allowed pop or bags of cool ranch Doritos in our home. She baked our own bread and had our chickens running super free. It now seems obvious why he and I both feel allergic to the denatured world we are living in and know the importance of physical activity and getting our nourishment back in touch with nature to save our collective brains and bodies. I stand wholly with Dr. Ramsey in the fight for the right to organic ingredients and natural foods.
Dr. Ramsey explains that as a psychologist, the staggering numbers of young women suffering from depression alone is reason enough for us to understand that our brain has to be treated with natural nourishment not processed foods. Dr. Ramsey's realization that the cure to his patient's psychological battles is not through unearthing troubles of their past or writing a prescription, but instead, examining and altering the nutrients they are feeding themselves, is a brilliant one. He tells a story on one of his inspiring TED talks about a woman (the type that I see often in my own practice) juice cleansing, afraid of fat, meat, eggs, etc. all for "health" reasons who doesn't realize that she is missing essential nutrients for her healthiest self! There isn't enough truth out there to counteract the gimmicky quick-fixes that aren't healthful or helpful to our bodies and minds. We have to take a critical stance and be educated by the remarkable minds like Dr. Ramsey who aren't out to sell you a juice cleanse or a diet pill because they are the ones who are actually FOR you and FOR your health.
Loving all of you,
Save
Save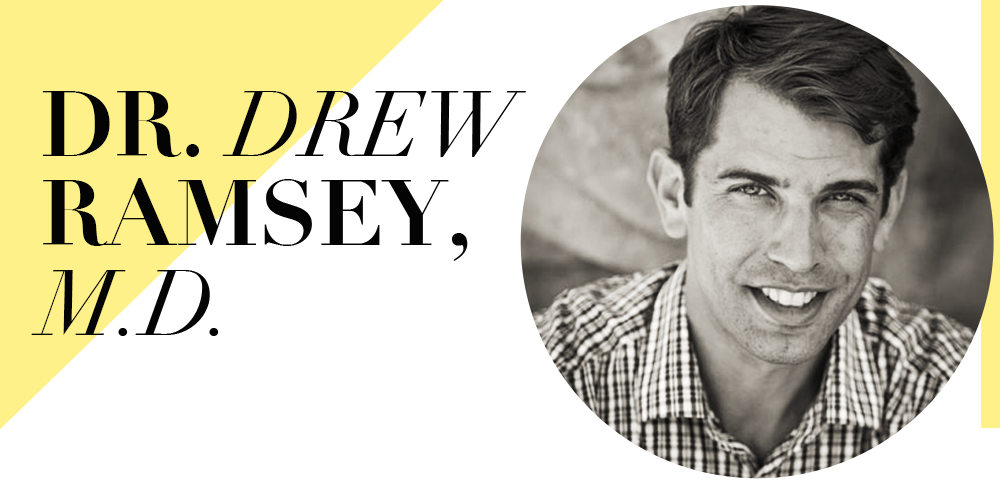 Dr. Ramsey is a psychiatrist, author, and farmer. He is one of psychiatry's leading proponents of using dietary change to help balance moods, sharpen brain function and improve mental health. He is an assistant clinical professor of psychiatry at Columbia University College of Physicians and Surgeons and in active clinical practice in New York City where his work focuses on the clinical treatment of depression and anxiety. Using the latest brain science and nutritional research, modern treatments, and an array of delicious food he aims to help people live their happiest, healthiest lives.
---
Save

I HAVE WITNESSED SO MANY PEOPLE JUST WANTING AND WISHING FOR QUICK FIXES WHEN THE POWER FOR THEM TO BE AS THEY DESIRE REALLY HAS EVERYTHING TO DO WITH HOW THEY EAT, MOVE, AND CONNECT.  CAN YOU GIVE OUR READERS SOME ADVICE ON HOW TO HAVE A GROWTH MINDSET THAT MAY CAUSE THEM TO NEED TO LEAN INTO A MORE OPEN MINDED POSITION ON FOODS?  (FOR INSTANCE, UNBLOCKING SOME SWEEPING ROADBLOCKS PEOPLE PUT UP WITH CUTTING OUT ENTIRE FOOD GROUPS.)
That's such a great question. The lure of a quick fix is a signal that someone is out of balance. Being in a growth mindset as a person helps you continue to learn as you change, and your tastes change over time. A common roadblock I see in a lot of people we work with in my clinic is lack of a proper assessment. People know something needs to change and instead of being specific about their challenges and making a solid plan, they fall prey to quick fixes or trendy diets. And then there is the massive roadblock of misinformation. Many people still think fat is bad, or that eating well is very expensive and all this creates a block for people because getting started feels like such a big undertaking, it is not. Eating well and living a healthy lifestyle are super simple. That is one of the big messages I hope people get from reading EAT COMPLETE. I have the Simple Food Assessment that I use in my practice in the book and on my website to help people get started.
WHAT ARE SOME OF THE WORST/BEST FOODS FOR YOUR BRAIN AND WHY? HOW DO THEY AFFECT THE BRAIN, OUR BODY AND OUR MOOD?
There is now a lot of science available about how food impacts brain health and it tells a pretty simple message: Fake food increases the risk of depression and memory loss. Real foods like tomatoes, lentils, eggs, and seafood are the best foods for the brains. We really try to emphasize food categories, and we want people eating a rainbow of colors derived from crunchy plant sources. These should be the foundation of your diet. On top of that plant base, most folks need to up their seafood game and get serious about changing their relationship with meat. I prescribe a lot of oysters and mussels as they have so much vitamin B12, zinc, and the long-chained omega-3 fats that are incredible for brain health. Another critical intervention is improving meat quality, and for most people replacing some meat with plant proteins. The worst foods for overall happiness and the brain are highly processed foods, items with long ingredient lists and often artificial ingredients. This stuff was made for the shelf, not for your health. I also dislike the many items that are supposed to be healthy but are just a giant dose of simple sugars and artificial ingredients: fruit smoothies, low-fat flavored yogurt, gluten-free junk food, protein powders, juices, "low-fat" baked goods.
IN YOUR BOOK, "EAT COMPLETE" YOU DESCRIBE THE IMPORTANT NUTRIENTS THAT ARE NEEDED FOR A HEALTHY BRAIN. WHAT ARE THE ONES THAT PEOPLE ARE MOST COMMONLY MISSING IN THEIR DIET? ARE THERE ONES THAT ARE HARDER TO INTEGRATE INTO OUR DIETS THAT WE SHOULD BE EXTRA CONSCIOUS ABOUT INCLUDING?
The diet of most Americans is missing the most important nutrients for the brain, nutrients like omega-3 fats, B12, and zinc. While researching Eat Complete, I was really shocked at how high the numbers are in terms of percentage of people not meeting the recommended daily allowance (RDA). So what are the nutrients almost everyone needs more of? Well, magnesium and potassium are two that stand out to me because they illustrate why plants are so good for us. These two minerals are needed every time a brain cell fires. Also at the top of the list of nutrients needed for improved moods are the long-chained omega-3 fats that you mostly find in seafood. The goal of Eat Complete is to get your nutrients from food, just like we always have.
MANY PEOPLE FEEL A CHANGE IN DIET WON'T PRODUCE IMMEDIATE RESULTS, WHAT DO YOU RECOMMEND TO STAY MOTIVATED FOR THE LONG-TERM?
Ok I disagree with this! And everyone reading can test this out. Eat junk today then write down how you feel at the end of the day. What has your day been like in terms of your energy, mood, and focus. Then I want you to eat a balanced, focused meal plan and ask yourself the same questions. Eating well is not about a set of rigid rules. Eating complete is an act of self-care and self-love. When we nourish ourselves we get immediate results. To stay committed over the long-term we need to see our lives as a set of small choices, mostly under our control. There is a section in Eat Complete on mindful eating with some ideas and exercises that help folks shift from working towards goals in the future to being present at the table.
SINCE YOU CAN'T SEPARATE YOUR PHYSICAL SELF FROM YOUR EMOTIONAL SELF FROM YOUR INTELLECTUAL SELF HOW CAN YOU GIVE US A FEW QUICK SOUNDBITES WE CAN HAVE IN OUR EAR WHEN IT COMES TO MANAGING THE INNER CONVERSATIONS THAT MAKE US WANT TO REACH FOR THE BAD FOODS OVER THE HIGHLY NUTRITIOUS? HOW DO YOU ADVISE OVERCOMING JUST GOING FOR THESE QUICK, CHEAP, (AND ALMOST ADDICTING!) OPTIONS THAT OUR SOCIETY HAS MADE SO EASILY AVAILABLE?
What is quicker than an organic apple or more satisfying that a handful of raw cashews and dark chocolate? Nobody wants to describe themselves as cheap and easy, so why would we want that for our food? I hate how "healthy" becomes synonymous with "difficult" or "expensive" because this is not true.
I advise people to keep the junk out of the house so that unhealthy foods that they are having a hard time with are not within reach. Then my first line of defense is to make a list of "Brain Food Swaps", meaning finding the better alternative for the stuff you crave. For example, I love mashed potatoes. To get more nutrients, I mash small potatoes and keep the skins on because that is where many of the nutrients are, or I swap for a cauli mash and load it up with turmeric, scallions, and a little cheese. Or bake purple yams and mash them. They are incredible, and much more satiating than a big white spud.
I also try to stay out of the center aisles of the grocery store and do most of my shopping at the local Farmer's Market. It is fun for me as a farm boy to live in New York City and have the bounty of so many farmers just a block from my house.
CAN YOU REVERSE DAMAGE THAT YOU HAVE PREVIOUSLY CAUSED WITH BAD FOOD CHOICES BY BECOMING SMARTER ABOUT YOUR DIETARY INTAKE?
YES! For most people this is the answer. Studies have shown that the impairments in brain function that come with obesity can be reversed in 6 weeks after weight loss. I worry it can be de-motivating to think that the damage is done, or that it can't be reversed. Changing your food CAN transform your health, and especially your mental health.
DO WE STILL NEED TO BE CONSCIOUS OF EATING "EVERYTHING IN MODERATION" EVEN WHEN EATING THESE NECESSARY NUTRIENTS? CAN WE EVER GET TOO MUCH?
I am no longer a fan of this phrase. It is misleading. I don't want people drinking "moderate amounts" of soda or juice. I don't think moderate amounts of bologna or fried chicken or white chocolate is a good idea. And I think moderate amounts of greens and other rainbow vegetables are not enough. America's health is a five alarm fire right now, so I am not a big fan of moderate interventions.
But to your question, you can't get too many nutrients eating a diet of whole foods. However, there are few exceptions, for example Brazil nuts have very high concentrations of selenium and eating lots of them can cause selenium toxicity. There are also some foods that interact with medications, such as leafy greens and the blood thinner Warfarin. (People should check with their physician if they have specific concerns.) One of the main reasons I advocate getting all your nutrients from food is that it is simply safer than supplements.
DO YOU RECOMMEND THAT PEOPLE TAKE ANY SUPPLEMENTS?  IF SO, WHAT IS THE GENERAL SPECTRUM YOU RECOMMEND AS WELL AS ANY BRANDS THAT YOU FEEL ARE TRULY OPTIMIZED?
For specific deficiencies and in some clinical situations I will use a few supplements such as fish oil, vitamin D, and St John's Wort. But overall people are taking way too many supplements! It is crazy to me that folks are upset about Big Pharma but have no issue with Big Supplement. I see so many people taking hundreds of dollars of supplements a month with no effect and no evidence they work. In my first book The Happiness Diet, I made a list of 100 reasons not to take supplements for basic nutrition. I was surprised how easy it was to make the list. There are a lot of opinions about supplements, but I recommend people look at the FDA recalls for a sense of the dangers. The best source for accurate information of brands is Consumer Labs. I don't recommend any specific brands, but I do recommend this information source so people can make informed decisions.
I TOO AM A HOOSIER AND VERY PROUD OF IT.  HOWEVER, LIKE MOST OF THE FARMING IN THE WORLD, I GREW UP NEXT TO A CORN FIELD THAT WAS SPRAYED WITH PESTICIDES. HOW IMPORTANT DO YOU BELIEVE IT IS TO BUY ORGANIC?
Tracy, you are an example of Hoosier greatness! I am writing this from our family's organic farm in Southern Indiana. We have been stewards of this land for 35 years and have never used any pesticides. The amount of life here and the diversity of species has really struck me this summer. Every year we take a "farm sabbatical" and spend the summer growing our food. Currently, America's food system built of monoculture crops require a lot of chemicals to grow, but the food industry is very responsive and aware of the incredible growing demand for organic food.
Organic farming is hard, but it is the right way to grow our food. Does everything you eat need to be organic? I've met a lot of people for whom this was not practical. Some produce matters more than others, I use the Environmental Working Group's list of "Dirty Dozen". Along with organic, I also am excited to see more grass-fed meat and dairy products being offered. The bottom line is that we don't want to eat toxins in our food, and currently we do. Focusing on in-season organic produce is a great way to get more plants in your diet safely and economically.
Save
Save
Categorized under Blog