TALKS ON WELLBEING | ISSUE NO. 1
September 22, 2017
PHOTO BY: MIKEY DETEMPLE
Let's get clear! On October 2nd at 5pm in Los Angeles, I will launch my first Fireside TAlk. I am looking forward to giving it my all to communicate what is nearly ineffable. There is no better way to launch this series of events than with the multidisciplinary genius, and @behiveofhealing founder Dr. Habib Sadeghi. If you have read Within you will understand my excitement that he is releasing his next book, The Clarity Cleanse. The link for pre-order is available below. It is my honor to have him at my studio for this special event. In anticipation of his new book we begin an Instagram celebration with a little fun loving contest.



READ FULL CONTEST RULES & CONDITIONS >>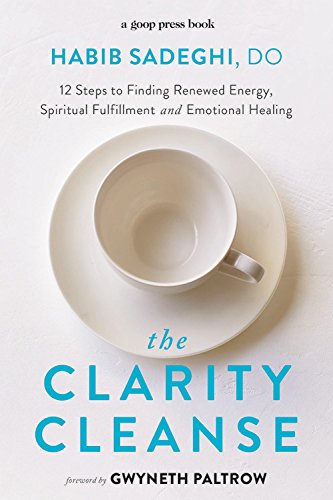 A LIBERATING 12-STEP GUIDE TO RECOGNIZING THE EMOTIONAL ISSUES THAT HOLD US BACK, WITH STRATEGIES TO INCREASE OUR ENERGY AND HELP US REACH OUR FULL POTENTIAL, BY THE HEALTH AND SPIRITUAL ADVISOR TO GWYNETH PALTROW.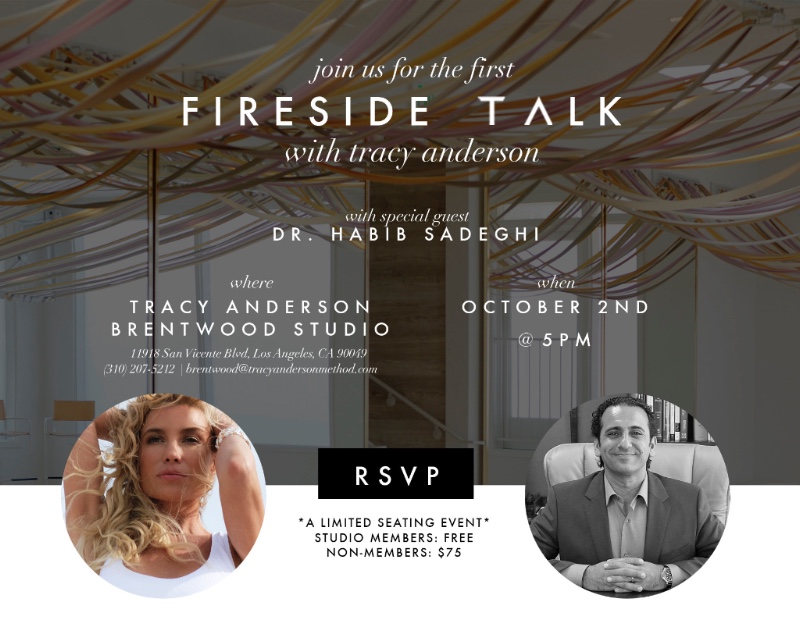 Q:  I FIND THAT WHEN PEOPLE FIND CLARITY THEY FIND RELIEF, SELF EMPOWERMENT, AND A GREAT DEAL OF HEALING.  WHAT MADE YOU TITLE YOUR NEXT BOOK THE CLARITY CLEANSE?  
There are moments in our lives when we are presented with situations that leave us dumbfounded, perplexed, completely unsure of what to do. Often we are thrown into a panic, our days and nights spent anxiously worrying about what action to take. Maybe we just learned that our spouse has been having an affair, that our job is being terminated in an already tight jobs market, or that we have a life-threatening illness.
Since we can't avoid such times of trauma, wouldn't it be of immense value if there were some way we could know the right course of action when faced with a decision we have to make and yet simply don't know which way to go?
When I was diagnosed with cancer over twenty years ago, like that of most my first reaction was sheer terror. It felt as if I'd been handed a death sentence. That there might be a path to a robustly healthy future was the furthest thought from my mind—until a friend pointed me in a direction that had simply never occurred to me.
Flying in the face of pretty much everything my doctors told me I needed to do, other than the barest minimum of excising the tumor, I went in a direction few would think of going at such a time. Instead of looking outward to authorities who were certain of what I should do, I looked inward to a deeper part of myself than I had ever accessed before. It was from this place within that clarity came, in the process not only freeing me of cancer but transforming every aspect of my life.
The essence of my discovery is that our core being contains all the clarity we require in any situation that arises and threatens our peace, stability, and happiness. When we access this clarity, our fear is spontaneously ousted, replaced by an incredible sense of empowerment that has never left me.
Whatever difficult decision or trauma we may be facing, the clarity we need is there in each of us. It's simply a matter of sweeping aside all that obscures what we already know deep within. This is why my new book is entitled The Clarity Cleanse.
Q: YOUR LAST BOOK 'WITHIN' WAS AN INCREDIBLE SOURCE OF HEALING FOR SO MANY PEOPLE. WHAT IS ONE TAKE AWAY YOU HOPE PEOPLE WILL DISCOVER FROM READING THE CLARITY CLEANSE? 
The aim of The Clarity Cleanse is to restore power over their lives to my readers.
We live in a culture that likes to do our thinking for us. Anywhere you turn in modern society, someone is trying to tell you "the way things are" and therefore what you need to do, how you ought to think, and the way you need to live. My own profession is particularly good at this, warning of dire consequences if we don't heed everything they tell us.
I'm all for professionals who research and are experienced in the many walks of life that affect our wellbeing. We need thorough study, double-blind trials, peer reviews, replicable experiments. But as important as these are, their purpose should be informational. In any situation, we need to be equipped with the facts as they are presently understood. What we don't need is someone dictating to us.
On one doctor's website, the statement is made that a particular procedure is safe and the correct course of action, in line with all the facts. But the author then adds that they will follow this procedure "until the facts change."
Right there is a problem.
In my new book The Clarity Cleanse, I cite various cases of where physicians were certain of the science—until they weren't. Because they had been practicing the established protocols unquestioningly—and more than unquestioningly, with huge resistance to even the suggestion that they might be mistaken—countless people died unnecessarily. If you think this has changed, you are mistaken.
I want my readers to learn to question. I want them to question the doctors, the standards established by government agencies, the pronouncements about health in the headlines, and the advice anyone offers them in any aspect of their lives. Only by questioning can we begin to take back our power from those who would rob us of it, misguidedly believing they "know best."
My readers will find specific examples of the kind of questions we all need to be asking in this new book. They'll see how asking the right questions has changed the course of many a patient's life, in no small number of cases plucking them from the jaws of death. As they increasingly learn to tune into their own intuition, they will find that they have the ability to sift the information society presents them with so definitively, discern the facts, and make wise choices that will empower them in every dimension of their lives.
Q: WHAT IS ONE THING WE CAN DO TODAY TO BEGIN LIVING UP TO OUR FULLEST POTENTIAL?
With the discoveries of Sir Isaac Newton almost 400 years ago now, the older mystical ways of viewing reality began to lose their grip on the human mind, with the result that we found ourselves increasingly inhabiting a mechanical universe. Creation was seen in terms of a clock that God wound up and that, well, had been running like clockwork from then on.
Not only was the universe and the world of nature viewed in this mechanistic manner, our own bodies also came to be understood as machines. It's of course true that there are certain machine-like elements to the universe as well as the human body. Within the body are pumps, electrical circuits, chemical exchanges, all of which function quite without our conscious intervention.
The problem with this view of our humanity is that as our researchers have dug deeper, we have become more and more aware of the amazing complexity of both the universe and the body as a part of that universe. For a start, we now know that our bodies aren't separate entities with distinct boundaries, but that they particular expressions of a quantum field in which an exchange of particles and energy is occurring continuously—a quantum soup, as it's often referred to as. Instead of being the distinct individuals we imagine ourselves to be, on many different levels we are part and parcel of the world around us, influenced and affected in countless ways by the whole of reality.
As a simple example, even our skin—which appears to form a clear boundary to who we are as a person—is constantly absorbing and giving off particles. We don't think of the makeup we put on, the fabrics we wear, the mattress and sheets we sleep on, the furniture and flooring we are in contact with, or the liquids that touch our skin as infiltrating us through our skin and affecting our mood and health, and yet the process is ongoing day and night.
What i'm getting to is that no part of our lives is separate from the other parts. The human body is now known to be intricately connected to its environment. More than that, our physical wellbeing is powerfully affected by our mental state and emotions. There's no separation between the physical body and our mindset, with the two in an ongoing interchange. Our thoughts and viewpoints, our emotions and our deeper currents of feeling—every aspect of who we are as sentient beings affects our physical state, even as the chemistry and electrical systems of the physical body affect how we feel, often dictating our mood and consequently our happiness.
If we are to reach for our potential, we must do so with our whole being. It isn't just a matter of thinking the positive thoughts or taking appropriate action. It's drawing on the whole of who we are, so that we approach everything in life holistically. This is fundamentally different from the centuries-old view of the body as a machine in a mechanical universe.
What I came to see long ago is that such a holistic approach is only possible when we are grounded in our essential being, or what's often referred to as our spirit, our soul, or our authentic self. All such terms are pointing us to the hub within us to which all the spokes of our everyday lives need to be connected and from which the energy we invest in our various projects and relationships needs to flow.
The Clarity Cleanse doesn't stop with cleansing our body of toxic wastes, nor with cleaning out false beliefs and poisonous emotions. It takes us to our essence, our core self, where we are one with the consciousness that undergirds the entire creation. Linked to the creative energy, wisdom, insight, and inspiration that birthed what one scientist referred to as "the whole shebang," we are at last equipped to reach for our potential.
Find your essence, align your life with this center, and begin to experience the empowered state that alone can reveal who you are in your true magnificence.
————————
FOLLOW
DR. HABIB SADEGHI 
@behiveofhealing
Categorized under Blog