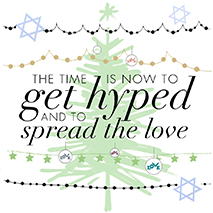 Save
Save
I thought I would send out a holiday gift guide. But then I thought about it further and realized that I'm so sick of holiday gift guides. And I don't think any of us really need any actual gifts this holiday season.
We especially don't need any more clothing. We all have too many clothes.
But even so, these three T-shirts—a collaboration with my friend Ava Lantiere, a high school student and a proud leader of our next generation of givers—sum up how I'm feeling at this end-of-December moment:
We need to get hyped to make the world a better place. The best way to get hyped is to spread positivity through love and warmth. Nothing radiates positivity more than—you guessed it— a smile. The proceeds from these three simple-yet-powerful T-shirts will go to the Love Button Global Movement, which brings people together through simple loving acts of kindness.
---
[ All proceeds from your purchase of Love Buttons or any Love Button product goes toward helping these organizations and other like them heal the world through their various humanitarian missions, including UNICEF, Doctors Without Borders, Global Citizen and more. ]
---
In addition to buying and wearing these T-shirts, I hope that you'll consider making additional donations to Love Button. Or consider packaging your gifts with loads of actual "Love" buttons. A bucket of love buttons has the power to make people smile and get hype.
Even though I told you I wasn't going to send out a holiday gift guide, I've still laid out of a number of last minute gifts you can give with an email and a message. Maybe you even want to buy them for yourself. They're gifts and experiences to improve your health and also help any Grinch heart grow three sizes in a day.
2017 should be the year we leave the "trend" mentality behind and start really understanding what it means to be healthy. Healthy isn't chasing a six-pack or a six-foot-long leg. It's about jumpstarting and taking a stance on life. You can do that through my live-streaming TA Real Time system. Or through one of my two and four day retreats. Those are the kind of gifts that are more than just gifts. They're about creating a bright and healthy shining light, for yourself and the people around you.
Or you can always get a gold ice cream scooper. Just because it makes me smile. And if there's one thing that helps me get hype, it's chocolate ice cream.
xo,
Save
I love getting gift certificates.  If you want to give someone the gift of choosing one of the new 9 TA leggings, 3 do some major good T-shirts, or make their entire year with a ViTAlity Week or a year of streaming I think it is kind of cool to let people chose what they want most.
Your face cream doesn't have to cost a fortune to be the safest and most effective. The Ecco Bella Day Cream ($47, eccobella.com) has changed my skin.  I would easily call it the new miracle cream and who doesn't want to get a miracle in a bottle as a gift.  Penny yes my 4 year old Penny wears it and I wear it.  That is how safe it is.  The Ecco Bella day cream is rich with DMAE an amino acid that has the effect of firming the skin.  I have never received more compliments on my skin then I do now.
Save
Save
Categorized under Blog