Want to exercise your right to glow? Stock up on the latest beauty collection by Tracy Anderson and Dr. Barbara Sturm. The duo's mindfully curated Post-Workout Skincare Kit is a 6-step skincare routine that provides deep cleansing, essential hydration, and cooling—must-haves to ensure skin is clean, fresh, and healthy long after breaking a sweat. The Dr. Barbara Sturm x Tracy Anderson kit includes a cleanser, hyaluronic serum, face cream, hyaluronic face mist, glow drops, and anti-aging body cream—applied to the face in that order.
"Exercise is one of our greatest protectors of life; it increases blood circulation, carrying nourishment and oxygen to the skin to keep it healthy," says Tracy. "To carry that protection throughout the day for our skin, Dr. Barbara Sturm and myself devised this Post-Workout Skincare Kit. The kit comes to the studio with me daily—and I can't imagine going without it."
Get to know the skin-loving products inside this kit below, then head to our TA Online Shop to buy your own.
Step 1: Cleanser (50mL)
Active Ingredients: Purslane Extract, Urea, Aloe Vera, Panthenol, Mild Tensides, Vitamin E, Glycerin
Benefits:
Removes makeup and other impurities
Prepares skin for moisturizer or serum without disturbing the delicate pH balance or skin barrier function
Purslane calms soothes and moisturizes
Aloe vera repairs and rejuvenates
Step 2: Hyaluronic Serum (10mL)
Active Ingredients: Hyaluronic Acid, Purslane Extract
Benefits:
Packed with a concentrated balance of low and high molecular weight Hyaluronic Acid
Provides instant hydration
Boosts moisture to help reduce the formation of wrinkles caused by dehydration
Step 3: Face Cream (20mL)
Active Ingredients: Purslane Extract, Skullcap, Vitamin E, Panthenol, Squalane, Shea Butter, Corn Oil, Glycerin
Benefits:
Keeps skin hydrated and firm throughout the day
Fast-absorbing to give your skin a radiant glow
Skullcap and Purslane calm the skin and reduce the visible signs of irritation
Active anti-aging ingredient Purslane calms the skin and reduces the visible signs of irritation
Step 4: Hyaluronic Face Mist (50mL)
Active Ingredients: Hyaluronic Acid, Purslane Extract, Lemon Extract, Aloe Vera, Broccoli Extract, Prickly Pear, Panthenol, Allantoin
Benefits:
Potent active ingredients refresh and soothe the skin
Provides a healthy glow and instant moisture
Combats visible signs of irritation
Step 5: Glow Drops (10mL)
Active Ingredients: Bistorta Root Extract, Wild Rose Extract, Hyaluronic Acid, Purslane Extract, Optical Pigments (Iron Oxide, Tin Oxide and Silicate Mineral), Sweet Almond Oil, Glycerin, Panthenol
Benefits:
Revitalizes dull, tired skin and restores radiance
Polygonum Bistorta Root acts as an antimicrobial anti-ager and optimizes skin tone
Wild Rose Extract refines pores and gives the complexion an even appearance
Purslane boosts levels of Vitamin A and Omega 3 Acids and reduces irritation
Hyaluronic Acid binds moisture and replenishes internal molecular levels
Hydrating, plumping effect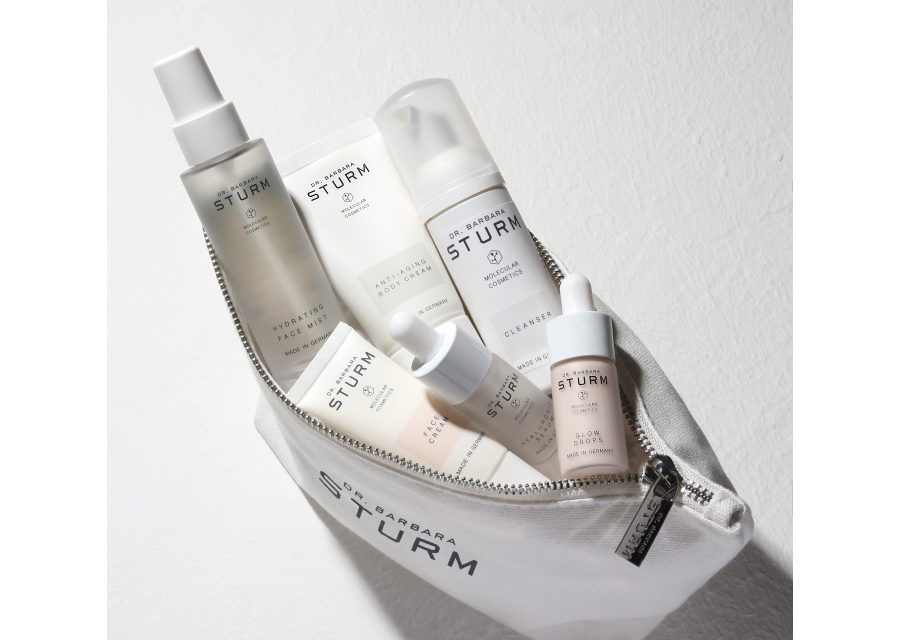 Step 6: Anti-Aging Body Cream (30mL)
Active Ingredients: Grape Seed Oil, Shea Butter, Purslane Extract, Glycerin, Indian Almond, Meadowfoam Seed Oil, Olive Oil, Vitamin E, Panthenol, Black Elderflower, Edelweiss, Chickpea Seed Extract, Squalane, Pure Glacier Water
Benefits:
Replenishes the skin's moisture
Elderberry Blossom Extract and White Almond Extract tighten the skin
Nutrient-rich oils restore elasticity resulting in visibly firmer skin
Achieve that post-workout glow when you start implementing the expert-backed products in this kit into your daily skincare routine.