Kristin Elliot has been a Tracy Anderson Method trainer for 5½ years. Below, she answers questions about her fitness journey as well as Tracy's research-based, results-proven Method, and recounts a day in her very busy life.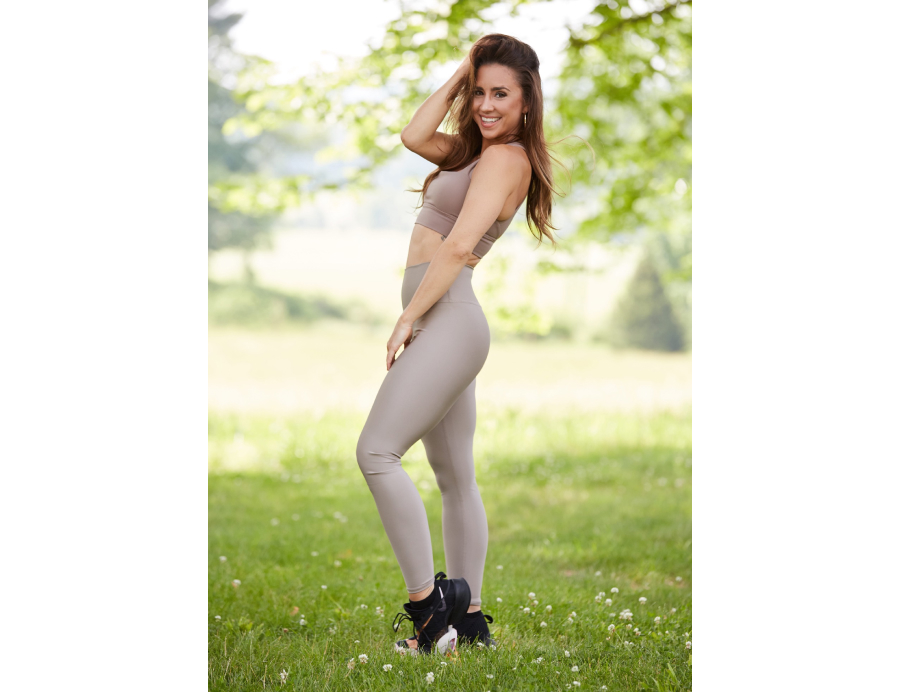 Tell us: What does being a TA trainer mean to you?
KE: In 2016, I heard about the TA trainer auditions from choreographer Tony G. I thought what an amazing opportunity that would be! I've always been into fitness and with my background of cheer, dance, and gymnastics, I figured this would be perfect. However, it seemed so far-fetched at the time. In 2013, I had a traumatic cheerleading injury to my right elbow, resulting in multiple surgeries. After years of recovering, I went to the trainer auditions in September 2016, and just weeks later, received the offer. I was thrilled! I knew how fulfilling it would feel to be able to call myself a TA trainer.
After my injury, I had developed a lot of anxiety and depression. As an athlete and not being able to live your life how you want to live it, it can really take its toll on you. It's almost like you lose a sense of self worth and identity. With Tracy's Method, I feel as though I've gained a lot of that back. I've grown tremendously mentally, physically, and emotionally. Tracy's Method helped me overcome obstacles that have seemed impossible and the fact that I can help others do the same is so rewarding.
What would you say is a common misconception people have about Tracy's Method?
KE: I feel like a lot of people want magic to happen overnight. They want to see results immediately. Anything in life takes consistency, patience, and practice. Here at the Tracy Anderson Method, we are asking people to open up, be vulnerable, and allow themselves to go places they are not typically used to going. We create neural pathways that allow us to transform mentally and physically. Our minds and bodies are so much more connected than we realize, and it's so important to exercise both. And that's such a huge part of TA. It's a journey, and you have to allow yourself to embrace that journey. I've seen that transformation happen personally for myself, which is why I believe in it wholeheartedly.
Do you have any advice for someone who's interested in the workout but hesitant to start?
KE: Just start! We all had to start somewhere and we were all beginners at one point. You can't judge yourself or compare yourself to anyone else because we all have different journeys and experiences. You have to set your ego aside and embrace change. I know change can be scary, but it's so rewarding in the end. Tracy's Method allows for so much change and expansion in your mind, body, and soul, but only you can be the one to show up and make that happen.
Peek Inside a Day in the Life of Kristin Elliott
5:45 AM: It's coffee o'clock! I cannot start my day without coffee. I like to make mine from home with Peet's French Roast Coffee and vanilla almond milk creamer—extra frothed! I look forward to this every single morning. It really is all about the little things in life. I'll then gather all my necessities together for the day, throw another cup of coffee in my to-go mug, and hit the road.
7:00 AM: I usually arrive at the studio early in the morning. I'll grab a bite of my banana, throw on my favorite workout outfit, tie my hair in a top knot and get out on the floor. I always like to feel put together at work because if I feel good then I'll perform better and when I perform better, everything else is better! We have to keep the good vibes flowing!
2:00 PM: It's lunch time! If I'm still at work, I like to order something light. It's hard to eat anything too heavy during my work days. My go-to place for lunch right now is Goop Kitchen. It's very close to our Studio City location! The Cobb-ish Salad and Miso Salmon Salad are my favorites. Sometimes I will prepare a homemade rice bowl with lots of veggies and protein to take to work with me as well. I personally like eating homemade meals the most, but it doesn't always work out that way. We do what we can!
5:00 PM: Prep time! There is a lot of preparation that goes into being a TA trainer. On top of new weekly content, we also have studio clients who have their own custom programs. Whether it's a private session, a custom hour, or class content, there will always be multiple programs to prep for the following day. Playlists are also a huge part of the daily prep! We have to keep our clients and ourselves inspired.
7:00 PM: Wine down! After I shower off the day, I change into my comfiest clothes, have an occasional glass of wine, throw a home cooked dinner together and put on one of my favorite TV shows. I'm a big Bachelor fan, so that's usually the go-to if I'm not up to date. I love a good reality show!
9:00 PM: Nighttime routine! I usually start to get ready for bed around 9 PM. I'll review all my material again for the next day of work and make sure I'm prepared. Then, I'll put on my favorite moisturizers, throw on pajamas, set my alarm, most likely scroll on TikTok for an hour, and then it's lights out!
Feeling ready for a life of balance that prioritizes mind-body connection? Enjoy a complimentary membership to the TA Online Studio. Already a member? Upgrade your plan to include TA LIVE.