It's time for a restart: The 2022 spring issue of Tracy Anderson Magazine is now available for digital download. From celebrity perspectives on success and wellness to insight into reinventing your mental and physical health from lauded experts, every article in The Reinvention Issue is an opportunity to start anew.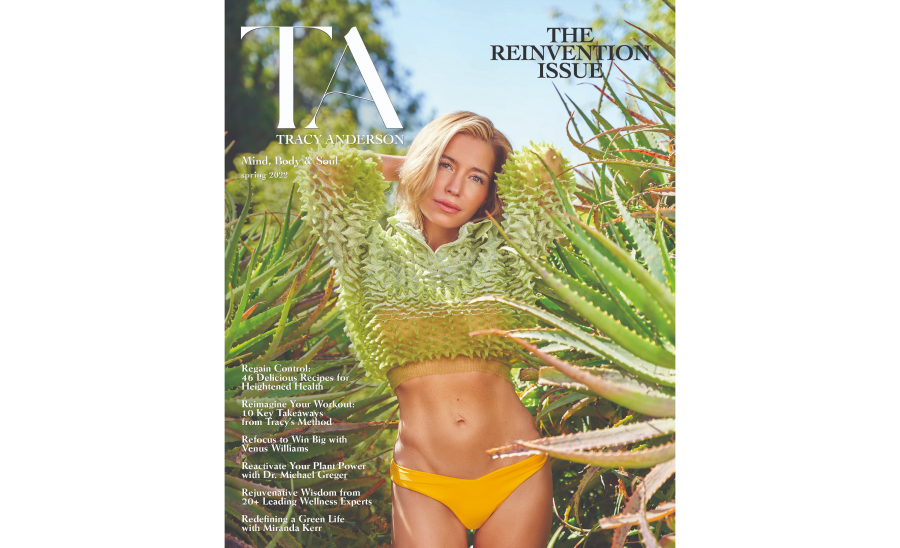 "Wherever we are in life, we all have the power to reinvent. It's always the right time to give our lives a good refresh," writes Tracy Anderson in her Letter from the Editor. "Whether this issue inspires you to go out and protest climate change, or simply try out a new recipe, my hope is that there's something in here that can help you overcome your personal obstacles, and transform into the future you want to see."
Reinvigorating, candid chats with Venus Williams, Miranda Kerr, and Rachel Zoe
Thought-provoking essays from 20+ leading wellness experts, including Dr. Habib Sadeghi and Dr. Michael Greger
46 delicious recipes for heightened health, created by Tracy alongside Chef Alexander Browne, Sandra Rojo, our Director of Higher Nutrition, and reviewed by Olivia Peláez, our Functional Nutritionist
10 key takeaways from the Tracy Anderson Method to help reimagine your workout
And so much more…
Keep an eye out in the coming weeks as we share exclusive content from the magazine here on The Edit. And if you're a TA LIVE subscriber, you automatically receive complimentary access to every issue of Tracy Anderson Magazine. All the more reason to go LIVE with us.
Categorized under Lifestyle