Have you always wanted to try the Tracy Anderson Method, but aren't sure where to start? We enlisted Senior TA Trainer, Prescriber, and Head of Digital Training Content, LaShonna Holloway-Johnson, to offer expert insight into the workout, the lifestyle, and the mind-body journey.
View this post on Instagram
What happens in a Tracy Anderson Method class?
What workout moves does the Tracy Anderson Method class consist of? From dance cardio to strength-training, there's a bit of everything. This is a workout unlike any other—one that interweaves cardiovascular exercise and strength-training for ideal muscle design. The mix of exercise types tones the body extremely effectively, carefully curated to create balance where there is imbalance. The classes are broken into an opening ceremony of free arm movements, a hand weight sequence, and the mat section for a full-body workout. Tracy also leads an after-class chat to unpack the theme of the class, bring your awareness to certain positions or parts of the body, and share a moment of deep connection.
"The inspiring trainer leading the class will give a brief introduction and inform you what to expect for this 50+ minute journey. It will be hot, it will be loud, you will be uncomfortable at first but you push yourself and you get through it and when you're done, as crazy as it might sound, you want to do it again, and again. It's all done on purpose. From the traditional Tracy free arms in the opening ceremony that bring the entire class together and get you warm, to the hand weight section that offers even more toning and opening up of the body, to the mat work which puts you in a primal position and makes you use your body's own weight to explore combinations and routines done at high repetitions to create balance in the body…it's all the perfectly packaged workout. When you finish you have formed a bond with everyone around you because you all just did that together."
– LaShonna Holloway-Johnson
What are the different types of classes offered?
The iconic mat class is the star of the show, offering a total-body workout that expands your physical awareness to new heights. There's also an impressive selection of other classes, ranging from cardio-focused workouts to 15-minute body bursts.
"The studio also offers cardio classes and multi-TAsk classes, which are half muscular structure and half cardio. The same experience applies except for the cardio classes: You are either performing or learning dances at a non-stop rate for the duration of the class."
– LaShonna Holloway-Johnson
In short, we care about you moving all the time. That's why throughout the week, elective content performed by our training team will be released in the TA Online Studio —Tracy's innovative digital platform that houses a wide range of workout videos—to support you in a variety of fun ways. We recommend checking back in for new stretching sessions, mid-day endurance boosters, workouts for the guy in your life, chair programming, and more. This content will not only offer the strategy that is found in Tracy's weekly class sequences, but it will also keep you moving with the Tracy Anderson Method—because the more you move, the healthier you are.
What should I expect walking into the studio?
"As soon as you walk into any Tracy Anderson studio you are met with not only the friendly front desk coordinators and studio managers, but you also instantly feel the heart-pumping energy. The heat and humidity in the classroom makes The Method so special because this combination not only awakens your mind and body but it also gives you the results that Tracy has done tremendous research to help you achieve. If it's your first class it can be a little intimidating because the clients who do The Method are there to work out and look and feel their best. They are comfortable in their bodies and show up in outfits that make them feel beautiful because it helps them to really perform. Commitment and consistency are key when doing the workout."
– LaShonna Holloway-Johnson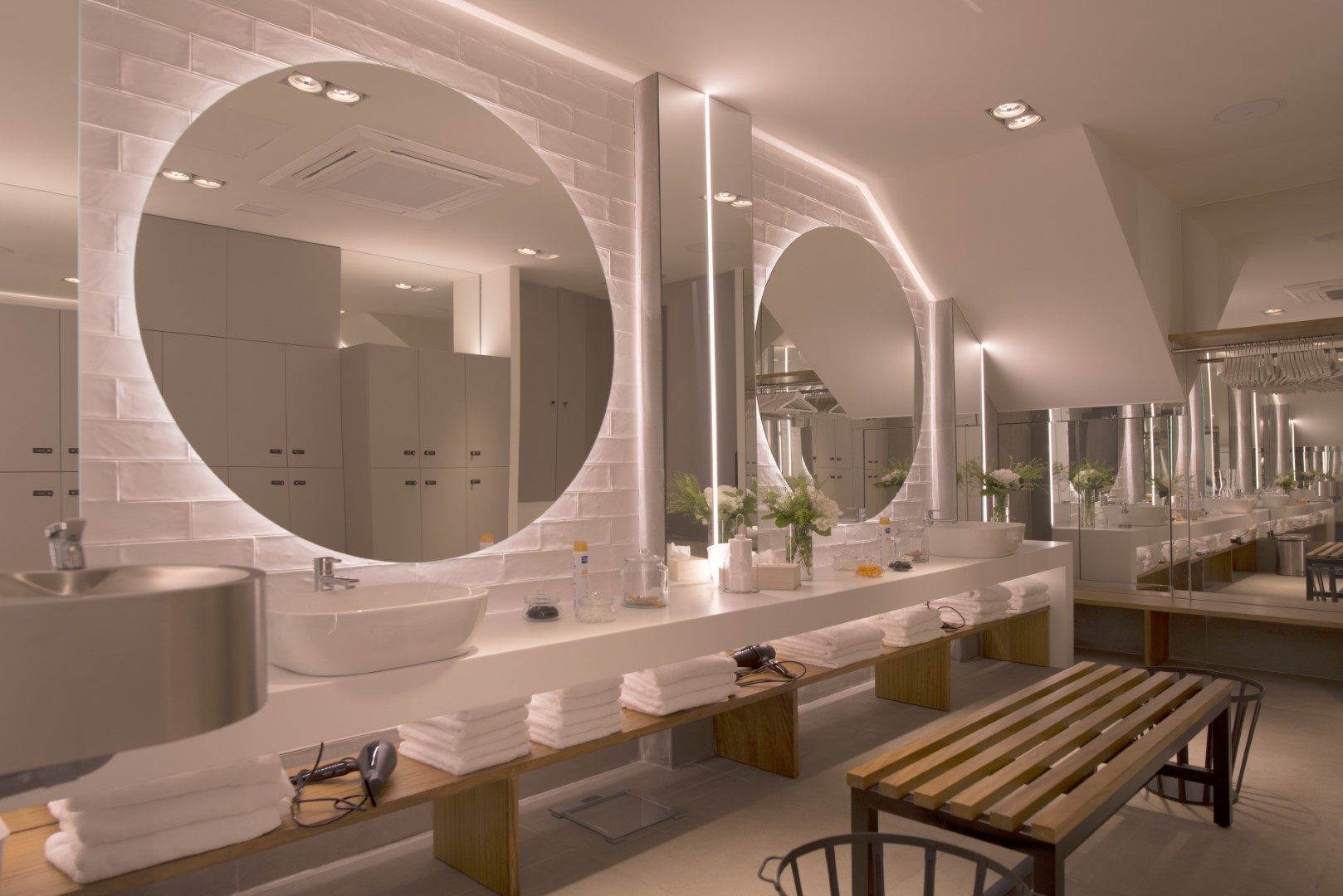 There are Tracy Anderson studios around the world, with seven locations across New York, Los Angeles, the Hamptons, Madrid, and London. All studios are membership-based. Membership at a Tracy Anderson studio includes exclusive access to the Tracy Anderson Prescription Team, unlimited in-studio group classes, custom programming at select locations, and discounts on private training and curated retail and nutritional products, including the TA Online Studio.
I just walked in and the trainers aren't speaking. Why the silence?
At the beginning of Tracy's research, she conducted a study on 150 women, and discovered that the brain is more engaged in the absence of verbal instruction. When you put your physical self in the driver's seat while following the sequences, you strengthen the mind-body connection, and move more efficiently.
What are the different fitness levels?
The Tracy Anderson Method comprises of 3 levels:
Beginner: For anyone who is new to the workout, or exercise in general.
Intermediate: For members with experience and knowledge of the Tracy Anderson Method and who feel ready to master the sequences.
Advanced: For members with significant experience and knowledge of the Tracy Anderson Method who aspire to take their workout to the next level.
What sets the Tracy Anderson Method apart from other workouts?
The Tracy Anderson Method embraces the idea that you are how you move. While many physical curriculums offer quick fixes, drastic changes, and unreachable expectations, Tracy leans into science and invention to develop physical intelligence. Strategic movement sequences focus on accessory muscles, continuously strengthening your body awareness and avoiding the dreaded plateau.
Another aspect that distinguishes The Method: the sheer quantity and consistent quality of content. Tracy's mission is to maintain the largest bank of choreography in any one program. In this way, long-term members reap the benefits of sustained progress. From stress at work to pregnancy, there will always be situations that affect the way we inhabit our bodies. Our relationship to our physical selves is constantly changing, and the Tracy Anderson Method is designed to honor that, and support you throughout different stages of life.
If you're on the go, don't live near a studio location, or simply prefer at-home workouts, the TA Online Studio is for you. Updated weekly with brand new content for all levels, the streaming platform recreates the Tracy Anderson Method studio experience for a virtual platform.
"Once you log into your TA account, you open yourself up to a world of infinite options. You can do Tracy's recorded class that offers 3 different levels (Beginner, Intermediate, and Advanced) as well as breakdowns, previews of the class, and level assessment tips. Tracy also gives an after-class chat each week to help motivate everyone and guide you through the week. You also have the option to do live virtual classes that offer Intermediate, Advanced, or MultiTAsk classes throughout the day. There are times when Tracy will teach virtual live classes and that's a wonderful treat for you to experience at home with TA LIVE. Just when you think that's more than enough, there are body-centric electives, electives for men, electives that offer a standing option for those who cannot kneel for various reasons, electives for dance cardio (even low impact), electives that awaken you in the morning with a stretch or prepare you for bed. The list goes on and on."
– LaShonna Holloway-Johnson
Can I build a sustainable workout routine that's virtual?
From TA LIVE classes to elective content, there will always be a class that matches your vibe.
"Where do you begin? You can take a level assessment test, you can schedule a consultation with the Prescription Team to get on the right track or you can visit the community where tons of supportive streamers offer advice and really help each other start and stay with The Method. After you have figured out your personal journey, the Tracy Anderson Method is the best way to make you feel stronger both physically and emotionally. Grab your streaming device, get a mirror if you choose, try to have your space heated and with proper humidity and bring the in-studio experience to your home."
– LaShonna Holloway-Johnson
View this post on Instagram