TAMILY TALES: Issue No. 1
October 28, 2015
Women around the world have sparked a sisterhood through movement, focus, and connection. The TAmily was created by you out of your shared spirit of self-love, and your willingness to strive toward being the best version of YOU possible. The friendships you have formed and the bond we all share is my inspiration on a daily basis.
I am overjoyed to have watched so many incredible women show up for more than their workouts by breaking down the distances between them. Across the world, you have injected the wisdom you've learned from the layers of your individual journeys into this global community, creating an impact together. You have united as a family of friends: brave, spirited, committed, balanced, and powerful women. This family is not judging the past, but you are instead meeting the here and now with awareness, appreciation, and the potential to make the future a healthier, happier, more honest place.
Along with the new #TArealtime streaming workout every Wednesday, I will also be releasing an interview with a participating member of the #TAmily. All of the interviews will live under the #TAmily tag on tracya.wpengine.com. Every #TAmily member will also share a home recipe, and we will build a family cookbook with the recipes from each week.
Our first interview is with a woman whose eye for natural beauty captured my heart. Her love for the space she calls home in beautiful Maine, and her respect for locally-grown organic foods — that she makes into works of delectable art, literally — had me at the first Instagram post I was tagged in.
I had the pleasure of meeting Emery in person; her entire presence matches the beautiful, calm sparkle we see in the wise words she shares in her captions.
All of my love,
---

I'M A CHEF BY PROFESSION AND A LOVER OF ALL THINGS ORGANIC, LOCAL AND SEASONAL. My goal is to educate people on how to be proactive about their health rather than sustaining. All this great information can be found on instagram ( emery5), youtube/periscope under Emery Chapman or "chefemery" which will help inform others on the best ways to feed your soul and body in a way that honors our earth. I also have a cookbook that is currently in its fourth reprint. People want to eat healthy but it needs to taste good too for those healthy habits to stick. We can feel deeply nourished and satisfied without feeling like we are depriving ourselves, we just need the tools to know how to get there.

SOME #TAMILY MEMBERS WORKOUT IN THEIR LIVING ROOMS IN IOWA, OTHERS ON THEIR BALCONIES IN ITALY. WHEN AND WHERE DID YOU START #TAREALTIME?

I live in beautiful coastal Maine and started #TArealtime in January 2015 when Tracy Anderson first launched streaming. My living room is where all the magic happens but what I also love about streaming is that I can take my workout with me wherever I go. It's shear brilliance if you ask me.

WE ALL FACE CHALLENGES WHEN IT COMES TO BEING OUR HEALTHIEST SELVES—INSIDE AND OUT. WHAT HAS BEEN THE HARDEST PART OF YOUR JOURNEY?


In 1998 I suffered a severe concussion which resulted in the diagnosis of post traumatic concussion syndrome which can be a common injury among professional athletes and soldiers in combat. The injury made it difficult to walk or even stand up in the beginning. I was left with serious neurological side effects. As a result, I put on 30 lbs and was feeling very defeated until I found the Tracy Anderson Method 8 years ago. I tried one of her DVD's and something clicked. The DVD's led to metamorphosis which led to continuity and now streaming. I truly believe that Tracy's method played an intricate role in reconnecting my brains connection to my muscles and body. 45 lbs lighter I can now say that I feel better in my late 30's then I ever did in my 20's even before the injury. My body feels energized, balanced, and connected. I feel more confident and secure in my body then I ever have before.

HAS BEING PART OF THE COMMUNITY OF #TAMILY WOMEN HELPED YOU TO OVERCOME THIS? HOW SO?


When I began streaming, I was so excited about being able to have access to a real live studio workout with Tracy as she is always evolving and delivering the newest content out there. I had not anticipated meeting the incredible group of women that have now become to be known as the #TAmily. I can honestly say that I have never met a large group of women like this where there is such constant support, unconditional love, positivity and strength. They push me on days I don't feel motivated to workout and it provides a support system that really makes you accountable. My body as a result is seeing greater results and I feel the best I have ever felt since starting my journey with the Tracy Anderson Method.

ONE OF THE COOL THINGS I LOVE ABOUT THE #TAMILY IS HOW IT CONNECTS WOMEN ALL OVER THE WORLD. HOW ARE YOU INSPIRED BY OTHER WOMEN? WHO IN THE #TAMILY INSPIRES YOU?


The #TAmily is one incredible group of women that literally spans the globe from Portugal to South Africa, England, Scotland, Dubai, Canada. It literally blows my mind that aspect of it.
It would be difficult to point out one member of the #TAmily that inspires me individually because they are all so amazing. Each of these women provides something beautiful and unique to the group. There are so many intelligent, gifted, strong women and each one brings a strength and certain presence to the group. I've learned so much from so many of them and literally feel inspired every day. They truly have effected my life on a profound level.

HOW DO YOU CONNECT WITH OTHER WOMEN IN THE #TAMILY BOTH ON INSTAGRAM AND IN REAL LIFE?


We have come to know each other all in a very deep way. I know many of their personal stories, their hardships, their struggles, their families which transcends the actual exercise. Many of us have even had the pleasure to meet in person and I frequently talk to many of these women daily by phone. There are very rooted friendships that have developed here. We also constantly share health tips, recipes, exercise advice and are constantly chatting about all things tam related! These women have deeply changed my life and I feel so grateful for each and every one of them.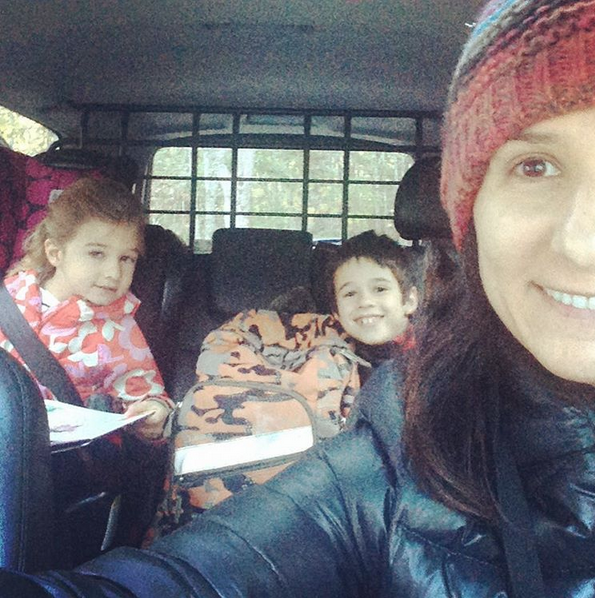 LIKE MOST WOMEN I KNOW, YOU ARE BUSY! WHAT TIPS DO YOU HAVE FOR FITTING WORKOUTS INTO A HECTIC LIFESTYLE?


I'm a very busy women as I have my own business, and am a momma of two beautiful babes. Lets just say from the moment my feet hit the ground, I'm moving! Being consistent is huge so there are a couple of things that I always do to keep myself accountable. I workout at the same time everyday and lay my workout clothes out the night before. For me, working out is the same as brushing my teeth, its non negotiable. I never allow my mind to go there. I also always make a schedule once a week with everything that is going on for me both personally and in my business life. This allows me to visually lay out my week and then account ahead of time my workout schedule.

ONE THING THE #TAMILY HAS IS STYLE. WHAT'S YOUR FAVORITE OUTFIT TO EXERCISE IN?


The TAmily definitely has style and I look forward to the daily streaming posts to get workout gear ideas. It's funny because even though we all work out by ourselves, we actually dress up for each other and you will often see supportive comments about someone's fabulous leggings! I generally love capri leggings with fun prints and comfortable cotton tank shirts. We get super sweaty so everything gets drenched!


WHAT IS YOUR FAVORITE TA MOMENT?


I think my favorite TA moment has been streaming as it really delivers the most current exercise content that in my opinion is offered out there for women. The results are insane coupled with meeting Tracy in person. Tracy is the real deal and promises no quick fixes or fairy dust ( even though we do call her the fairy ninja!). If you are willing to put in the time, work and consistency, she will absolutely deliver and change your body. I really trust her fully with my body and every day I'm incredibly grateful for how she has changed my life and health.

IT'S ALL ABOUT BALANCE. WHAT IS YOUR FAVORITE PRE-WORKOUT MEAL?


I generally have a smoothie pre-workout. It's a fantastic way to provide the body with nutrient dense food, hydration, and protein which really fuels a workout.

FAVORITE INDULGENCE?


I have to say I absolutely love dark chocolate! 85% green and black organic dark chocolate is something that I actually have a small square or two of every day. If I'm really going to go for it though, I have a deep affinity for ice cream! I absolutely love it!

HOW ELSE DO YOU FIND BALANCE IN YOUR DAILY LIFE?


Because my life is generally very busy, there are certain things that I never compromise on because they really provide my life with daily balance. I always prepare a hot meal for dinner that we all can sit down to has a family. This is where we connect and share our day with one another. I truly believe food is a deep nourishing way that not only feeds us physically but emotionally connects us with ourselves and others.
I also mediate daily which quiets my mind and allows me to connect with myself in a deep way. For me, this is where all the magic happens because I'm often inspired during this quiet time.

CAN YOU SHARE YOUR FAVORITE POST-WORKOUT RECIPE FOR THE REST OF THE #TAMILY TO ENJOY?


Of course! Lately, I generally work out in the morning after I drop the kids off for school so by the time I've finished my workout, showered and done some work, its lunch time. I generally have a salad that has good ratio of proteins, fats, and leafy greens. Variation is crucial to the diet as repeating foods can cause inflammation in the body so seasonal eating is important. I generally see what seasonally looks good and inspire my salad around that.

ALL RIGHT, HERE'S A FREE PASS TO BRAG: IN ADDITION TO THE SUCCESS OF STICKING WITH IT, WHAT PROGRESS HAVE YOU MADE SINCE YOU STARTED #TAREALTIME AND BECAME PART OF THE #TAMILY, BOTH PHYSICALLY AND MENTALLY?


Since I've started #TArealtime I have become so much stronger than I was before. I have seen huge progress in my body both mentally and physically. The daily support and connection with the #tamily coupled with the effectiveness of the workouts has really sculpted my body and changed how I feel about myself. It has helped me reduce stress, sleep better, and generally just feel better about my life. When all these things are in place, it allows us to really focus on the things we love to do and share our gifts with others.

WHAT DO YOU LOVE ABOUT YOUR BODY?


I've always loved my legs. They are strong and have always held me up even during the most challenging times.

WHAT DO YOU LOVE ABOUT YOUR INTERNAL SELF?


I think that I've always had a very open loving heart. Friendships are incredibly important to me and when trust is there this magical connection takes place. I've been very blessed to have these connections in my life and it leaves me so grateful every day. I think human beings are miraculous and our ability to love is endless.


WHAT MESSAGE DO YOU HAVE FOR WOMEN WHO ARE STRUGGLING WITH THEIR HEALTH AND BODY IMAGE?

I would say to be patient and kind to yourself. We do not become out of shape overnight so we can not have that same expectations to get back in shape. There is no quick fix or magic to it. We truly have to be ready emotionally to want something different for ourselves. When that clicks, something begins to transition and a new mind set opens up. Body image is also very closely tied to the way we internally feel about ourselves as well. We can not fix the exterior of our body without working on the internal factor of ourselves as well. Self love an acceptance of ourselves and our flaws is crucial to our healing.
When we begin to realize that we are absolutely enough, true healing begins. I think that is when we start to seek things that are healthy for us rather than harmful. We can absolutely achieve the health and body image goal we are seeking, but its a combination of patience, consistency, hard work, making the commitment to move our bodies daily, eat well nutritionally, and most importantly taking quiet time to discover what we love about ourselves. Women want to feel sexy, attractive and comfortable with themselves which is hard in a culture that constantly scrutinizes women. The method really helps combat that scrutiny and allows us to uncover our most beautiful selves. Its a journey but there is no better investment than the commitment to our health. For women its a constant transition, evolution, and adjustment especially as we age. The inner self love component has to absolutely be there. If we ignore that, we really lose the vision of the bigger picture.
ALL PHOTOS PROVIDED BY EMERY CHAPMAN. FOLLOW HER ON INSTAGRAM @EMERY5.

RECIPE #1  (BREAKFAST)
LOCAL BABY KALE AND SWEET POTATO SMOOTHIE
INGREDIENTS: 2 cups local organic baby kale ( local if possible ), 1 cup hemp milk, 2 pitted dates, 1/2 cooked sweet potato, 1 tsp cinnamon,  1 tsp fresh nutmeg, 2 scoops Tracy's Wellness Shake, 1/2 cup of ice.
DIRECTIONS: Blend in a high speed blender like a vitamix or blended on high speed for approx. 2 minutes. Pour and enjoy!!
RECIPE #2 (LUNCH)
FRESH CILANTRO AND CHICKPEA SALAD WITH ROASTED PEANUTS
INGREDIENTS: 1 can drained garbanzo beans or "chick" peas 1/2 cup fresh cilantro minced, 1/2 vidalia onion minced, 1 stalk of celery minced, 1/2 red pepper cored and minced, 1/2 yellow pepper cored and minced, 1/2 cup roasted unsalted peanuts, 1 tbs chili powder, 2 tbs extra virgin olive oil, 1 tsp sea salt + fresh ground black pepper.
DRESSING INGREDIENTS: 1/4 cup apple cider vinegar, 1/4 cup extra virgin olive oil,2 tbs fresh lemon juice, 1 tbs real maple syrup, 1 tsp sea salt, fresh ground black pepper.
DIRECTIONS: Take a medium saute pan and add 2 tbs olive oil and place heat on medium. Add onion, sea salt, and fresh ground pepper and cook till onion is translucent. Then add fresh cilantro, chili powder and peanuts and cook for an additional 3 minutes. Remove pan from heat.
In a medium size bowl, add garbanzo beans along with the sauteed cilantro, onions and peanuts. Then add minced celery, red and yellow peppers with a little more freshly torn cilantro. Set aside.
In a small bowl, whisk apple cider vinegar, olive oil, lemon juice, maple syrup, sea salt and fresh ground black pepper. Pour this dressing over the salad. Toss gently and serve at room temperature. This is a great recipe for lunch or on a hot summer night with grilled salmon. Delicious and packed with healthy fats, proteins, and veggies.
RECIPE #3 (DINNER)
CABBAGE BRAISED IN APPLE CIDER WITH GRASS FED MEATBALLS
INGREDIENTS: One head of green cabbage chopped and cored, 1 vidalia onion minced, 1 cup of homemade chicken stock or low sodium store bought stock, 1 cup of apple cider, 1 tbs grass fed butter, 2 tbs extra virgin olive oil, 1 tsp sea salt, fresh ground black pepper.
FOR THE MEATBALLS: 1lb grassfed beef, 1/2 vidalia onion minced, 2 cloves of garlic peeled and minced 1/4 cup fresh parsley minced, 4 tbs extra virgin olive oil, 1 tsp sea salt, fresh ground black pepperm 1/2 cup parmesan reggiano shredded, 1 egg.
DIRECTIONS: Preheat oven to 350. Take a medium saute pan and pour 2 tbs olive oil in pan and place heat on medium. Add minced onion and garlic with sea salt and fresh ground black pepper. Cook till onion is translucent. Remove pan from heat and let cool slightly. In a medium bowl, add beef, parmesan reggiano, one cracked egg, minced parsley, and onion/garlic mixture. Use clean hands and mix till well combined. Roll meat into individual meatballs and place on a plate. Take skillet and add 2 tbs of olive oil and place heat on medium. Add meatballs to skillet and brown on both sides ( this should take approx. 4 minutes on each side ). The meatballs do not need to be fully cooked through. Set aside.
In a oven safe large dutch oven pot (I prefer cast iron but le creuset makes beautiful oven safe pots as well) place 2 tbs of olive oil and place heat on medium. Add minced vidalia onion along with sea salt and fresh ground black pepper and cook till onion is translucent. Add chopped cabbage along with apple cider and chicken stock. Place lid on pot and place heat on high till the cabbage just comes to a boil then quickly reduce down to low. Allow to cook for 4 more minutes then remove lid. Add your browned meatballs on top of the cabbage then place the lid back on a place the pot in the oven. Cook at 350 for 15 minutes then reduce the heat down to 250 and continue cooking for one more hour. Remove from oven and dinner is served!!
EMERY'S CURRENT FAVORITE QUOTE:
"LIFE IS AMAZING. AND THEN IT'S AWFUL. AND THEN IT'S AMAZING AGAIN. AND IN BETWEEN THE AMAZING AND THE AWFUL ITS ORDINARY AND MUNDANE AND ROUTINE. BREATH IN THE AMAZING, HOLD ON THROUGH THE AWFUL, AND RELAX AND EXHALE DURING THE ORDINARY. THAT'S JUST LIVING.. HEARTBREAKING, SOUL-HEALING, AMAZING, AWFUL, ORDINARY LIFE. AND ITS BREATHTAKINGLY BEAUTIFUL" – LR KNOST

___
EMERY'S  FAVORITE QUOTE OF ALL TIME:
"WHAT YOU THINK YOU BECOME. WHAT YOU FEEL YOU ATTRACT. WHAT YOU IMAGINE YOU CREATE" – BUDDHA
ALL TIME FAVORITE BOOK: ECKHART TOLLE "THE POWER OF NOW"
Life changing read that really encapsulates the meaning of life. The mind constantly wants to live in past or future. When we truly grasp that all we have is "now" something magical happens. This is not easy to do but I find when I can be in this place, there is great peace.
CURRENT FAVORITE BOOK: ELIZABETH GILBERT "EAT, PRAY, LOVE"
Great book that really put the inner dialogue of women on the map. We all struggle, we all grow, we all want to eat!! Its a beautiful thoughtful book.
ALL-TIME FAVORITE FILM: CINEMA PARADISO BY DIRECTOR GIUSEPPE TORNATORE
I was quite young when this film came out and think my heart actually skipped a beat while watching. This made me fall in love with the movies. It is such a thoughtful story about love, time and the choices we make.
CURRENT FAVORITE FILM: FOOD INC. BY DIRECTOR ROBERT KENNER

I think every person should see this movie to educate themselves about what has happened to our food.
ONE PIECE OF ADVICE EMERY WOULD PASS ONTO YOUNG WOMAN THAT SHE WISH SHE HAD KNOWN EARLIER ON IN LIFE:
I would say if I could whisper in my younger self's ear, I would say " hush sweet girl because you are enough". As woman, we are brought up in a society that is always pushing on us that we are not enough, that we need more, that we need to be more. I want this generation and the next to take that back for women. I want to take that back for our daughters too. Our current culture teaches women that what you wear is so important or looking perfect equals success. We all want to be our most vibrant selves but too much focus on this is boring. I think we should be teaching young women to move their bodies, eat well, and love themselves. When all of those things are in place, true self love and self confidence shines.