TAMILY TALES: Issue No. 15
March 29, 2016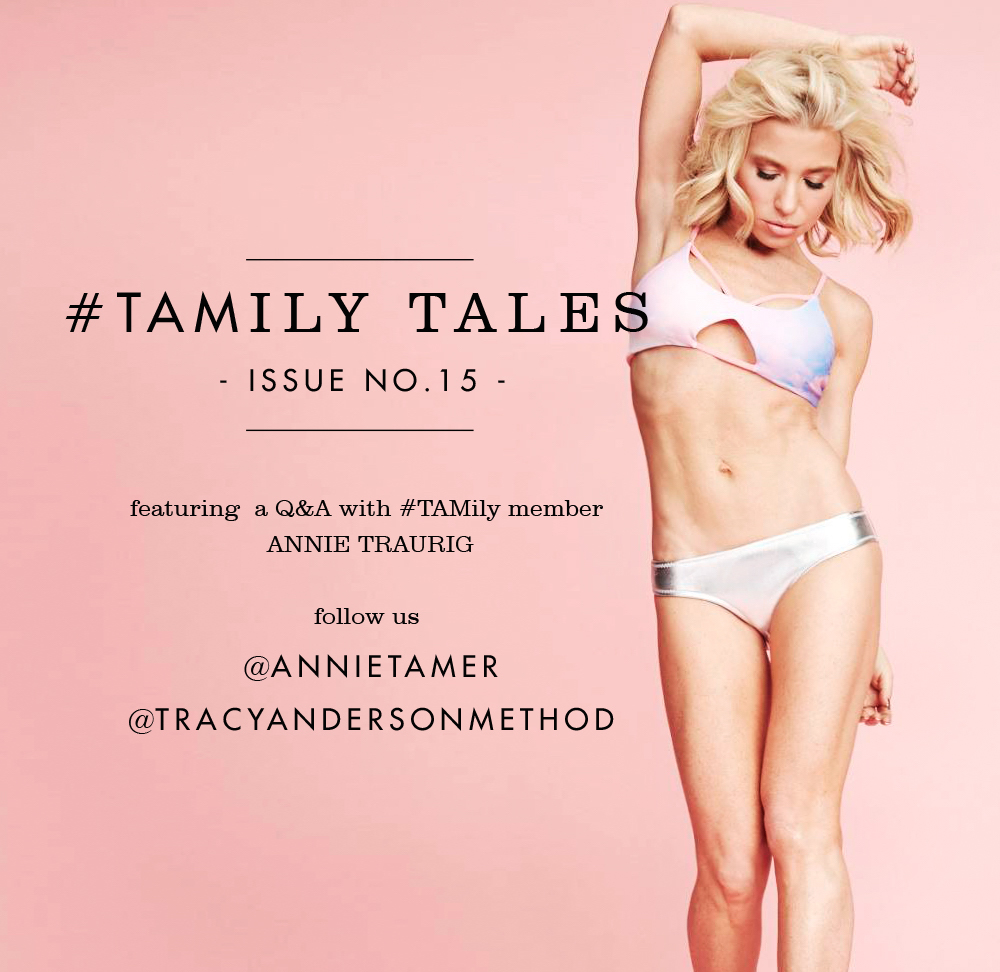 Turns out, multitasking is so five years ago; now, it's all about the very principal that has always mattered most to me: focus. I am a creative soul, but also a soul who craves challenge. Everything I create isn't without laws and boundaries. It's quite the opposite, actually, I may be one of the most consistently tortured artists. In my lane creating, is to constantly generate balance where there is imbalance in the body. I have to be creative and I can't guess. What "feels" like it works for me, may not work for you—and I work for you.
I am one of those creative people who can't create in certain environments, but at the same time, I lack the very skills needed to create the environments I like to create in the most. If I could create within the Instagram of @livesimplybyannie, I would. I love her eye. She isn't afraid of color, yet she appreciates the refreshing power of neutral tones. She is so well thought-out and never over the top. Annie's design work reflects my research; her platform of balance, vibrancy, and consistency in our environments is what I strive to help people find in their bodies. It's like one of my favorite Christmas stories, The Grinch. Christmas came for the Who's without any material price tags. It came without packages, boxes, or bags. Annie has a gift. When you have a gift, yes, you need to be valued for it, but you also will do it no matter what. If life gave Annie lemons, she would make the most organized and aesthetically pleasing lemonade stand you ever saw—and the lemonade would taste and feel better than your grandmother's lemonade, even if it cost a nickel. You can have an organized body and lifestyle without making or spending a lot of money.
I first met Annie in Chicago. She was teary-eyed and fresh-faced, with a notebook in hand. She apologized to me for asking a question. I remember wanting to find her afterwards, because I didn't fully understand how meaningful her questions were and how beautifully her brain processes information. She is strong where I am weak, and vice versa. I can't stack books like art like Annie, but that in and of itself is my idea of perfection. I can organize the muscles and correct the imbalances of anyone's body, and Annie was present enough to learn what she needed to do in order to have that for herself. Annie doesn't fall short. She wanted to really understand, but she felt bad taking more of my time than the larger group received. Annie is graceful, organized, and incredibly big-hearted. I feel like her message is truly part of the solution, not part of the problem. You need quality guidance and quality standards to live a quality life, but you do not need luxury items and outrageous price tags to lead a life that is beautiful and meaningful, balanced and organized. You just need to have certain standards and to show up! Each of us has our own gift to give and collectively we can support and lift each other brighter. I am so excited to share Annie's TAmily Tales interview with you and I can't wait to read her responses.
Love to all of my TAmily!
---

Hi #TAmily, here's a bit of backstory about me.
I grew up in Detroit, though I now live in Seattle. Through my company, Live Simply by Annie, I teach people how to clarify their priorities, keenly edit their belongings, and increase the simplicity, ease, and beauty in their lives and their spaces.
Lots of people wonder about how I came to that line of work, and I'll tell you: it isn't merely that I think things look prettier in straight lines and with precise folds. Rather, it's that my biography has been steeped in chaos, struggle, and clutter.
I was five when my mom was diagnosed with Multiple Sclerosis, and so my childhood was about growing up while watching her grow down. I stepped into a domestic-management role from a young age to compensate for what she increasingly wasn't able to do for our family. I learned first-hand how complex and difficult life can intrinsically be, and how moments of crisis can sneak up on you when you're least expecting them.
Mostly, I came to understand how important it is to ensure that each one of us does all we can to make our lives simpler, easier, and less of a struggle. That we figure what things are supporting us in being our best selves, and what things or people or activities are merely adding to our already-heavy loads; that we elevate the former and never feel guilty about dismissing the latter.
It's basically a no BS approach to life. No BS but all of the beauty, since our physical surroundings have such an impact on our overall wellbeing.
Besides all that, I think humor is a superpower. Without laughter, we're screwed. Or, at least, I am and my family is.
   SOME #TAMILY MEMBERS WORKOUT IN THEIR LIVING ROOMS IN IOWA, OTHERS ON THEIR BALCONIES IN ITALY. WHEN AND WHERE DID YOU START #TAREALTIME?
It was a fateful day five (or six?) years ago that Tracy Anderson and her method entered my world. I was staying at my boyfriend's in Miami over the summer, folding laundry during the middle of the day as a compulsive organizer is wont to do, and had the TV on for company. Whatever show I had been half-watching ended, and on came this fitness sprite, set amid a pink and white background, talking endless possibility, the realistic expectation of being able to attain a body that reflects the work you put it into, lambasting the doomed-by-genetics story, that sort of thing.
At a time when the very best I could hope for in a workout (elliptical, day in and day out, since by then running had been eliminated thanks to stress fractures; the endless pedaling followed by some lame DIY attempt at abs. Were there even arms? Can't remember.) was to zone out and forget it ever happened, I was hungry for an expert-guided, self-driven exercise overhaul. I had also just graduated college (p.s. I'm only 26) so I was kind of in the mood for a life-overhaul.
I watched that infomercial whenever it came on that week (seriously, never watched an infomercial in my life otherwise), and was captivated by the idea that my body was, up until that point, merely the story I had been telling myself about it, and that I was fully capable of telling myself a new story, instead, one of utter empowerment.
I took to the youtube. I found this little ab segment Tracy had done that began with these graceful but totally easy to follow free arm movements, and I was transfixed with it all. For a couple weeks, I would peddle forever on that damn elliptical and then pull up that same youtube video, loving the movements, loving how none of it reeked of convention but of originality and authentic creation.
I went back home to my parent's house in Detroit, promptly ordered the 30-day metamorphosis and have been living and breathing the method every day of my life since. I started streaming January 1, 2015.
   WE ALL FACE CHALLENGES WHEN IT COMES TO BEING OUR HEALTHIEST SELVES—INSIDE AND OUT. WHAT HAS BEEN THE HARDEST PART OF YOUR JOURNEY?
I am perpetually trying to balance, and make peace with, the perfectionist in me. It is not in my nature to do anything passably well. If I do anything, I expect myself to do it to the very best of my abilities. Some days, this ethic propels me in an amazing way. But there are lots of others when a desire for perfection invalidates excellence, and holds me in a space of undue, unhelpful criticism of self, whether that's about what I eat, how I perform my workout, or how my body looks.
   HAS BEING PART OF THE COMMUNITY OF #TAMILY WOMEN HELPED YOU TO OVERCOME THIS? HOW SO?
Unbelievably so. It is invaluable to connect with and know other women who clearly also hold themselves accountable to show up for their priorities in life, and to see that, like me, they are nuanced, they are unique. They are not perfect. They are not one giant robot woman who is identical in appearance and interest, and they do not wish to be. They celebrate what makes them—what makes the shape of their bodies, what composes the activities of their lives, and if there comes a moment when any of us start to doubt in all that, the rest of us come rushing in to buoy by way of celebrating on that person's behalf.
   ONE OF THE COOL THINGS I LOVE ABOUT THE #TAMILY IS HOW IT CONNECTS WOMEN ALL OVER THE WORLD. HOW ARE YOU INSPIRED BY OTHER WOMEN? WHO IN THE #TAMILY INSPIRES YOU?  HOW DO YOU CONNECT WITH OTHER WOMEN IN THE #TAMILY BOTH ON INSTAGRAM AND IN REAL LIFE?
I have so much love for the #Tamily. At a time when so many social media platforms devolve into little more than conversations of hate-spewing and judgment, it is totally remarkable that we have collectively cultivated this atmosphere of love and support. That we feel comfortable enough to share our vulnerabilities without threat or fear, but with complete confidence that our #TAmily members will (ahem) truly have our backs is so rare and beautiful a thing.
We all adore Tracy ridiculous amounts, to the point that I feel it's almost obnoxious for any one of us to gush over her. Nonetheless, I can't pass up this opportunity to acknowledge what an inspiration you are to me, Tracy.
I'm kind of weird about role models, defiant even, because I feel internally like such a scrappy self-starter who prizes originality and authenticity above all. "Forget what others have done and how! Be bold and defy convention!" That's always more my mantra. And yet, I admire you silly amounts. What you have managed to create, how you so authentically give of your gifts, and how you balance that with an undeniably keen business-savvy, I mean suffice it to say I really do love you.
@Emery5, I am truly grateful for your unwavering support and encouragement every day.
@dankartwin : your tamily tale blew me away and your words were like that of some old, wise sage and I'm still not over it.
All the ladies I met at the Chicago vitality week— uber sweet Stacey Browne, @andi4tam, @leitza612, @a_s_k_mcmachan, @angelp70, to name a few, you are extra special to me since I actually got to meet you.
@melissarigdon: your willingness to be vulnerable and transparent is so incredible, and has helped us all, I think, feel it's okay to be a little more vulnerable, as well. Ditto @wisperingwillow—you were so brave to share your story about the darkness of eating disorder.
(I suddenly get all the pressure one must feel when trying to remember to thank everyone during an awards acceptance speech.)
@lorettasfitnesslife: I've told you before, but could watch you dance all day long.
@catynasr: I just generally dig your vibe and always love seeing your posts.
@bridgetteralph is like my OG #TAmily member, since she was the first person I remember finding on instagram pre-streaming, and having that whole, "Oh my gosh, you too?!?" thing.
@agikonwalia: whose style is always killing, and who had my heart the moment she mentioned "chronic illness" in her tamily tale.
@ek4tam, who is always up and at 'em, @claudiasaezfromm who is always holding it down in the studio (along with that cute girl who has a gorgeous tan or just dark olive skin and usually wears light gray pants and loose, flowy white tops listen serious stalker level is merely a by-product of intense focus in this case, okay?)
My #GYBG partner, @laura.tam who I've had so much fun getting to know over the course of these challenges.
I see you all and send love to you all.
  LIKE MOST WOMEN I KNOW, YOU ARE BUSY! WHAT TIPS DO YOU HAVE FOR FITTING WORKOUTS INTO A HECTIC LIFESTYLE?
1. Decide it's a priority. 2. Commit to upholding that priority. 3. Over time, you will cease thinking of it as optional and start seeing it as essential to your well-being.
Having total clarity about the fact that my workout is a daily non-negotiable is what allows me to be flexible in terms of when I get it in. And whenever that happens to be, I stay as focused as possible in order to perform the workout efficiently—pausing that video for a bathroom break, taking a phone call, answering an urgent email, those things all add up and can make a would-be succinct session into a much longer, drawn out time-suck.
  ONE THING THE #TAMILY HAS IS STYLE. WHAT'S YOUR FAVORITE OUTFIT TO EXERCISE IN?
I'm having a love affair at the moment with The Upside—their leggings are my jam. Oh! Also! Mizunos. #TAmily members seem to ask me about them with some frequency—let the record show that I whole-heartedly endorse them. Fantastic sneaks.
  WHAT IS YOUR FAVORITE TA MOMENT?
As many have said, the undeniable highlight was attending a vitality week. I was literally giddy about being able to doing the workout—the one I'd been doing every day for practically forever in a room by myself with a group of women equally as excited as me.
But I was a little nervous about meeting Tracy, and it wasn't nerves about what I'd say or do, but what she would. Would this woman who I so admire, who I see more than some of my best friends, whose expertise I so thoroughly trust, would she live up to my expectations? I wondered. Would she be in real life as genuine and genius as she'd seemed to me from far away? And where would I be at if who I'd perceived her to be didn't match who I met?
Naturally, I bombarded her quite immediately all, "Hi, I'm ANNIE, we're going to be friends now if you like and maybe take a picture together, yes?" But she needed to make sure her children were fed right then, as mothers will do, and said we'd grab a photo in a bit. Fine, just you go feed your babies, Tracy, see if I care.
I'd just have to accost her again was all, and we'd start from the beginning, with me telling her who the heck I was.
Children fed, we Q and A-ed and ambled our way to the workout room. From her corner/make-shift computer station in the studio, I heard Tracy say, "okay, where's that little cutie who I'm doing a photo with?" I was the only one who'd given her zero time to acclimatize before requesting the op, and thus knew it was me she was seeking.
"Yes, Hi! I'm Annie." I would hardly expect someone in her position to remember. She gave me this very fleeting look right then (you did Tracy, I swear), as if to say, "Who do you think I am?!" "The thought of it!" That look said: Yeah, I'm here. I'm present. I see you. See you all. I care. I am as real as they come. Do not confuse me for the celebrities I have trained. I know we are all people. That we are all beautiful. All working hard.
"I remember!" She exclaimed. "I wouldn't forget that!"
We posed for our picture and everything was rainbows and butterflies and pools of glorious sweat after that.
  IT'S ALL ABOUT BALANCE. WHAT IS YOUR FAVORITE PRE-WORKOUT MEAL? FAVORITE INDULGENCE?
This question thrills me to answer: since last summer, I religiously drink a TA protein shake. It was just about the dumbest thing ever that I hadn't ever incorporated a protein powder into my life before that—especially as a vegetarian-most-picky-eater-ever who was probably crazy protein deficient let's not even dwell on it oy! Only, my conception of protein powders was that they were for my beast of a guy, whose goal is to bulk-as-in-hulk. I didn't want that. At vitality week, Tracy talked a lot about hers and why she believed in it. I left that Q&A feeling like, "I still don't really get it, but I trust Tracy, so maybe I'll just start doing this." A couple of months later and it was suddenly like the muscle definition I had been working to build for years actually decided to show up to the party. Aren't we all so proud of me?

Indulgence: chocolate. Sweets. And then there are times when you really just crave a good hunk of bread, you know?
  HOW ELSE DO YOU FIND BALANCE IN YOUR DAILY LIFE?
Honestly, there is nothing more grounding or fulfilling than the privilege of living your purpose, and since my work is that, even when it exhausts me, it brings me into spiritual alignment.
I'm learning more and more to relish moments of leisure, and to carve them out. To view leisure not as separate from productivity, but as intertwined with it. One supports the need for the other.Above all, I try to be disciplined with my thoughts as much as with anything else. To bring myself back to a place of gratitude whenever the mental-pendulum swings too far into crazy-town. You've been there, yes?
  CAN YOU SHARE YOUR FAVORITE POST-WORKOUT RECIPE FOR THE REST OF THE #TAMILY TO ENJOY?
I live for the quinoa-salad, and adjust the veggies added according to the season. Sometimes it's more kale / quinoa / cherry tomatoes / purple cabbage / avocado / lime juice / cilantro. Sometimes: quinoa / lentils / cherry tomatoes / avocado / little feta / red wine vinegar. Lately, it's been roasted sweet potatoes / kale / quinoa / olives / pomegranate seeds / red onion / little chopped clementine action / rice wine vinegar. Go with what feels right, that's my cooking motto.
 ALL RIGHT, HERE'S A FREE PASS TO BRAG: IN ADDITION TO THE SUCCESS OF STICKING WITH IT, WHAT PROGRESS HAVE YOU MADE SINCE YOU STARTED #TAREALTIME AND BECAME PART OF THE #TAMILY, BOTH PHYSICALLY AND MENTALLY?
It used to be back in the day that I would watch Tracy do some move and just be all, "Uchhh, Tracy I can't move like that! Why do you think I can do that?! STOP IT. STOP."
And then rep after rep, day after day, week after week, year after year, it became increasingly clear: "Oh, huh, okay, fine. So, umm, maybe I can. Fine!"
I am really proud of the fact that I've reached a place where my first reaction to a new or seemingly foreign movement is, "Tracy, I can move that like?!" The doubt, frustration, and impatience for the learning curve is gone, and in its place is a sustained excitement to rise to the challenge. Through the method, I have learned to trust in the fact that my body still can do more than I imagine it can. Can recall sequences I doubt it can, can bend in ways I think it's too clumsy to, can balance, can endure exhaustion.
This workout is hard! It is not easy. It challenges you on so many levels. But hard work and consistent engagement makes us feel alive in a way half-assing it never can or will.
 WHAT DO YOU LOVE ABOUT YOUR BODY? WHAT DO YOU LOVE ABOUT YOUR INTERNAL SELF? 
I've generally always felt pretty good about my abs and stomach, and feel even better about them thanks to the method. And after feeling indifferent about my arms for my whole life, I feel like something shifted recently and they really started to look strong and toned, so that's exciting.
I believe I am a special mixture of capableness—a get 'er done, take action, make it work mentality, and caring—patience, and a sensitivity to the needs and wants of others.
WHAT MESSAGE DO YOU HAVE FOR WOMEN WHO ARE STRUGGLING WITH THEIR HEALTH AND BODY IMAGE?
Stop comparing yourself to other people. There is no other act that so effectively diminishes the spirit. Accept whatever it is true now. See it clearly and without judgment. Understand that your ability to do so is the first step in being able to radically correct it. Understand that everything you see now is nothing more than the result of decisions of the past. Forgive yourself for those. Focus instead on how to make better, more loving decisions going forward. Keep doing that.
ALL PHOTOS PROVIDED BY ANNIE. FOLLOW HER ON INSTAGRAM @annietamer
TAMILY SUPPORT:
I welcome anyone seeking to add a little more intention, beauty and simplicity in their lives to use the Live Simply blog as a resource http://www.livesimplybyannie.com/blog/ One day (maybe soon?) there will be a book, for now there is the blog. You can also find client service information on the website. And if anyone from the #TAmily has any questions they'd love answered, please feel free to send them my way!
__

___
FAVORITE CURRENT QUOTE:
"YOU GET IN LIFE WHAT YOU HAVE THE COURAGE TO ASK FOR."
– OPRAH WINFREY
___
FAVORITE ALL-TIME QUOTE:
"IT IS NOT THE CRITIC WHO COUNTS; NOT THE MAN WHO POINTS OUT HOW THE STRONG MAN STUMBLES, OR WHERE THE DOER OF DEEDS COULD HAVE DONE THEM BETTER. THE CREDIT BELONGS TO THE MAN WHO IS ACTUALLY IN THE ARENA, WHOSE FACE IS MARRED BY DUST AND SWEAT AND BLOOD; WHO STRIVES VALIANTLY; WHO ERRS, WHO COMES SHORT AGAIN AND AGAIN, BECAUSE THERE IS NO EFFORT WITHOUT ERROR AND SHORTCOMING; BUT WHO DOES ACTUALLY STRIVE TO DO THE DEEDS; WHO KNOWS GREAT ENTHUSIASMS, THE GREAT DEVOTIONS; WHO SPENDS HIMSELF IN A WORTHY CAUSE; WHO AT THE BEST KNOWS IN THE END THE TRIUMPH OF HIGH ACHIEVEMENT, AND WHO AT THE WORST, IF HE FAILS, AT LEAST FAILS WHILE DARING GREATLY, SO THAT HIS PLACE SHALL NEVER BE WITH THOSE COLD AND TIMID SOULS WHO NEITHER KNOW VICTORY NOR DEFEAT."
― THEODORE ROOSEVELT
___
ALL-TIME FAVORITE BOOK:
 It all comes back to The Great Gatsby for me.
ALL-TIME FAVORITE FILM:
To Catch a Thief. Grace Kelly, Cary Grant, the south of France. I can't ask for more.
FAVORITE MAT:
I went through a ton of mats before I found the Maduka pro lite mat. The others used to shred and flake in no time. This guy is holding up without so much as shedding a rubber fleck after roughly 2 years. Worth every penny.
ALL-TIME FAVORITE MOVIE:
Tata Harper. I can't remember how I originally found out about Tata Harper…it was probably Tracy. Regardless, it is the most gorgeous product range. One that you can feel great about using since it's completely natural, and one that simultaneously will make your skin look better than it ever has. The resurfacing mask is a stand out for me.
ADVICE ANNIE WOULD PASS ONTO YOUNG WOMEN THAT SHE WISH SHE HAD KNOWN EARLIER ON IN LIFE:
Pay attention to what lights you up. Move in that direction.
P.S. Faking it is as unfair to you as it is to them.
Categorized under Wellness, Import