TAMILY TALES: Issue No. 3
November 11, 2015
I'll fully admit it: sometimes I find myself falling into a deep Instagram hole. It's just so cool and refreshing when I find someone I would genuinely like to know more about. What impresses me the most is when people share authentic, real moments. I strongly believe that people who need people—those of us who thrive by supporting others and surrounding ourselves with a network of trusted friends and family—are the luckiest people in the world, which is why we need to honor the value in being there for one another.
We support the people that enter our lives by offering comfort and genuine connection, celebrating in each other's accomplishments, moments, and milestones, and encouraging one another to always put our best foot forward—while trusting the individual with the decision of what step to take.
I have never met Sheba Wilson in person, but I found myself always going back to her Instagram page. She shares her lifestyle in a really cool, balanced way—and her smiles literally light up the screen with real beauty. She is so clearly beautiful, full of life, and driven to support others. When I reached out to Sheba about doing this, she was so willing to participate. Then, when I read her answers to our interview, I was so full of hope. I know that may seem weird, but when you take a chance on someone and they turn out to be even more incredible than you could have imagined, it's incredibly reassuring.
All of the social media can be overwhelming—what to do with it, what about it has value, what about it is potentially unhealthy. Having this ability to make new friends faster than ever before and hold onto old friends better than ever before is amazing, yet it can also be a little unsettling. I am a very private person. I don't really go out much. I enjoy quality time with the people that mean a lot to my family and to me, but I have also been through enough to know that we need to continuously look for good people and connections we can trust in our lives. Some of the most amazing people in my life have helped me in life-changing ways, and had I not taken the time to truly connect with them, I would have lost those opportunities.
I am truly filled with so much joy to bring you this week's #TAmily Tale and to honor a woman who is filled with support for others and a joy for life. I can't wait to meet you in person someday soon Sheba Wilson. You impress me!
All of my love,
---

I AM VERY PASSIONATE ABOUT STEM EDUCATION FOR UNDERREPRESENTED STUDENTS (i.e. women, girls and people of color)! My job as a grant writer for San Jose State is to help research and create programs that support underrepresented students in the STEM fields, particularly Engineering.
A FEW OF THE PROGRAMS SHEBA IS PASSIONATE ABOUT:
NACME (National Action Council for Minority Engineers), the National Girls Collaborative Project and the Society of Women Engineers. These groups work closely with Universities and K-12 programs to recruit, inspire and retain underrepresented students.

SOME #TAMILY MEMBERS WORKOUT IN THEIR LIVING ROOMS IN IOWA, OTHERS ON THEIR BALCONIES IN ITALY. WHEN AND WHERE DID YOU START #TAREALTIME?

I began #TArealtime in late July in my scenic, small town of Burney, CA! But, I've been acquainted with TAM Metamorphis (Mat Work, Hipcentric and Omnicentric) since June of 2014 when I was living very remotely in the Sierra National Forest at Balch Camp, CA.

WE ALL FACE CHALLENGES WHEN IT COMES TO BEING OUR HEALTHIEST SELVES—INSIDE AND OUT. WHAT HAS BEEN THE HARDEST PART OF YOUR JOURNEY?


My diet! I have a very deep love for cooking and I can't be trusted around savory dishes. So, my cravings run from roasted beet salads to fried catfish to rabbit jambalaya, to simple steamed greens. I grew up eating very few sweets or sodas and my Mother has been a vegetarian for 12 years; which, during my formative teenage and young adult years influenced my relationship with food. My mother taught me to have a conscientious approach to nourishment, always enjoy foreign cuisine, but be wary of issuing dessert as a staple of dinnertime.

HAS BEING PART OF THE COMMUNITY OF #TAMILY WOMEN HELPED YOU TO OVERCOME THIS? HOW SO?


There is a plethora of very amazing #Tamily members that are terrific cooks, many of them focus on raw, vegetarian or vegan meals. Visually, being apart of their creative and nutritious cooking definitely inspires me to be more creative with my veggies!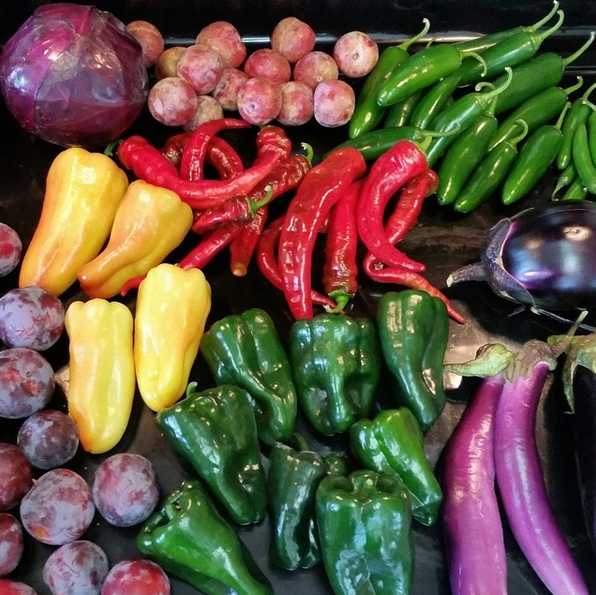 ONE OF THE COOL THINGS I LOVE ABOUT THE #TAMILY IS HOW IT CONNECTS WOMEN ALL OVER THE WORLD. HOW ARE YOU INSPIRED BY OTHER WOMEN? WHO IN THE #TAMILY INSPIRES YOU?


I'm continuously inspired by all the women and men of #TAmily. The sheer energy, love, dedication and style that the #TAmily has is a true force! Honestly, every single participant in the #TAmily community brings a smile of gratitude to my face. Some of the women of on Insta who inspire me include; @Dee_love_jones, @lorettafitnesslife, @alicesvanity @Agikonwalia, @rbsanfran because they shine with the aura of gumption, candor and beauty! I must shoutout to @gilliancory, @auroraboomdiay, and @monica_duarte for encouraging me with their sheer presence and kind words to join the #TAmily.

HOW DO YOU CONNECT WITH OTHER WOMEN IN THE #TAMILY BOTH ON INSTAGRAM AND IN REAL LIFE?


On Insta, I've been slowly connecting with #TAmily ladies across the world. In real life, I've been attempting to create a somewhat "Sisterhood of the Travelling Meta" with my family members. I started on the Mat Workout, and I've shared that DVD a long with the Hipcentric and Omnicentric Meta DVD's with my cousins.

LIKE MOST WOMEN I KNOW, YOU ARE BUSY! WHAT TIPS DO YOU HAVE FOR FITTING WORKOUTS INTO A HECTIC LIFESTYLE?


Creating a routine was difficult for me, especially when I began working from home. When I was living in a large city, straight out of college, working and single, honestly, a lot of my time was structured in ways I didn't feel I had control over. Now that I live in the countryside and work from home, I have a wee bit more input on my time and for the most part my schedule is flexible. But, it takes a great deal of self-control to retain structure and routine. My current situation is part of the reason why I'm so into #TArealtime! I'm able to have a true connection with my body, heart rate and breath at any time that works for me!

ONE THING THE #TAMILY HAS IS STYLE. WHAT'S YOUR FAVORITE OUTFIT TO EXERCISE IN?


Adidas x Stella McCartney leggings are my favorite! They are perfect for high-impact exercise and are stylish.  Also, I have a great deal of respect for GAP sports bras and loose tanks (my favorite tank is one I bought from H&M with a Chihuahua print on the front).

WHAT IS YOUR FAVORITE TA MOMENT?


Each week in #TArealtime introduces an opportunity to participate in the learning process. Whether it's a new movement or an addendum to a movement we did a previous week. It's an extremely humbling and growth experience. Having the understanding that on Day 2, I might still not understand the coordination or movement, but by Day 5 or 6 my body knows it, seemingly, instinctually is incredible. It makes me in awe of the power of our minds, bodies and of the TA method.

IT'S ALL ABOUT BALANCE. WHAT IS YOUR FAVORITE PRE-WORKOUT MEAL?


 My favorite pre-workout meal is Pure Essentials' Nutritious & Delicious Vanilla shake. I purchase it online from The Ash Center in New York.  It's so tasty! Normally, I blend it with coconut milk, berries and ¼ avocado. Or sometimes, I will only blend it with coconut milk.

FAVORITE INDULGENCE?


I am the savory queen! I love to cook and eat savory dishes, especially international dishes. My husband is Italian and Norwegian, so I often cook and indulge with dishes with "nightshade" vegetables, preserved fish and root vegetables. We also love West African (particularly Nigerian Jollof Rice), East African (Doro Wat and Lamb Tibs), South Indian and Jamaican cuisine.

HOW ELSE DO YOU FIND BALANCE IN YOUR DAILY LIFE?


I live in the California countryside for work and personal purposes. I absolutely love being close to nature and wildlife, it gives balance to the hours I spend typing and analyzing information on a computer. It's supremely refreshing and contextualizing to operate in a space that is dominated by nature. It reminds me of our existential truths, which often propels me to push harder and dig deeper.

CAN YOU SHARE YOUR FAVORITE POST-WORKOUT RECIPE FOR THE REST OF THE #TAMILY TO ENJOY?


Steamed Kale, or other leafy green, and a well-boiled egg is my post workout catnip! Sprinkled with salt or homemade hot sauce or your favorite condiment adds a real depth to such a simple dish.
I often boil half a dozen eggs on Sunday night and the other half dozen Wednesday night. I learned a great deal about hard-boiling eggs from Goop's "How to Cook an Egg" article. Before, I would bring the egg to a boil; now, I wait until the water has boiled and then put the eggs in for 9 minutes. Perfect yolks! I like to cook the eggs ahead of time because, my husband usually takes one for a snack and also when I'm hungry post-workout I only need to steam my Kale/leafy green. During the spring-summer months, I'll add treasures from our garden, like zucchini flowers, chopped tomato's, basil, fava beans, or beet tops.

ALL RIGHT, HERE'S A FREE PASS TO BRAG: IN ADDITION TO THE SUCCESS OF STICKING WITH IT, WHAT PROGRESS HAVE YOU MADE SINCE YOU STARTED #TAREALTIME AND BECAME PART OF THE #TAMILY, BOTH PHYSICALLY AND MENTALLY?


The relationship and connection I've developed with my body is extraordinary. From, what I've experienced with myself and seen from other women in the #TAmily is that there comes a pivotal point during your journey when your participation in #TARealtime, or really any of Tracy's programs, becomes less about vanity and more about development of the self and the self within a community. It's a progression that manifests from commitment and love!

WHAT DO YOU LOVE ABOUT YOUR BODY? WHAT DO YOU LOVE ABOUT YOUR INTERNAL SELF?


I love how adaptable and dependable my body is at this time in my life. Training the way the #TAmily does takes a tremendous willingness on the part of the body and mind to experience something foreign and adapt and learn from the experience. My body has come to understand adaptability faster than my mind has; so, it's comforting to know that my body will take me through my workout even if I'm not mentally up for it.
As far as my internal self, I've learned that I'm way more headstrong that I believed myself to be. When I truly decide to give myself to a practice, whether it be #TArealtime, writing, academic public philosophy, engineering education, outdoor activities, gardening or cooking, I adopt a very "Get 'er done" sort of mentality and I like it.


WHAT MESSAGE DO YOU HAVE FOR WOMEN WHO ARE STRUGGLING WITH THEIR HEALTH AND BODY IMAGE?

Love and deep conviction conquer all. Internalize the truths that love has to offer (i.e. be kind and gentle to yourself and express gratitude for your health and ability to perform) and internalize the truths of deep conviction (i.e. positivity, commitment and trust).
ALL PHOTOS PROVIDED BY SHEBA. FOLLOW HER ON INSTAGRAM @SHEBATIME.

___
SHEBA'S CURRENT FAVORITE QUOTE:
"IF WE DO NOT LOVE LIFE ON OUR OWN ACCOUNT AND THROUGH OTHERS, IT IS FUTILE TO SEEK TO JUSTIFY IT IN ANY WAY."
– SIMONE DE BEAUVOIR
___
SHEBA'S  FAVORITE QUOTE OF ALL TIME:
"TO BE A GOOD HUMAN BEING IS TO HAVE A KIND OF OPENNESS TO THE WORLD, AN ABILITY TO TRUST UNCERTAIN THINGS BEYOND YOUR OWN CONTROL, THAT CAN LEAD YOU TO BE SHATTERED IN VERY EXTREME CIRCUMSTANCES FOR WHICH YOU WERE NOT TO BLAME. THAT SAYS SOMETHING VERY IMPORTANT ABOUT THE CONDITION OF THE ETHICAL LIFE: THAT IT IS BASED ON A TRUST IN THE UNCERTAIN AND ON A WILLINGNESS TO BE EXPOSED; IT'S BASED ON BEING MORE LIKE A PLANT THAN LIKE A JEWEL, SOMETHING RATHER FRAGILE, BUT WHOSE VERY PARTICULAR BEAUTY IS INSEPARABLE FROM THAT FRAGILITY."
– MARTHA NUSSBAUM
___
ALL TIME FAVORITE BOOKS: An unbreakable tie between SHAHNAMEH BY ABOLQASEM FERDOWSI and PHILOSOPHICAL INVESTIGATIONS BY LUDWIG WITTGENSTEIN.
CURRENT FAVORITE BOOK: UNFINISHED BUSINESS BY ANNE-MARIE SLAUGHTER
CURRENT FAVORITE FILM: CHRISTOPHER NOLAN'S "INTERSTELLAR"
ALL-TIME FAVORITE FILM: WIM WENDERS' "WINGS OF DESIRE"
ADVICE SHEBA WOULD PASS ONTO YOUNG WOMEN THAT SHE WISH SHE HAD KNOWN EARLIER ON IN LIFE:
Remember to cultivate the Head, the Heart and the Hand, because you are enough to achieve your dreams. Exercise gratitude, because it is often the key to finding a way out of noway. Nourish your happiness and health so you can nourish your goals and community. Lastly, advocate for yourself, but also, don't be afraid to let women who have life experience advocate for you too.