TAMILY TALES: Issue No. 5
November 29, 2015

I included my little Penny in this week's Tamily Tales photo because I think she and Melissa not only look alike, but both share this love of life. This happiness. A smile that radiates from the eyes like a supernova explosion of hearts flying straight from the soul.
From the day I first met Melissa Rigdon, what I've loved most about her journey is how she has displayed courage, commitment to herself, and consistency to the method—and how she first came to the journey with the same exuberant happiness she has today. She is down over 50 pounds!
Revered #TAMily member Gillian and I were just talking about how today is benchmark Week 50 for the streaming journey, and how commitment and consistency are key. I agree with her, which is why I find celebrating Melissa on Week 50 to be so fitting: she is down 53 pounds, to be exact, and this Sunday is her birthday—34th, however, not 50th, haha!
Melissa, I know I speak for all of the women who know you, or who are about to come to know you, when I say it is by no mistake that this week is also the week we give thanks. I personally am so thankful you came into my life. You handle everything with the grace of your beautiful smile. You are like rainbows, sunshine, hope, and proof that we can kill anything with kindness.
I learned a way to better communicate the fight I have been fighting for every woman (to be able to feel and connect to her best self) from Dr. Habib Sadeghi a few years ago. He taught me how vital it is that, as women, we be good to the little girl inside of us. If we all had to take care of Penny for the day, would we be anything less than wonderful to her and protective of her? Would we let her have 10 fruit roll-ups, or would we balance taking care of her physical, emotional, intellectual, and spiritual selves?
It doesn't matter how any of us lose touch with the little girl inside of us. What matters is that we now honor each of us as the special and oh so capable individuals we are, and that we choose to lead the shift with the same happiness Melissa brings forward every day.
Happy Thanksgiving! Happy Birthday! And as my Grandmother always said, Happy Day!
All of my love,
---


SOME #TAMILY MEMBERS WORKOUT IN THEIR LIVING ROOMS IN IOWA, OTHERS ON THEIR BALCONIES IN ITALY. WHEN AND WHERE DID YOU START #TAREALTIME?

I've been watching the Instagram contest since day 1, but personally I was a little fashionably late coming to the TArealtime party. My first day of streaming was March 8th, 2015, and I started out in my teeny-tiny living room in sunny Florida. Every day I slide my couch and a chair to the other side of the room, turn on my little heater, and bring out my humidifier and voila – my Tracy studio. I love it!

WE ALL FACE CHALLENGES WHEN IT COMES TO BEING OUR HEALTHIEST SELVES—INSIDE AND OUT. WHAT HAS BEEN THE HARDEST PART OF YOUR JOURNEY?


Keeping up the momentum with all the changes I am making with exercise and diet. I've been so focused on a lose, lose, lose mode and am a little uncertain what to expect when, for the first time since I can remember, I will be on a maintain mode. I don't want to lose this momentum and have things go back to the way they were before. I really have to wrap my head around it all and have a plan. I am still working through my challenge. Hope that makes sense.

HAS BEING PART OF THE COMMUNITY OF #TAMILY WOMEN HELPED YOU TO OVERCOME THIS? HOW SO?


Oh my goodness – YES, and they continue to do so everyday. With each #TAmily post they make I find the strength and motivation to get my workout in, to make something nutritious for dinner, and to go out and enjoy life. It really helps me connect and focus to be my most balanced self. I know they will be there for me during my transition to maintaining time too!

ONE OF THE COOL THINGS I LOVE ABOUT THE #TAMILY IS HOW IT CONNECTS WOMEN ALL OVER THE WORLD. HOW ARE YOU INSPIRED BY OTHER WOMEN? WHO IN THE #TAMILY INSPIRES YOU? HOW DO YOU CONNECT WITH OTHER WOMEN IN THE #TAMILY BOTH ON INSTAGRAM AND IN REAL LIFE?


In the beginning, I was constantly on the #TArealtime hashtag seeking motivation just to start my exercise for that day. I had to, as it was not easy for me. Scrolling through the pictures inspired and motivated me so much, knowing that all these women from all over the world were getting their workouts in. There was no room to make any excuses like "it's too early," because Elise (@ek4tam) had already finished her workout by 6 a.m. that day. Or "I am exhausted from work," because there's Andrea (@g_spags) who I know works out every day after work at 6 p.m. Or "it's way too late," because there's Emery (@emery5) working out when I am sitting there in my pajamas ready for bed. All the #TAmily girls are getting it done no matter what and that taught me what I needed to do, too. Their tenacity is so inspiring and rubbed off on me.
As far as who in the #TAmily inspires me? There are so many inspiring women and each of them brings something to the table for me. For example, I have my dancing queens who inspire me to give it my all, my chefs who make me want to cook healthier for my family, my girls who serve and protect inspire me to be more aware, my beauties who inspire me to treat my skin well for the long haul, the ones who remind me to floss daily (it's so important), my nature lovers who inspire me to take in the beauty around me, my girls from afar who inspire me to learn, etc. This little paragraph is barely even touching the surface.
We share our lives with each other on the daily—from new jobs, weddings, babies, eating, recipes, and even the sad things like illnesses and deaths—via messaging, Facebook, Instagram, texting, FaceTime, Skype, etc. I've stayed at their houses while visiting their cities. We've met for lunch for quick hellos. I've even been to Disney World with two of them! When I am struggling in my daily life, they are a shoulder for me and will lift me up. We're all there for each other all the time. With that being said, I love connecting with new-to-me TAMily members too, because it's a chance for discovery and the fun of making a new friend! All these women are genuine and kind. I cannot imagine them not being in my life now.

LIKE MOST WOMEN I KNOW, YOU ARE BUSY! WHAT TIPS DO YOU HAVE FOR FITTING WORKOUTS INTO A HECTIC LIFESTYLE?


I finally got to the point where working out is part of my daily routine. This was something that took time and I had to learn.  As a small business owner, I feel at my best when I work out before leaving the house for the day. Afterwards, I am ready to take on whatever challenges may come and even if I get caught up in my work and come home exhausted, I feel great knowing I got my workout in and I can just relax and focus on making something healthy for dinner to unwind.

ONE THING THE #TAMILY HAS IS STYLE. WHAT'S YOUR FAVORITE OUTFIT TO EXERCISE IN?


I wish I was more of a workout fashionista! We have some seriously stylin' sisTA's, but I am happy in my basic black leggings with a comfy shirt on.

WHAT IS YOUR FAVORITE TA MOMENT?


I have three. My first one is when I met Tracy for the first time in Miami. From the moment she came into the room, she was so real, so genuine, and such a girl's girl. I am in awe of her. I am so happy to have her in my life. My second favorite TA moment was during a question and answer session in Miami. Tracy was such a lady and so kind to me, yet firm when she said that if I were working one-on-one with her we would focus on food. Ever since that moment, I got really serious about what I was putting into my body. Not obsessively though, quite the opposite. Tracy has helped me have such a healthy relationship with food. It was my a-ha moment. And my third is when I hit my 30 lbs. weight loss. It was the first time I really saw a difference in myself. I even took a picture and sent it to my husband asking him if this was what I looked like now. I didn't believe it! It was an exciting day.

IT'S ALL ABOUT BALANCE. WHAT IS YOUR FAVORITE PRE-WORKOUT MEAL? FAVORITE INDULGENCE?


Most mornings I will have two cups of black coffee and go for it; however, if I am feeling hungry I will make Agi's (@agikonwalia) version of Tracy's shake, which is (all organic) half a banana, 10 blueberries, two strawberries, two scoops of Tracy's shake, and ½ – 1 cup of water depending on how thick I want it. And my favorite indulgence is a toss up between a macaroon and a piece or four of chocolate!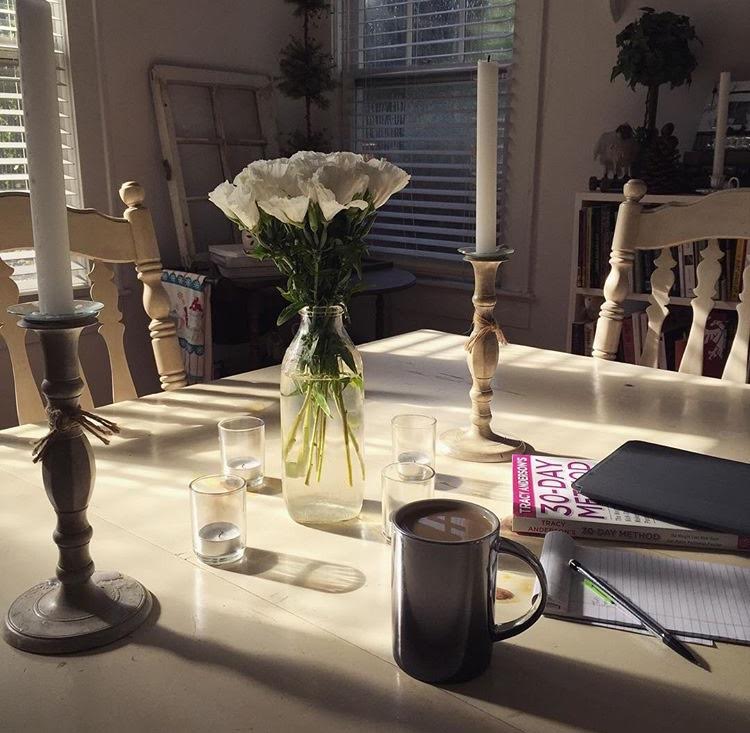 HOW ELSE DO YOU FIND BALANCE IN YOUR DAILY LIFE?


I pray, journal, listen to music, and write a lot of to-do lists. It all keeps me in check and brings me back to where I want and need to be.

CAN YOU SHARE YOUR FAVORITE POST-WORKOUT RECIPE FOR THE REST OF THE #TAMILY TO ENJOY?


I love going to this little restaurant down the street from my house called Southern Roots and getting whatever the savory special is on grains and greens. It's all really simple. It could be something like black beans with cherry tomatoes topped with avocado slices and garlic cheese, to curried garbanzo beans, to black beans topped with garlic corn, seasoned fingerling potatoes and a shiitake cream sauce. Everything they make is delicious, organic, and dairy, meat, and gluten-free. It always makes me feel so good to fuel myself this way after an awesome workout.

ALL RIGHT, HERE'S A FREE PASS TO BRAG: IN ADDITION TO THE SUCCESS OF STICKING WITH IT, WHAT PROGRESS HAVE YOU MADE SINCE YOU STARTED #TAREALTIME AND BECAME PART OF THE #TAMILY, BOTH PHYSICALLY AND MENTALLY?


My biggest change that people can see, as of today, is my 53.4 lbs weight loss. It still freaking amazes me. I am so, so thankful to all of you out there who have been supporting me. You are all girl's girls, women for women. As someone who has been heavy for over a decade and trying to lose practically the entire time, I truly believe with all my heart that having the TAMily's support and friendship has had a huge impact on my success. I believe you are what made the difference for me this time. You ladies, my TAMily, are my best friends—my sisters. I love you all dearly.
As far as changes mentally, I still have to wrap my head around my successes. Like that my weight loss is real. Even with little things like clothes shopping. I know I need to do it, as my pants are literally falling off my body, but I have this thing where I am nervous to try on something because I've spent the past 10 years feeling so disappointed when it wouldn't fit, or having to ask the sales associate what's the largest size you carry. I am working on this though and am really starting to enjoy buying new clothes. I know buying clothes is a little on the surface and not deep, but I haven't had the chance to be girly like this before. I can express myself through clothes now. I like that.

WHAT DO YOU LOVE ABOUT YOUR BODY?


I am so happy to be able to finally say, everything!

WHAT DO YOU LOVE ABOUT YOUR INTERNAL SELF?


That I am so happy. It's really so hard to explain how I am feeling. My stepmom told me the other day that she could see a difference in me. I told her, for the first time in a long time, my outsides are finally matching my insides.

WHAT MESSAGE DO YOU HAVE FOR WOMEN WHO ARE STRUGGLING WITH THEIR HEALTH AND BODY IMAGE?

Love yourself and know that your weight does not define you. Be patient with yourself. And be honest with yourself and with your efforts. Stick with Tracy and give her method the chance to start working. I know how tough and frustrating it is when you are working so hard and nothing seems to be happening. Please know there are wonderful things happening inside of you though. It just takes time. You've got this and you have us right behind you cheering you on.
ALL PHOTOS PROVIDED BY MELISSA. FOLLOW HER ON INSTAGRAM @MELISSARIGDON.


BARBARA'S BROCCOLI CASSEROLE
(MY STEP MOM'S)
Seeing as how Thanksgiving is coming up, this is one recipe that I always ask to be made, or it's the dish I take to other people's homes. I'm not one for casseroles, but this one is amazing. It's my stepmom's. You can also make it vegan. See below for substitutions/recipes.
INGREDIENTS:
2 10 oz packages of frozen, organic chopped broccoli thawed and drained
2 large eggs or + Ener G egg replacer equivalent
1 10 3/4 oz. can of Cream of Mushroom soup or + make it vegan see below
1 cup of shredded Mozzarella cheese or + make it vegan see below
1 cup of Hellmann's low fat mayonnaise or + soy free Vegenaise
1/2 cup of Pepperidge Farms (blue package) of stuffing. Or you can use Arnold brand, or any other favorite stuffing.
DIRECTIONS:
Mix all the ingredients together except the stuffing. Then sprinkle the 1/2 cup of stuffing on top and bake at 350 for 30 minutes.
VEGAN CREAM OF MUSHROOM
FROM: PEGGY FROM LIVING WITHOUT MAGAZINE
INGREDIENTS:
1 1/2 cups finely chopped mushrooms
1 tsp. olive oil
3 T. olive oil
3 T. tapioca starch (or any starch)
1 cup rice milk
1/4 tsp. salt
1/8 tsp. pepper
DIRECTIONS:
1. Saute the chopped mushrooms in 1 tsp. oil. Set aside.
2. In a saucepan, place oil, heat a little, and then add starch.
3. Cook and stir until bubbly over medium high heat.
4. Slowly add rice milk.
5. Cook and stir until thick and bubbly.
6. Add cooked mushrooms and stir until combined.
7. Use in your favorite casserole recipes.
MELTY STRETCHY GOOEY VEGAN MOZZARELLA
FROM: IT DOESN'T TASTE LIKE CHICKEN
INGREDIENTS:
¼ Cup Raw Cashews
1 Cup Hot Water
2 Tablespoons + 2 teaspoons Tapioca Starch (also known as Tapioca Flour)
1 Tablespoon of Nutritional Yeast
1 teaspoon Lemon Juice or Apple Cider Vinegar
½ teaspoon Salt
¼ teaspoon Garlic Powder
DIRECTIONS:
1. Soak the cashews for four hours or overnight. Or boil them for 10 minutes until soft. Drain before using.
2. Add the cashews, the hot water, and all the remaining ingredients to a blender, and blend until smooth. It will be very watery.
3. Pour into a small sauce pan and heat over medium high heat, while stirring. If you don't have a high powered blender, you may want to pour the liquid through a fine mesh strainer or cheese cloth into the pot, to remove any cashew bits that didn't grind up. This will ensure a smooth cheese texture.
4. As you stir it will start forming clumps, and then all of a sudden it will become a cheesy gooey mass of yumminess. This takes about 5 minutes. Continue to cook and stir for an additional 2 minutes to make sure it has firmed up completely.
___
MELISSA'S FAVORITE CURRENT QUOTE:
"LIFE IS SO SHORT, DON'T MISS THE OPPORTUNITY TO BE YOU."
– TRACY ANDERSON
___
MELISSA'S ALL-TIME FAVORITE QUOTE:
"TO BEGIN, BEGIN."
– WILLIAM WORDSWORTH
___
CURRENT FAVORITE BOOK: Little Women by Louisa May Alcott (I really love reading this during the holidays. There's just something about it).
ALL-TIME FAVORITE BOOKS: Great Expectations by Charles Dickens (I really love Dickens. I've even been to the room he stayed at when visiting Boston. Dorky, but true).
CURRENT FAVORITE MOVIE:
The Age of Adaline
ALL-TIME FAVORITE MOVIE:
National Lampoon's Christmas Vacation
ADVICE MELISSA WOULD PASS ONTO YOUNG WOMEN THAT SHE WISH SHE HAD KNOWN EARLIER ON IN LIFE:
Laugh as often as possible. And wear sunscreen.